5 Ways to Enable Sound on Reddit Videos (Android, iOS)
Reddit is one of the biggest microblogging websites where you can discuss anything you want. You can join communities and talk about some serious stuff, I use it for memes though. And while surfing memes if you realize that there's no sound in the video, you are not alone. This is a common problem and today I am going to tell different ways to enable sound on Reddit videos.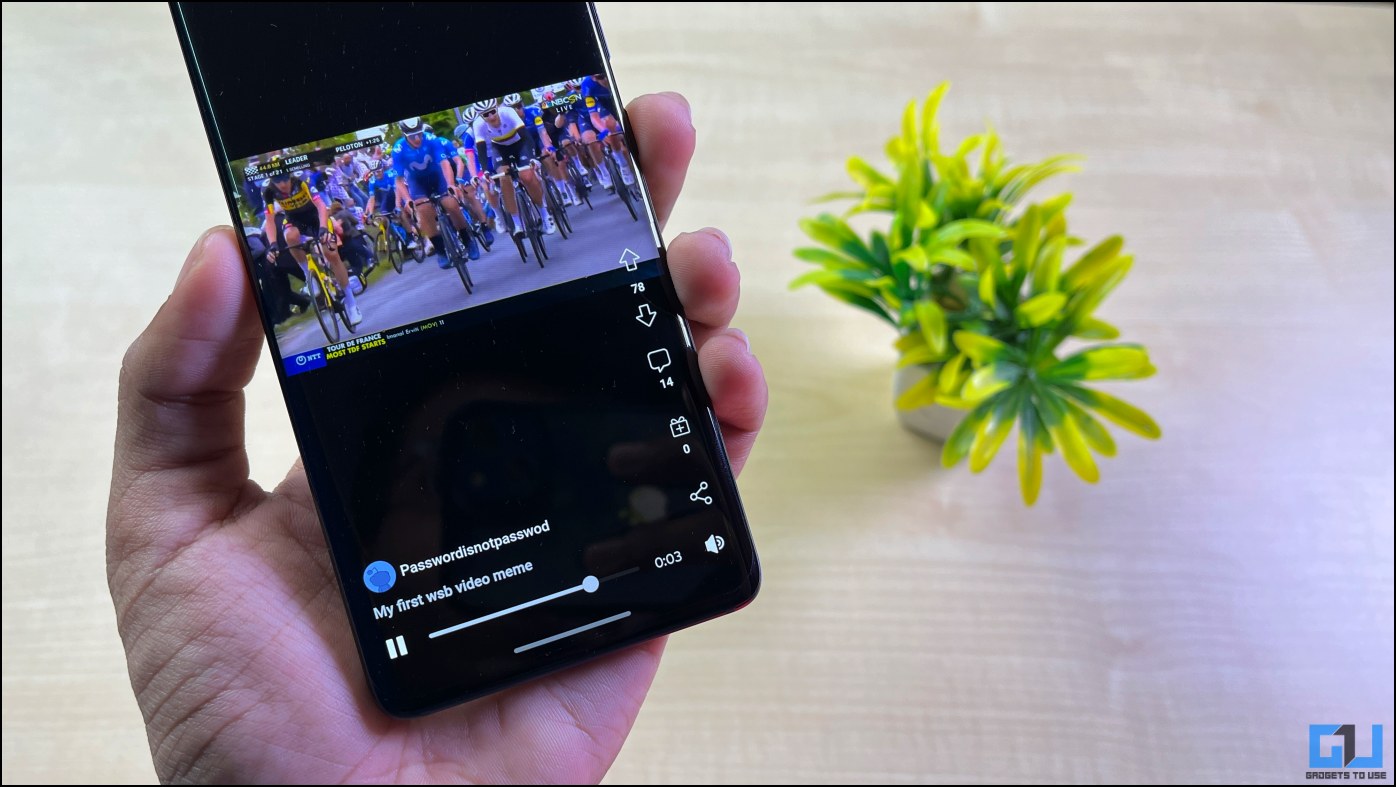 How to Enable Sound on Reddit Videos
If you're unable to hear the audio for a Reddit video, check if the video actually has any sound. The same is usually indicated by the speaker icon with a cross at the bottom right of the screen. Tapping it should show the "Video has no sound" message on the screen. If it says so, you can't help much as the video itself is muted.
For cases otherwise, you need to check if videos are muted in Reddit app settings, whether the Quiet mode is enabled, and if the media volume is muted on your phone. Check the methods in detail below to play Reddit videos with audio.
Method 1- Unmute Reddit Videos
If you are surfing Reddit on your smartphone on the official Reddit app, you may find that all the videos are mute. Here is a quick fix for that.


1. Launch the Reddit app and scroll to a video post.
2. Tap the small speaker icon on the bottom right corner of the video to unmute it.
3. The audio will start to play through your phone and you can adjust it using the volume buttons.
Method 2- Disable Quiet Mode on Reddit for iPhone
If you are using the Reddit app on your iPhone, then you can disable the Quiet mode from the settings so the audio always plays while surfing. Here's how you can do that:
1. Open the Reddit app and tap the Profile icon on the top right.
2. Tap Settings in the hamburger menu.
3. When in Settings, locate the Quiet mode. Turn off the toggle.
This will ensure all the videos will play audio when surfing Reddit.
Method 3- Check Device Volume Settings
There may be a chance that your device volume is off and you are unable to hear audio on Reddit videos. Check if your phone's alert slider switch is set to silent or not. Some smartphones like iPhones and OnePlus smartphones come with an alert slider. if that slider is silent, you may not hear the audio in Reddit videos.
Disable Alert Slider on OnePlus Phones
OnePlus smartphones come with an alert slider on the right side. Check if the slider is in its bottom position. If not and you see the red marking, slide the button down to its lowest position. This will turn off the silent mode. You will now be able to hear sound in Reddit videos.
Disable Mute Switch on iPhones
Apple iPhones come with a mute switch on the left side of the phone above the volume keys. Check for the switch, if you see an orange line above it that means your iPhone is on mute. Just flip the switch and you will see a notification on the screen that the phone is now on Ring mode.
Turn Up the Media Volume


There may be a chance that your smartphone is not in silent mode but the volume is low and you are unable to hear audio on Reddit videos. Open Settings on your phone and head to the Sound and Vibration section. Here, look for Media Volume. Set the volume to the level you like and you shall now start hearing sounds from Reddit videos.
Method 4- Fix No Sound in NSFW Videos on Reddit
If you are watching NSFW videos on your phone then you may not hear sounds as the Reddit app mutes all NSFW videos. There is also a chance that the video does not have audio at all. You can use third-party apps to watch NSFW videos with sound. Here are some third-party Reddit clients that you can use on your smartphone.
Sync for Reddit (Android)
Sync is a client for your Android devices which lets you browse Reddit with a beautiful card interface. Here is how you can enable audio in videos on the Sync app for Android.
1. Download and launch the Sync for Reddit app on your smartphone.
2. Open the hamburger menu from the top left button.
3. Tap Settings and go to Filters.


4. Here, uncheck the box for Hide NSFW posts option.
You will now be able to watch NSFW videos on Reddit with audio.
Apollo for Reddit (iOS)
Apollo for Reddit is a third-party client for iOS devices that lets you surf Reddit and play videos with audio. This app comes with a very beautiful card interface for Reddit and there are also lock screen and home screen widgets for this app. Plus, you also get to fast forward or backward, cast the Reddit video, and even download it directly using the given options.
Method 5- Check if it's a GIF and Not a Video
An animated GIF is a series of frames and not a video. This media is generally used for memes and doesn't carry any audio. So, check if it's a GIF by tapping the video. And as mentioned already, you won't hear any audio for GIFs. You can also use Boost for Reddit which automatically tells you in advance if it's a video or a GIF.
Wrapping up
These were the ways to enable sound in your Reddit videos on your Android or iPhone. I hope the above guide helps you watch all types of videos with their original audio on the Reddit mobile app. If you find this useful then follow us on social media for more amazing smartphone tips like this.
Related:
You can also follow us for instant tech news at Google News or for tips and tricks, smartphones & gadgets reviews, join GadgetsToUse Telegram Group or for the latest review videos subscribe GadgetsToUse Youtube Channel.