5 Ways to Check Any Product Price History on Amazon (2022)
If you are impassioned about buying from online platforms such as Amazon, this article has got some great solutions to save you money. In this read, we'll guide you to track and compare the price history of the commodity you are going to buy with the help of some really effective chrome extensions and apps. Meanwhile, you can also learn to track your Amazon Order and Get Hourly Updates.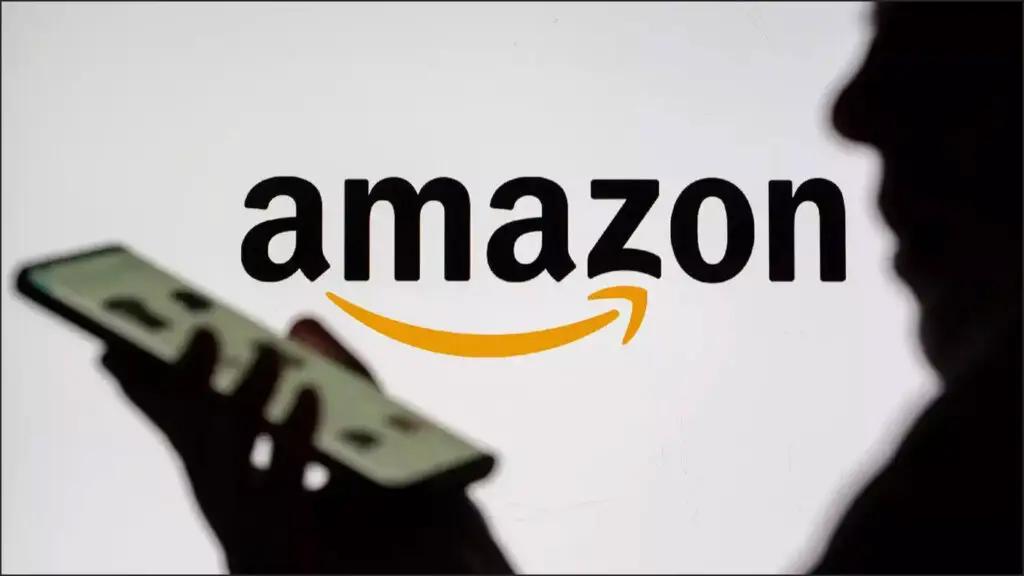 Why and How to Check Price History For A Product on Web and Mobile?
Checking price history is a vital step before investing your money in any product as every second day the prices keep fluctuating because of the rapidly growing competition in the e-commerce market. Hence it becomes really important to check the past statistics of the price that you are going to pay so that you can make a comparison and get the best deal. Below are the ways you can get the price history of a product on the web and mobile.
Use Price Before to Track Price History
Price Before offers Price Tracking and History chart for various products from Amazon, Flipkart, and more. Let's find out how this works.
1. Visit the Price Before website on a browser.
2. You can check the price using the product link of Amazon, Flipkart, or Snapdeal. Here I am using an Amazon link.
3. Copy the link from Amazon and paste it on the Price Before website.
4. Click on the check price history button.
5. Now, you will be able to see not only the Current Price but also the Lowest Price, Highest Price, and Last Drop.
Use the Keepa App
You can use Keepa.com to track over 3 billion Amazon products worldwide and find the best prices so far. It is available as a mobile app.
1. Download Keepa App (Android, iPhone) on your phone, and launch it.
2. Now, choose your desired app language.
3. Select your Amazon locale, for India choose .in
4. Now, you can start browsing on Amazon or search for specific products on the Keepa app.
5. Now once the product turns up, scroll down and you can see a chart showing the past pricing of the product.
Use the Keepa Pricce Tracker Extension
Keepa not only comes as an app but also has an extension. It is one of the most popular extensions to track product prices on Amazon. This extension keeps the price graphs for over 2 billion products available on Amazon worldwide. Follow these easy steps to install and make use of this extension.
1. Install the Keepa extension on your computer's web browser.
2. Now, go to Amazon and click on the product that you wish to buy.
3. Scroll down and find the Keepa extension window displaying the price history of the product.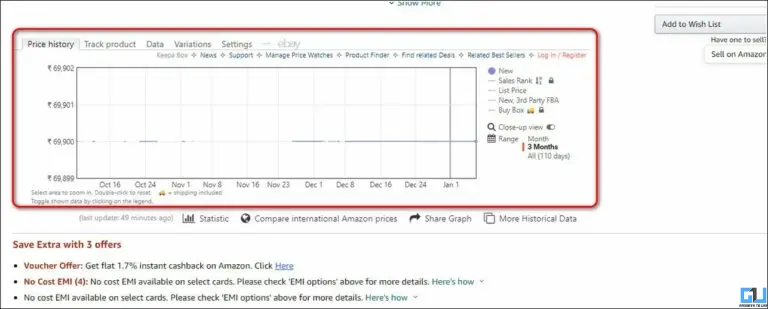 You can also set a tracking alert by setting your parameters for the product and clicking on the Start Tracking button.
 You can now use this data to track the price of your desired product.
Use camel

camel

camel

to Track Price History

camelcamelcamel is another Amazon price tracker that monitors millions of products, alerts you about price drops, and helps you decide when to buy at the most favorable prices. Below are some easy steps to elaborate on how it works.

1. Visit the camelcamelcamel website on a browser.

2. At the top, you will notice the option to either search Amazon products or enter the URL.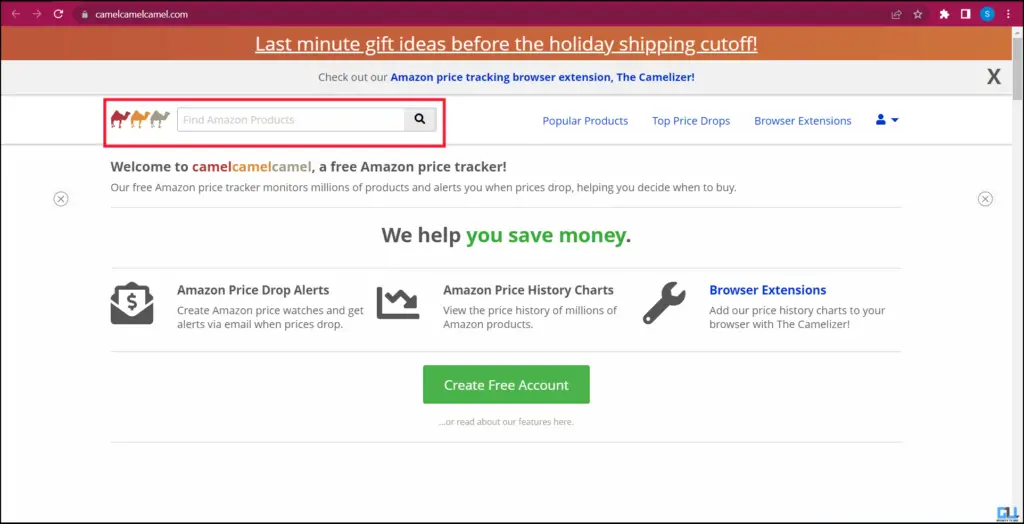 3. Now, copy the product link from Amazon and paste it here.


4. Scroll down to Amazon's price history section.


Use Karo Bargain to Track Price History
Karo Bargain is another useful website to track amazon prices and make the purchase at the best time, to save yourself some money. Here's how to use it.
1. Visit the karobargain price tracker website on a browser.
2. Paste the product link in the search box.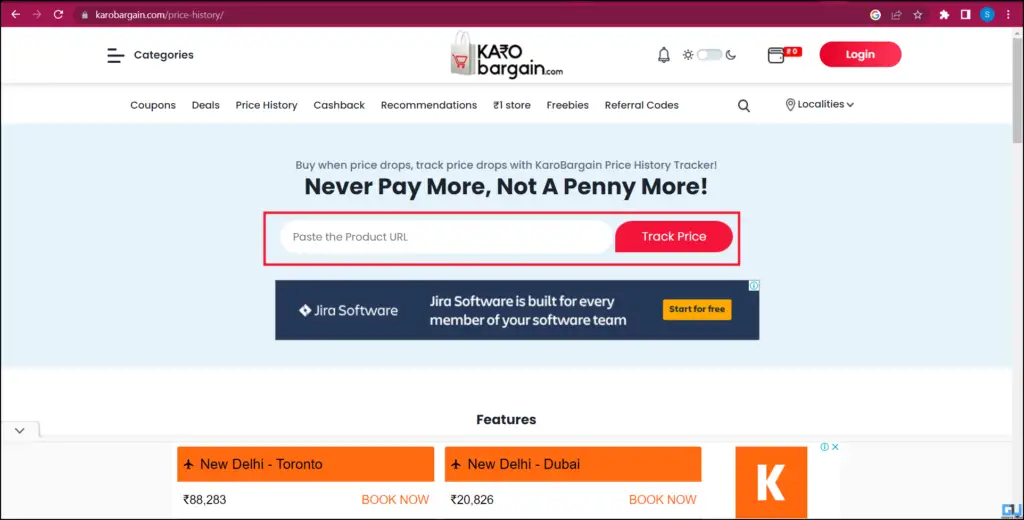 3. Click the Track Price button.


4. Now you can see the price history of the product including its highest, lowest and current price.
Bonus: Use Buyhatke For Flipkart and Amazon
Buyhatke is yet another extension that helps you in finding the best prices on e-commerce websites. With the help of this extension, you can track the price history of a product for the previous three months. Follow these quick steps to save some money using this extension.
1. Install the Buyhatke extension in your web browser by clicking the Add to button.
2. Enable the extension in your browser by clicking on the Add Extension button.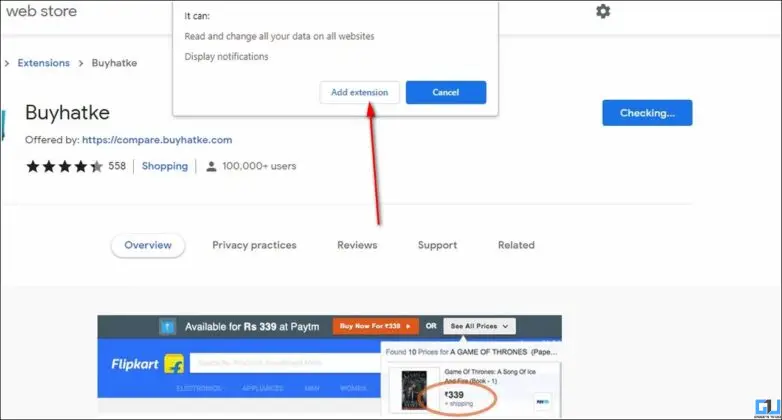 3. Now, navigate to Flipkart or Amazon and open your desired product page.
5. You will see a floating window for the Buyhatke extension towards the right of the browser window. Click on the Price Graph button to view the price variations of the product concerning time.


Note: You can also install the BuyHatke app on your phone, for easy access, and timely notification for price alerts.
Wrapping Up
That was a read for the best price tracker extensions and apps to help your pocket while shopping online. If you find it useful, share it with your friends to help them save some extra bucks. Also, stay tuned to GadgetsToUse for more helpful articles, and check out other useful tips linked below.
Also Read:
You can also follow us for instant tech news at Google News or for tips and tricks, smartphones & gadgets reviews, join GadgetsToUse Telegram Group or for the latest review videos subscribe GadgetsToUse YouTube Channel.