BNPL or Buy Now Pay Later services are exploding in India. Domestic BNPL services like Amazon and Flipkart Pay Later, LazyPay, Paytm Postpaid, and more are offering credit lines to users without hassle, with great discounts as icing on the cake. But is the whole Buy Now Pay Later thing as shiny as painted by the companies? Does it have any disadvantages? Well, here are different reasons not to use Buy Now Pay Later with pros and cons. We'll also compare the charges of popular BNPL apps in India.
Related | 5 Best Credit Card Bill Payment Apps in India (With Cashback Offers)
What is Buy Now Pay Later or BNPL?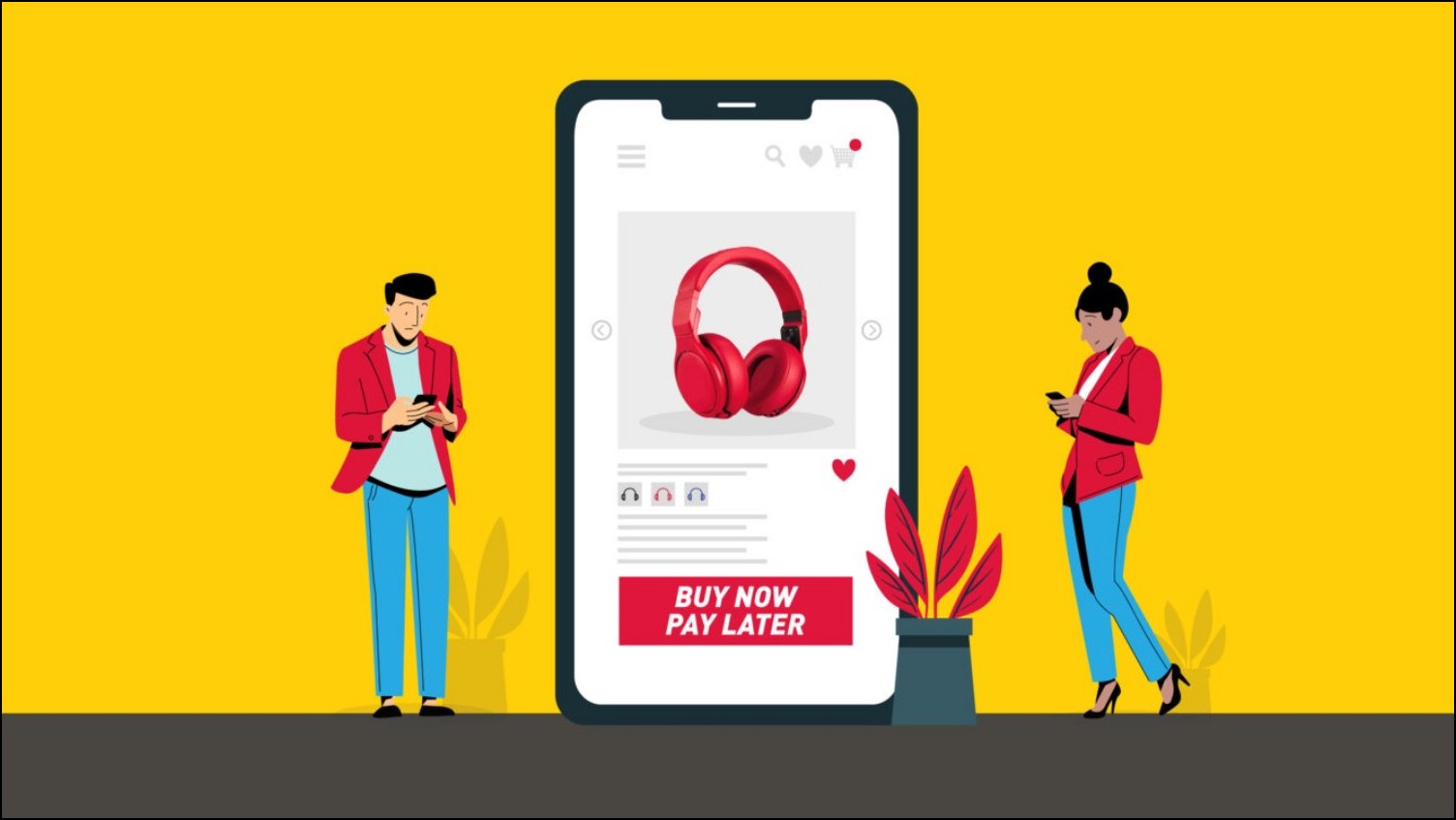 For starters, BNPL works similarly to credit cards by offering an instant interest-free credit line for shopping, paying utility bills, rent, spending on food, and more.
It allows users to meet their household expenses and wants without worrying about the cash in hand. On top of it, most BNPL apps run attractive discounts and offer on e-commerce merchants and websites.
This includes services like Amazon Pay Later, Flipkart Pay Later, FreeCharge Pay Later, Mobikwik Zip, Simpl, LazyPay, Ola Postpaid, Paytm Postpaid, etc., and also pay-later cards like Slice and Uni.
Reasons Not to Use Buy Now Pay Later
The previous year saw Buy Now Pay Later (BNPL) schemes grow by over 600% in adoption. As per the data, it grew by 637% in 2021 compared to 569% growth in 2020, which is faster than what UPI clocked.
The current BNPL market is worth $3-3.5 billion (Rs. 22,500-26,250 crore) and is expected to reach a whopping $45-50 billion (Rs. 3.37-3.75 lakh crore) by 2026, according to RedSeer.
This means more and more Indians are now adopting BNPL over other conventional modes of payment, thanks to its availability to people without any credit history and the benefits of discounts and faster, one-click payments.
While BNPL seems to be a user-friendly financial product, it also has some disadvantages that can be baneful if not taken care of. Here are certain cons of Buy Now Pay Later that may persuade you to keep away from such apps and services. Read on.
1. BNPL is a Loan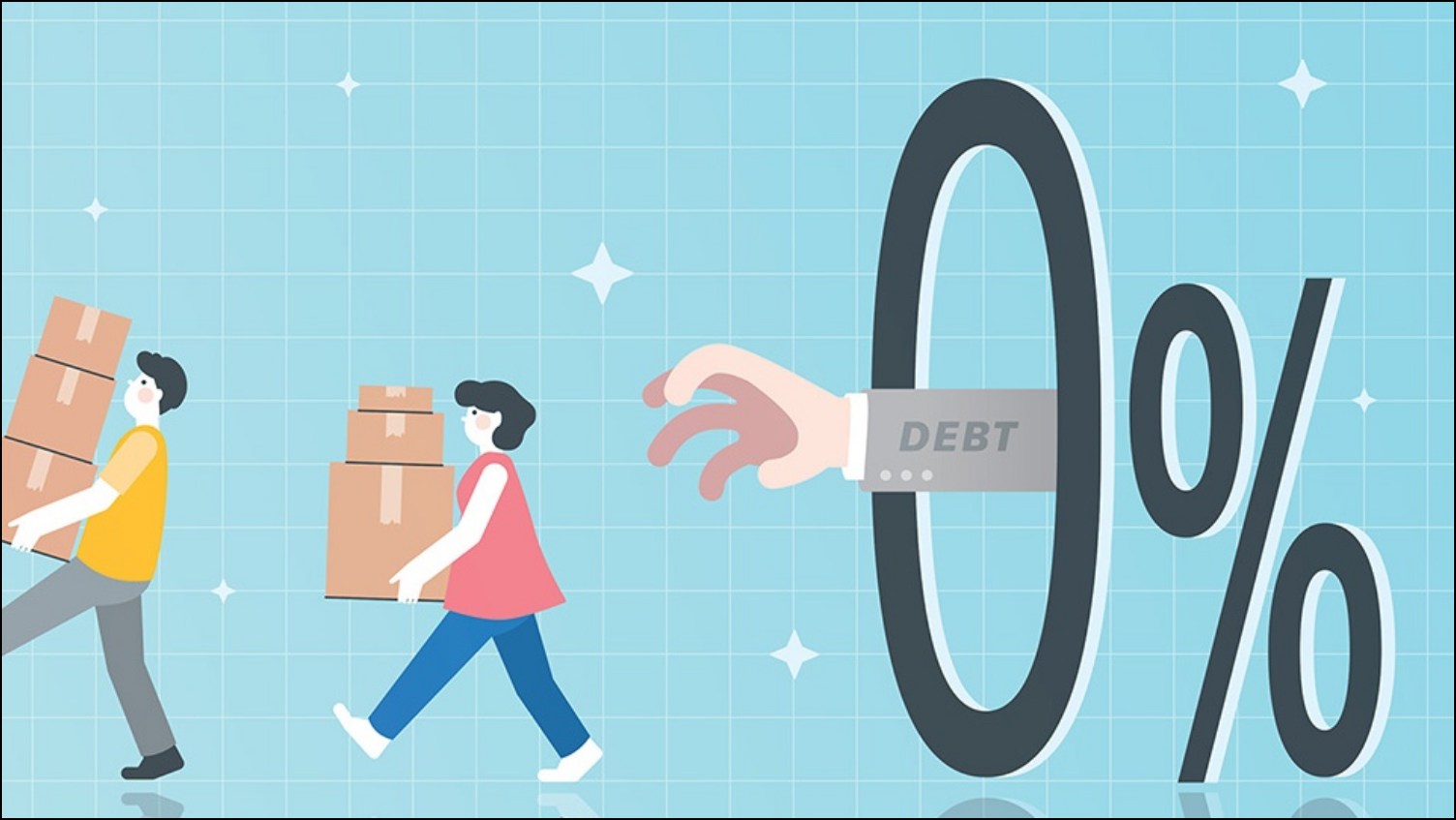 Most BNPL schemes lure customers by sugarcoating the whole Buy Now Pay Later concept. You must know that BNPL is nothing but a credit line or a small-ticket loan that is given to you and reflects on your credit report.
For those unaware, a credit report is a detailed account of your credit history. It includes information about all loans and credit cards you've taken so far and the repayment history.
When you enroll in a BNPL service, you're essentially taking a personal or consumer loan in your name, issued by partner banks or NBFCs. If you fail to repay on time, it will negatively affect your credit score and your ability to get loans in the future.
Unfortunately, there's a severe lack of information during signup to help people understand that BNPL is a credit product and the associated problems when not repaid on time.
2. Hidden Charges & Late Payment Fee
A significant chunk of income for the BNPL companies comes from hidden charges and late payment fees. Some charge you an activation/ annual charge or processing fee. On the other hand, some charge an extra amount on the total bill due.
On top of it, all BNPL services charge a late payment fee if you miss the schedule. Usually, these charges are buried under terms and conditions or need to be looked upon in the app or website- the reason why you should not buy now later without checking all the details.
Below we have compared the current schedule of charges for popular BNPL services in India:
Amazon Pay Later Charges

Amazon offers an interest-free credit line to shop and pay bills on Amazon. You can also use Amazon Pay Later for paying in EMIs. While the giant does not take any processing fee or foreclosure charge, it does charge a late payment fee.
Since it requires an auto-repayment setup, your bank may charge a one-time mandate setup charge. If your bank account does not have enough money on the date of auto-debit, you will be charged a penalty for delay in payment from Amazon.
The late payment fee is zero for amounts lesser than Rs. 200. For higher amounts, it varies between Rs. 100 + 18% GST to Rs. 500 + 18% basis the slabs shown in the chart above. On top of it, your bank may impose ECS/ ACH bounce charges due to insufficient balance.
Flipkart Pay Later Charges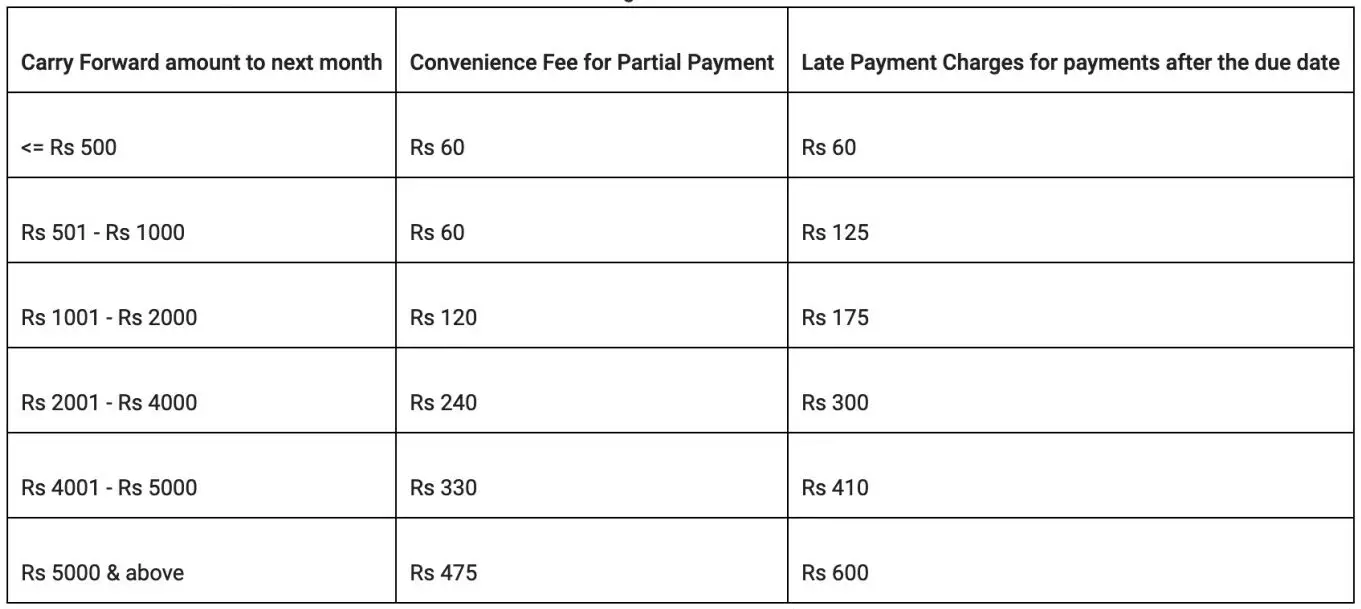 Flipkart Pay Later charges a nominal usage fee of Rs. 10 for Flipkart Pay Later bills greater than Rs. 1,000. The late payment fee, on the other hand, varies between Rs. 60 for bills to as high as Rs. 500 for bills ranging Rs. 5000 and above.
Flipkart also allows users to pay a partial amount and carry forward the remaining amount to the next month by paying a convenience fee ranging from Rs. 60 to Rs. 475, as shown in the chart.
FreeCharge Pay Later Charges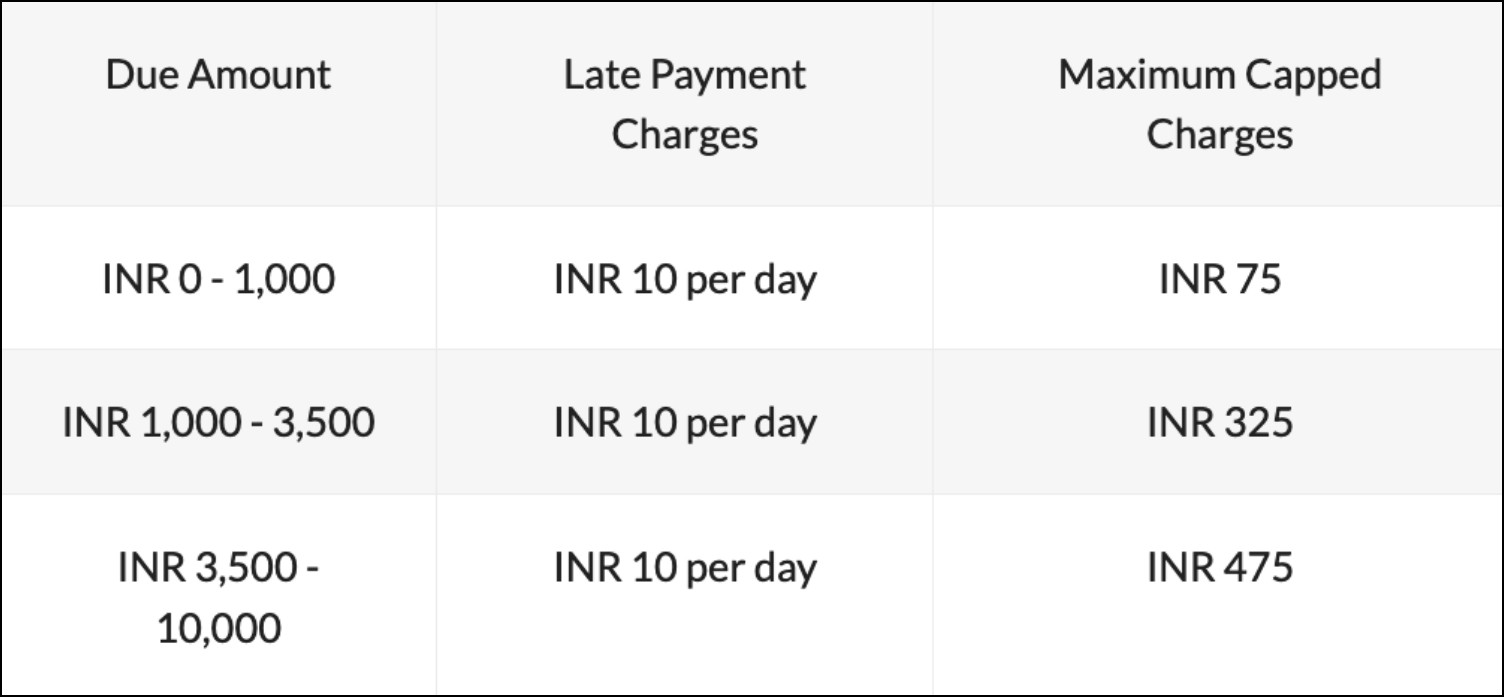 Axis Bank, which powers the FreeCharge Pay Later, charges interest on the amount used. The applicable interest amount is added to the total due amount.
However, the equivalent interest amount is credited as cashback in Freecharge Wallet on successful repayment. The interest rate is 7.95% pa but can vary and is communicated to customers during enrollment.
Furthermore, a late fee of Rs. 10 per day will be charged if you fail to repay the amount on the due date, i.e., the 5th of the month.
Mobikwik Zip Charges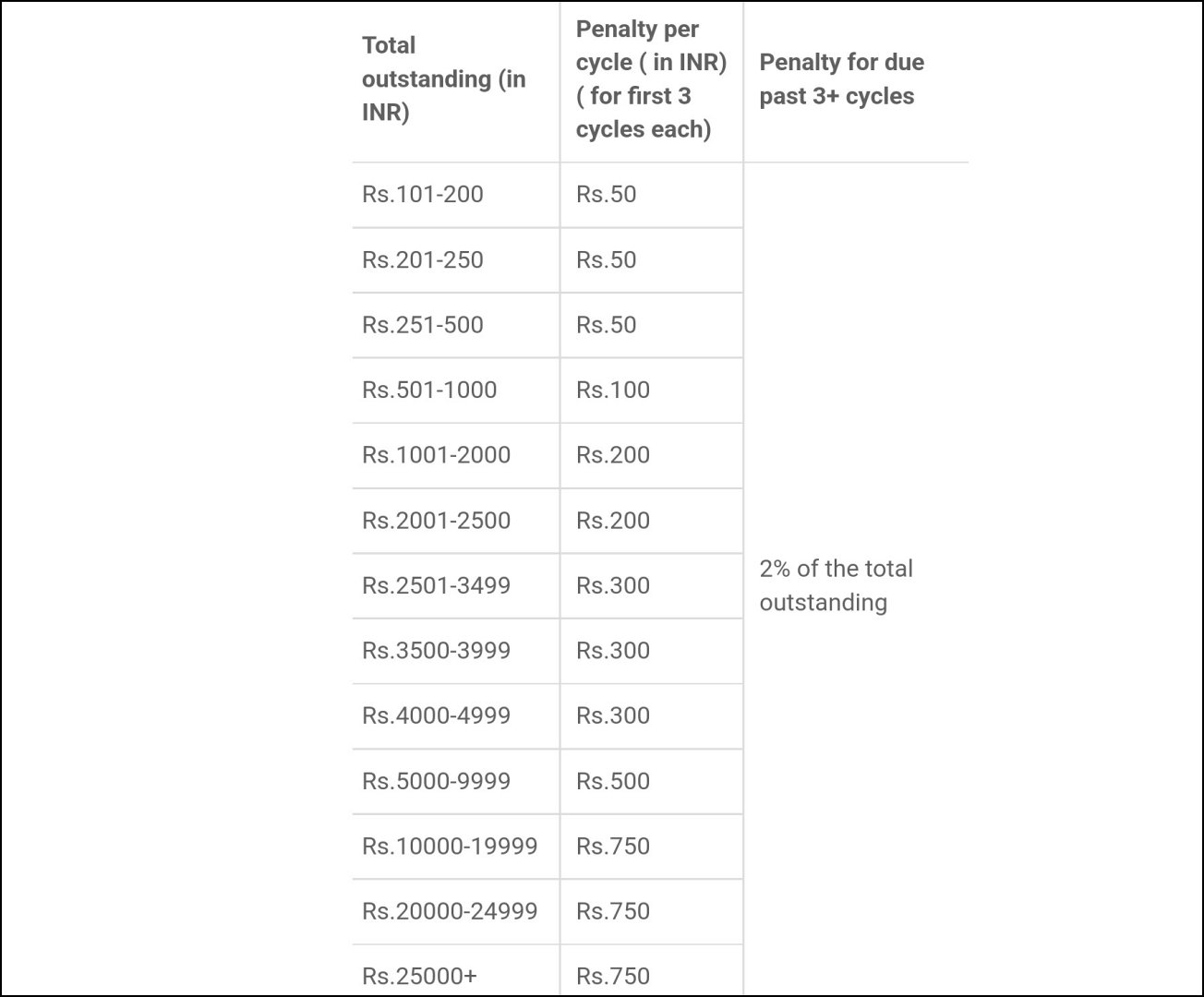 Mobikwik Zip charges a one-time activation fee of Rs 99 that must be paid during the first bill generation. Apart from it, the scheme charges a penalty of late repayment based on slabs ranging from Rs. 50 to as high as Rs. 750- the latter is for due amounts higher than Rs. 10,000.
If the due continues past three or more payment cycles, Mobikwik Pay Later will impose a direct 2% penalty of the total outstanding amount.
To check detailed charges, open Mobikwik App > See all services > Zip/ Pay Later > Tap Check T&C here.
Paytm Postpaid Charges

Paytm Postpaid, another popular BNPL service in India, does not charge any late repayment fee for dues less than Rs. 100. However, for higher amounts, the penalty ranges from Rs. 10 to Rs. 500, as shown in the chart above.
The giant also has tiers called Postpaid Mini, Lite, and Postpaid Delite, wherein the Mini and Lite have a convenience charge on the total spend of about 1-3%.
LazyPay Charges

LazyPay, which also provides a card on your credit line, charges late payment fees based on different slabs. It starts at Rs. 50 for bills between Rs. 200 to Rs. 499, and maxes out at Rs. 500 for dues over Rs. 25,000. An additional 18% GST will be applicable as well.
If autopay is enabled, your bank may also impose bounce charges in case of insufficient balance in the account on the repayment date.
LazyPay also supports Part-payment, allowing you to pay your bill and carry forward the remaining amount partially. The remaining amount is added to the next billing cycle with 1.5% carry-forward interest charges, provided you've paid the minimum amount due, which is 5% or Rs. 500, whichever is higher.
If you have not paid the minimum amount due, you will be charged both the late fee and a carry-forward interest.
Simpl Pay Later Charges
If you don't repay by the due date, Simpl can charge a late penalty of up to Rs. 250 plus the applicable GST. However, Simpl mentions that in case the user informs about any issue they're is facing, they may withhold the late penalty or reverse it, depending on the situation.
It also notifies the user multiple times via Email, SMS, and other reminders before levying the penalty.
Slice Pay Charges
Slice charges a late payment fee past the fourth day of the installment becoming overdue. The company charges a default charge of Rs. 35 a day which, if continued, is subject to a maximum limit of Rs 2,000 or 30 percent of the outstanding amount.
OlaMoney Postpaid Charges

If you fail to make payments as per the repayment schedule, OlaMoney Postpaid charges a late payment fee starting at Rs. 50 to as high as Rs. 2000.
Ola has set different slabs for delay charges basis the amount due and how many days have passed. If you do not pay the amount, the penalty increases three times on the 31st, 61st, and 80th day of default.
Note: The charges may change in due course of time. Please verify them on the BNPL service's official app or website.
3. Higher Probability of Missing Repayments
Unlike credit cards, you cannot decide the billing cycle for most BNPL schemes. There's a fixed repayment schedule, and for some schemes, it's twice every month with a repayment window of 3-5 days.
If you have enrolled in too many BNPL schemes, tracking and keeping up with repayments can be a hassle. This is a major reason why many people miss their dues and end up paying the late payment fee.
4. BNPL Encourages Overspending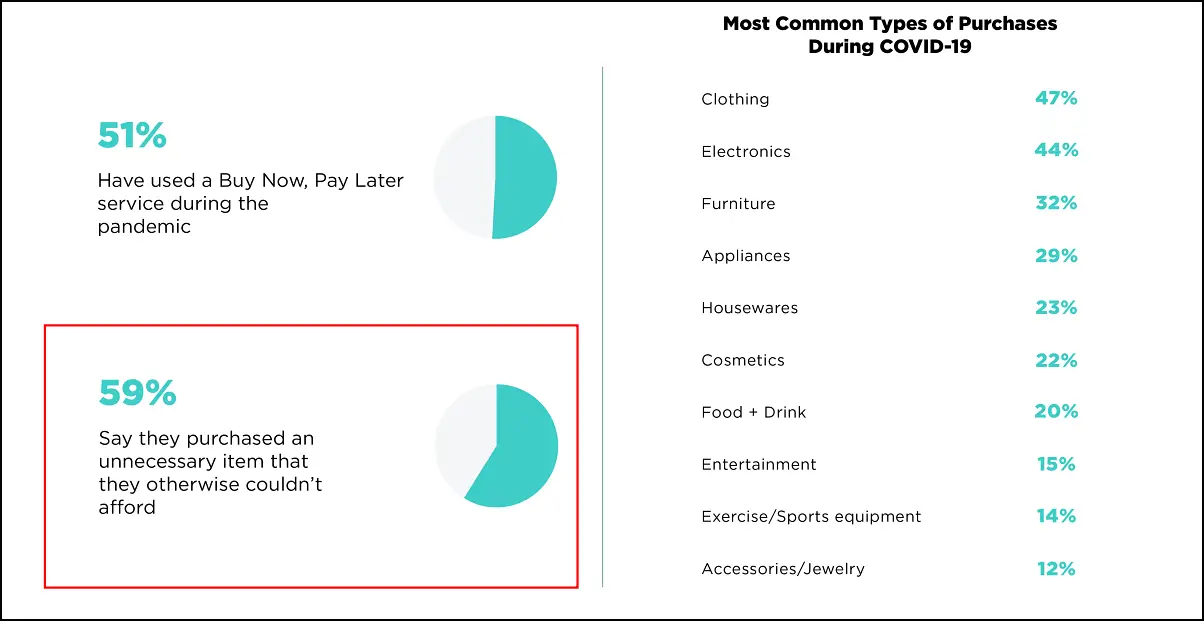 According to a survey by C+R Research, out of the people that made online purchases during the pandemic using the BNPL service, 59% have accepted that they purchased an unnecessary item they otherwise couldn't afford.
Similarly, a survey conducted on over 1,500 people by US-based The Strawhecker Group shows that 39 percent of consumers have tried BNPL. Of those, 55 percent tend to spend more than other payment methods.
The BNPL's one-click processing and flexible repayments make people opt for large ticket purchases than they need or can afford. The BNPL's flexibility makes you more inclined to spend even though you'll be paying the amount in multiple installments.
Hence, as it's the case with credit cards, BNPL may unknowingly turn you into spending more on unnecessary things.
5. Disturbs Budgeting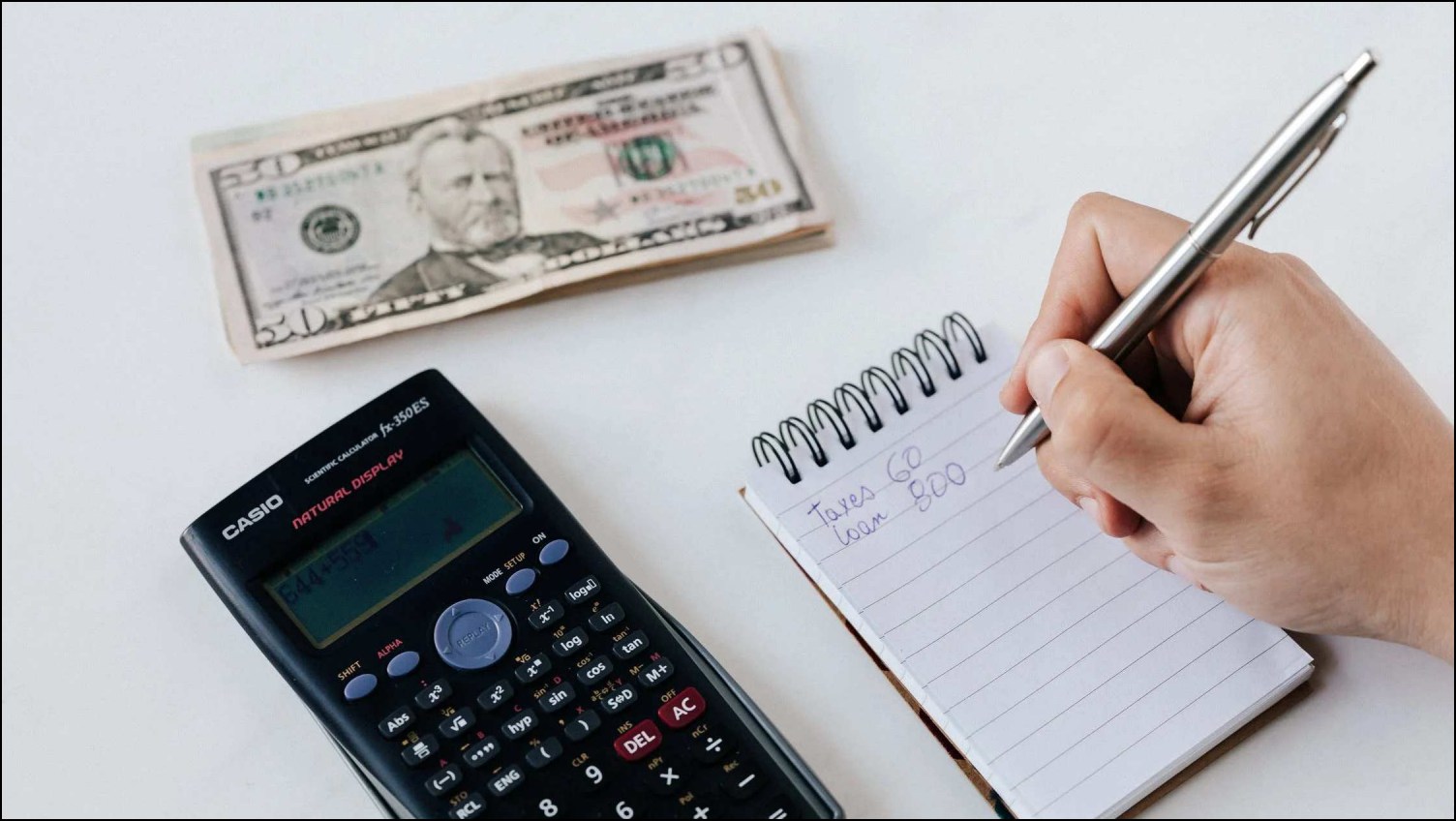 Apart from overspending, another reason not to use Buy Now Pay Later is that it disturbs budgeting. When you pay at multiple merchants or services with BNPL, it becomes difficult to keep track of your spending, especially with the concurrent installments and repayments.
That said, if you do find it challenging to keep track of your expenses, you can resort to using the expense tracker apps given here.
Does BNPL Cause a Drop in Credit Score?
In general, if you pay your dues timely, you won't have any negative impact on your credit or CIBIL score. However, some Flipkart Pay Later users have reported that their payment, even though made on time, was reflected as late payment on CIBIL report thereby reducing the credit score.
Also, buy now pay later services usually have very high interest rates and charges compared to a traditional bank loan. And hence, they may push you faster into a debt trap which can affect your credit score.
Pros and Cons of BNPL
Pros
Convenient and fast payments.
Timely payments can help built credit history.
Interest-free terms.
Cons
High late payment fee and hidden charges.
Encourages overspending and impulsive purchases.
Shows up as consumer loan on credit report.
Should You Not Use Buy Now Pay Later At All?
Buy Now Pay Later is a flexible product- it can help people with unstable pay manage their cash flows, and those with no/ low credit scores enjoy an interest-free credit line. But at the same time, it has disadvantages too.
If you fail to repay on time, you'll have to deal with hefty late payment charges and a dent in your credit score. Subconsciously, it also makes you spend more on the things that you'd have not bought otherwise. On top of it, cancellations, refund-related processing, and customer service with these BNPL services are other headaches to deal with.
Overall, if you find yourself financially disciplined and aware of BNPL as a product and its consequences, there's no harm in using it for added flexibility and discounts. But if there's the slightest chance of you missing the payment, you shall avoid enrolling in these schemes.
Here are some of the best Buy Now Pay Later apps in India, with pros, cons, and charges in detail.
You can also follow us for instant tech news at Google News or for tips and tricks, smartphones & gadgets reviews, join GadgetsToUse Telegram Group, or for the latest review videos subscribe GadgetsToUse Youtube Channel.