I loved Key Largo for its laid-back atmosphere and nature-exploring opportunities, my favorites being the wildlife centers, parks, beaches, and snorkeling sites. There's so much to see and do here! 
Read on for 24 things that make Key Largo worth a visit:
1. The Laura Quinn Wild Bird Sanctuary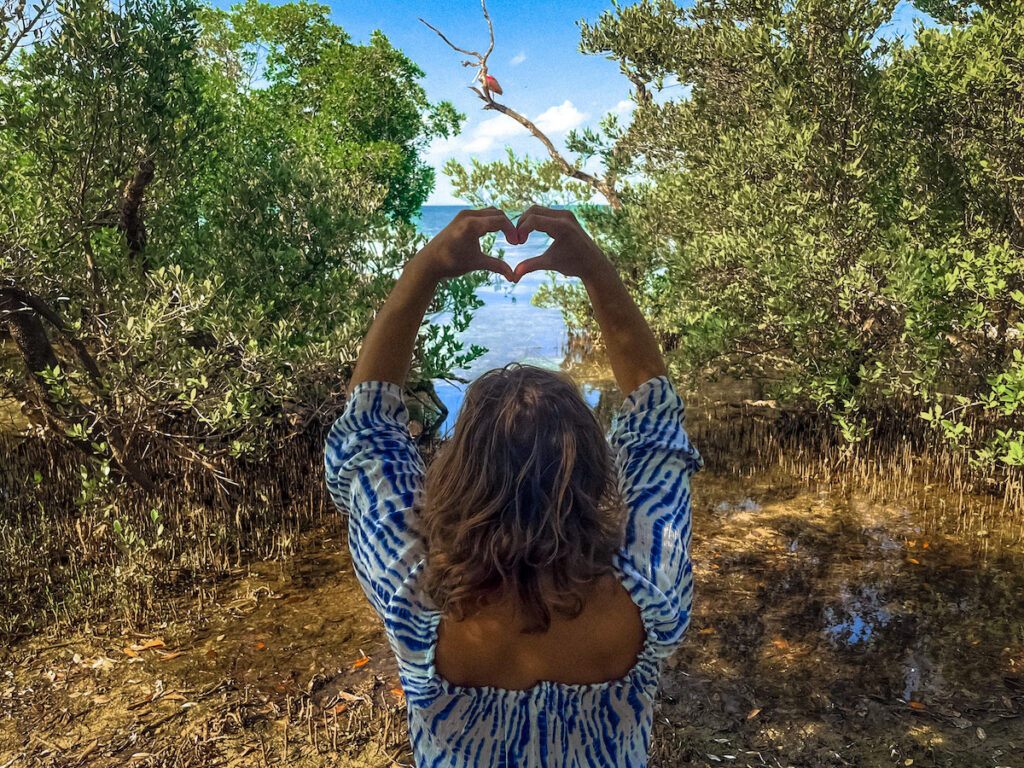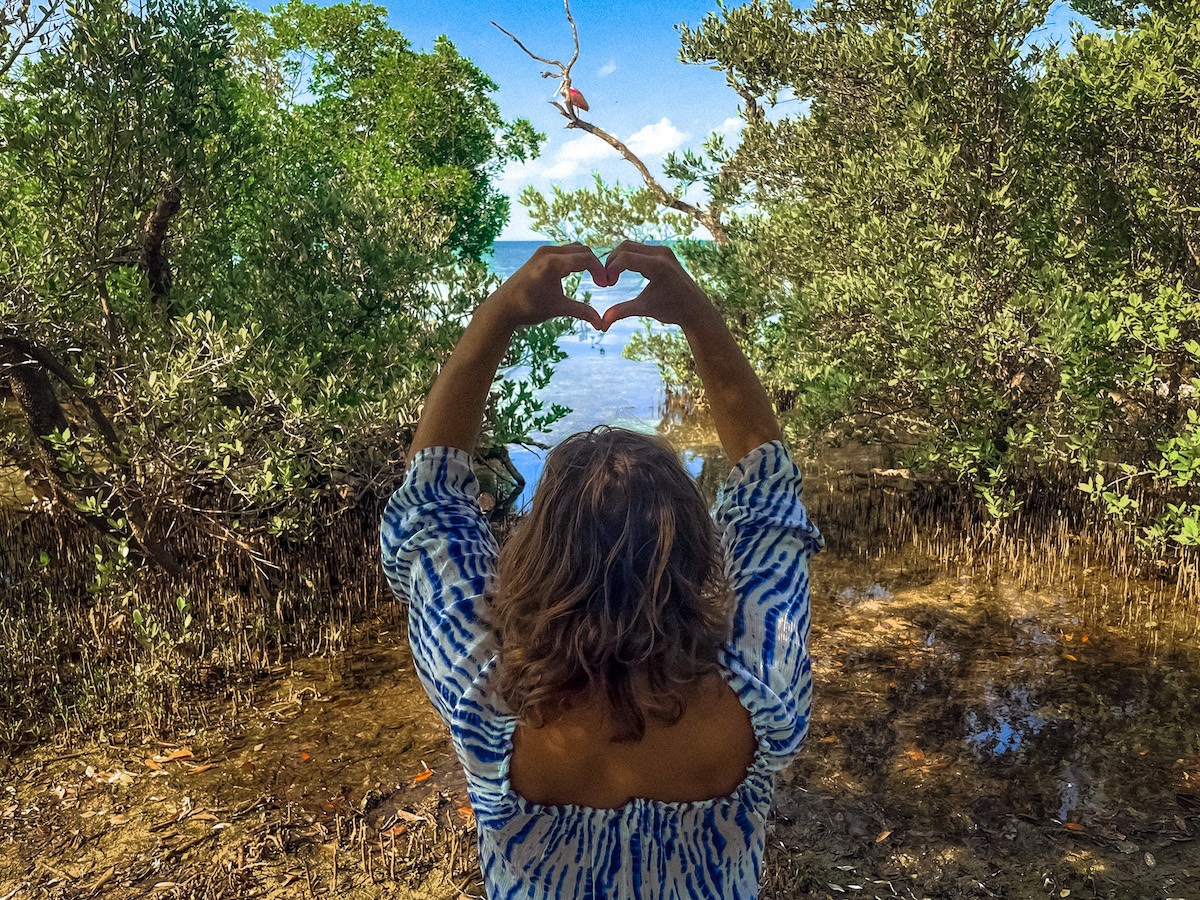 I anchored just off the coast of Tavernier, dinghied to Harry Harris Park, and walked the three miles to the Laura Quinn Wild Bird Sanctuary. Admission is free, but they ask that you leave a $10 donation. 
The heart-warming sanctuary nestled in nature provides safe and comfortable homes for injured birds that cannot return to the wild. I said hi to owls, bluejays, pelicans, red-headed woodpeckers, and numerous other species. If you arrive around lunchtime, the birds will also be chowing down! 
Many of the birds also have names and known histories. My absolute favorite was Junior, a great horned owl. He stared at me in pure exasperation, clearly not amused by the two giant iguanas who were crawling on the roof of his home!
Informational signs line the walkways, so you can learn about things like bird anatomy (for example, how they use their bodies to expel salt from seawater to make freshwater). You can even measure your own wingspan. At the end of the pathway, there's a peaceful view of the mangroves, where I saw a roseate spoonbill. 
2. Dagny Johnson Key Largo Hammock Botanical State Park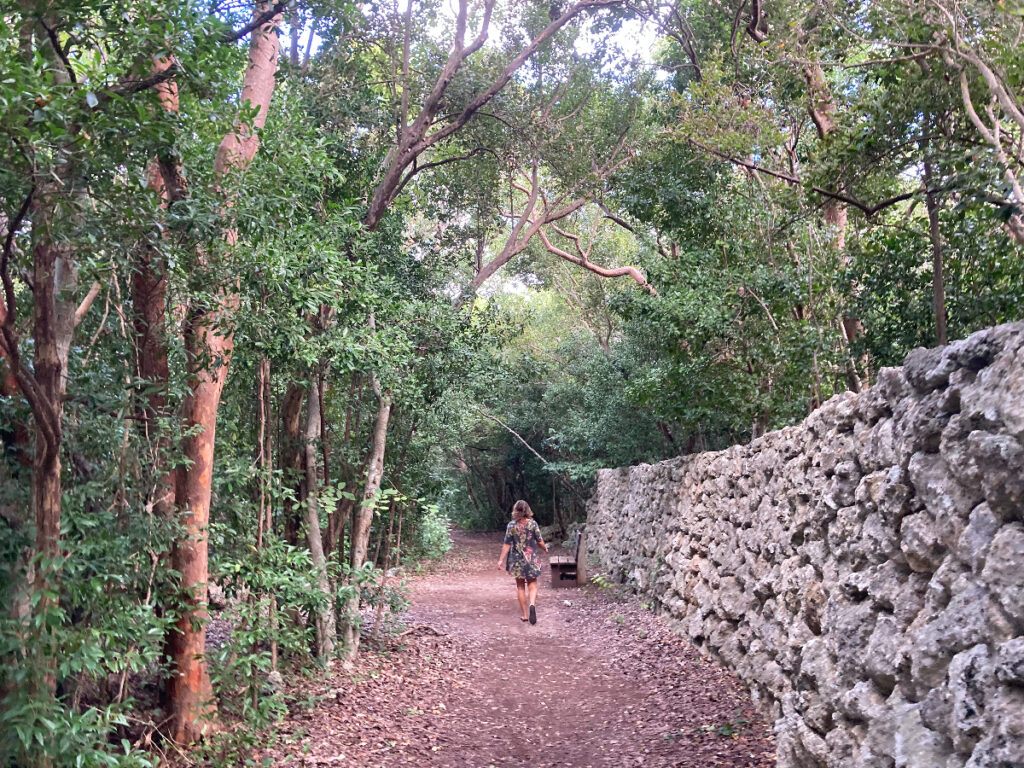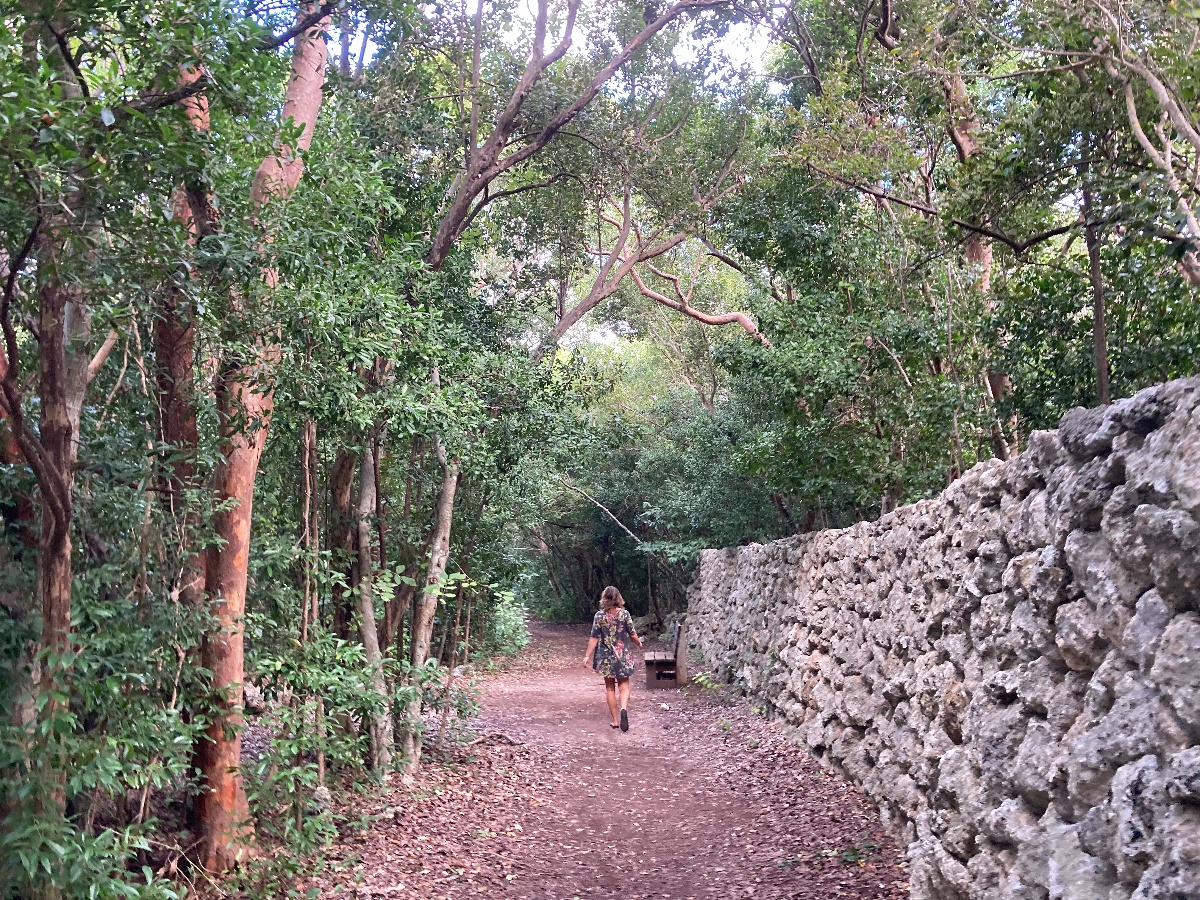 There are no reclining hammocks at Dagny Johnson, just one of the United States' largest habitats of West Indian tropical hardwoods, which date back thousands of years ago. "Hammock" is a forest term that refers to part of the land that is higher than the rest and can support the growth of hardwood trees. 
You can walk or bike down more than six miles of trails, and observe any of the 84 rare and protected plant and animal species that reside here. The trails are self-guided, but you can read the signs or go on a ranger-guided tour. Admission is $5 at the gate.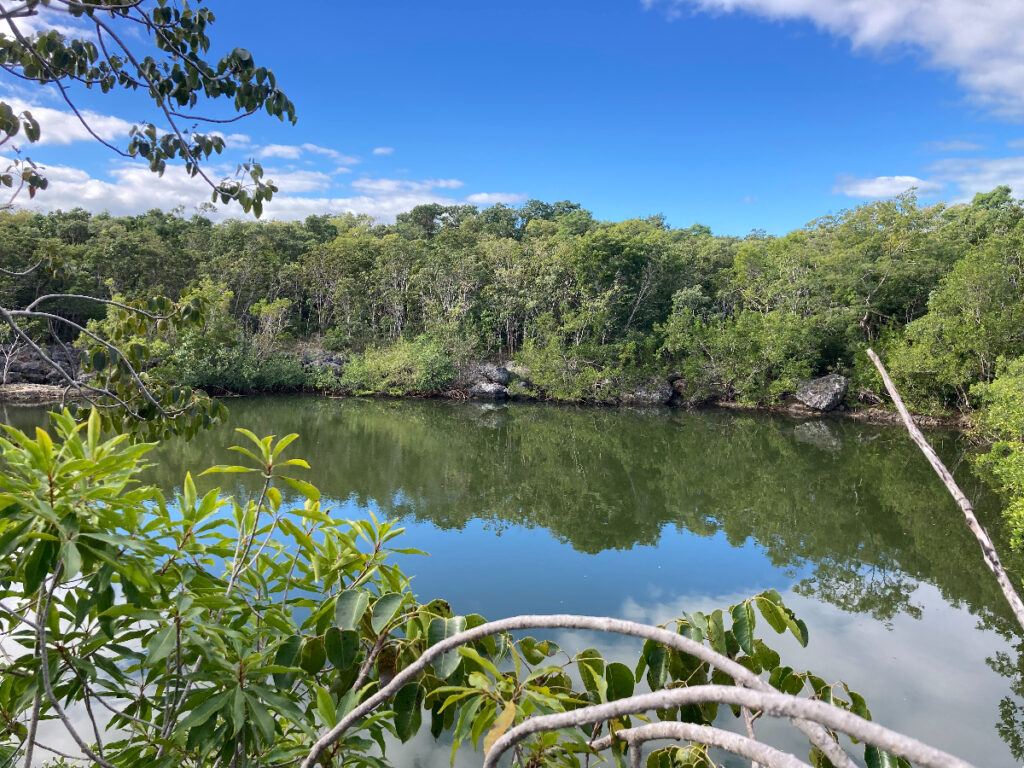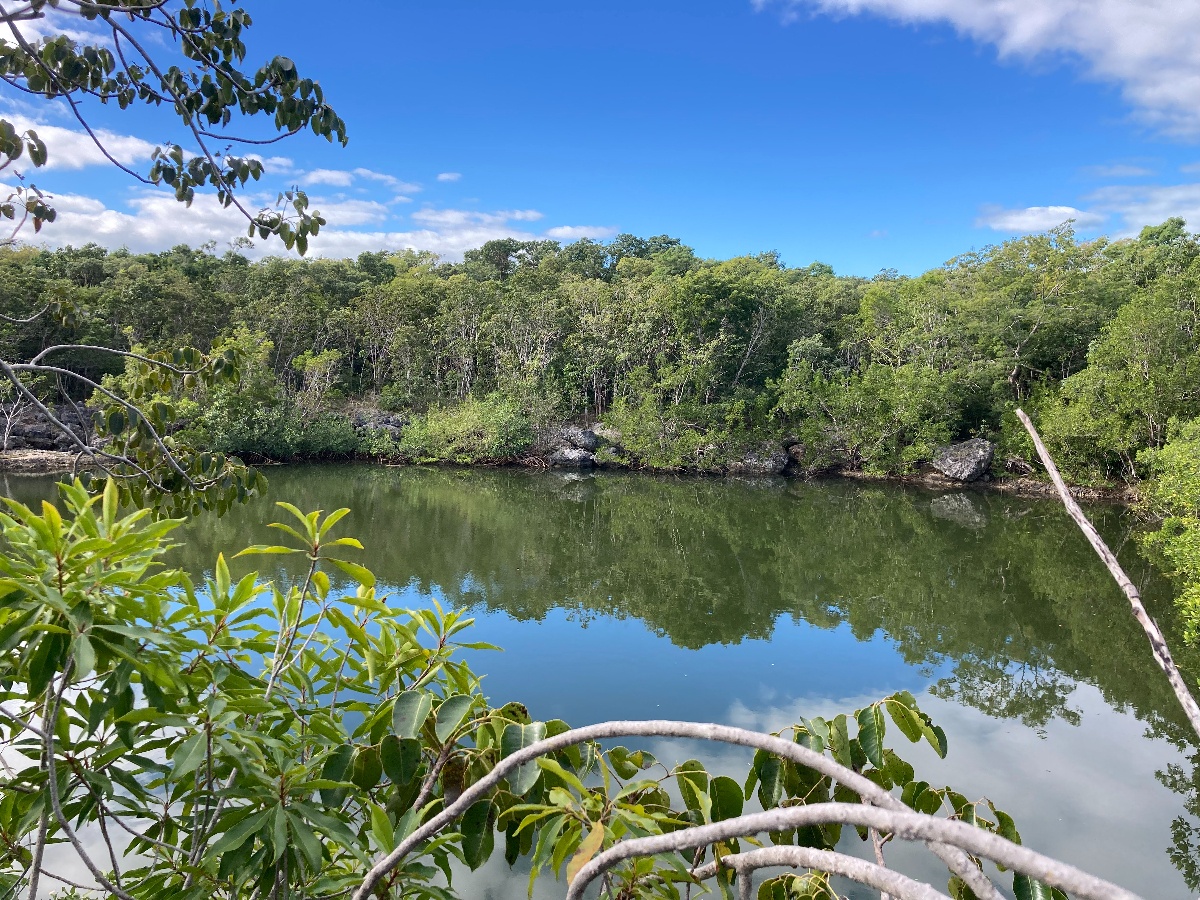 This was one of my favorite parts of Key Largo, because of how enveloped I felt in nature. I could have easily spent half the day walking through the tiny loops that spiral off the larger and more central trail.
3. John Pennekamp Coral Reef State Park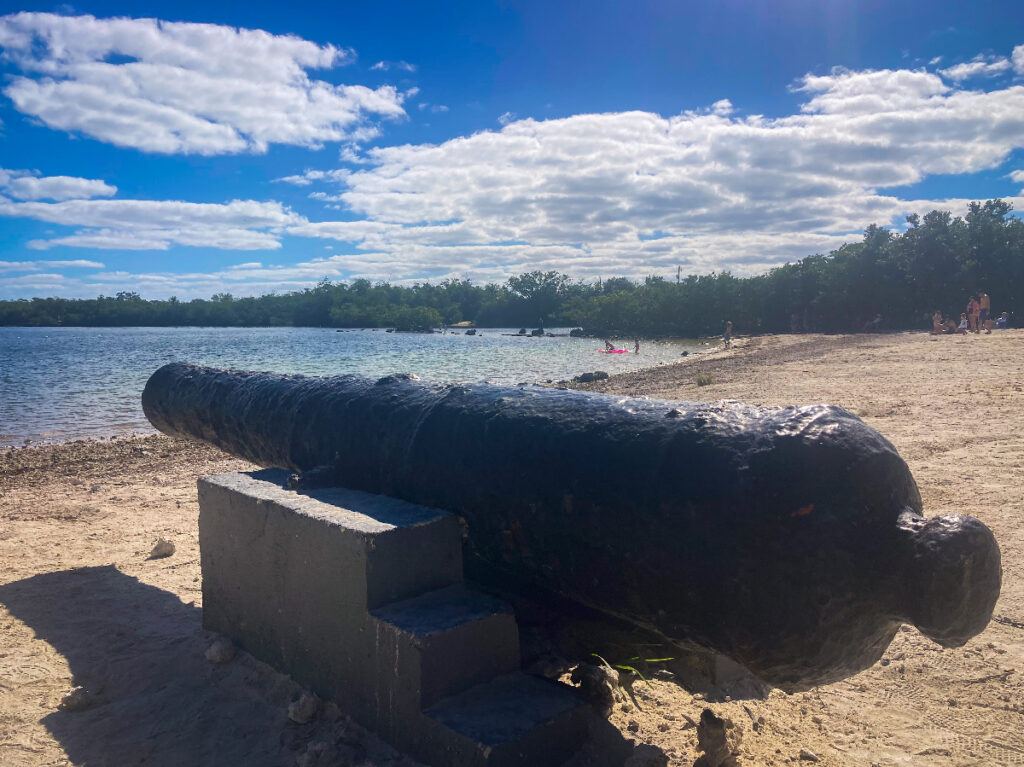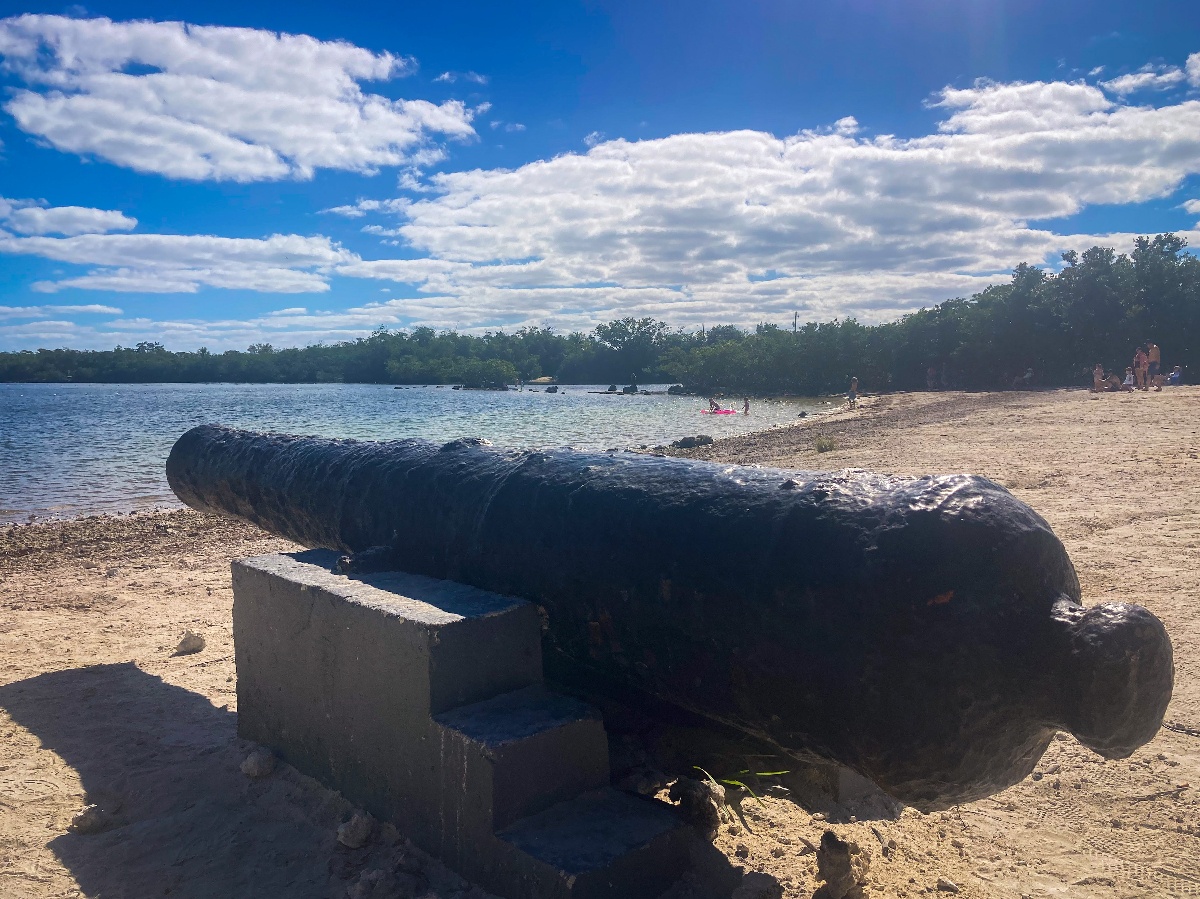 Pennekamp is a national underwater park that spans 70 miles along the Florida coast and three miles out into the Atlantic. You can hop on a snorkeling excursion boat and explore the park with your mask and snorkel, or rent a kayak and ease through the mangroves. 
There are land activities too: trails, aquariums at the visitors center, and two small beaches that I appreciated for their beautiful views, convenient water access, and relaxing atmosphere.
4. Overseas Heritage Trail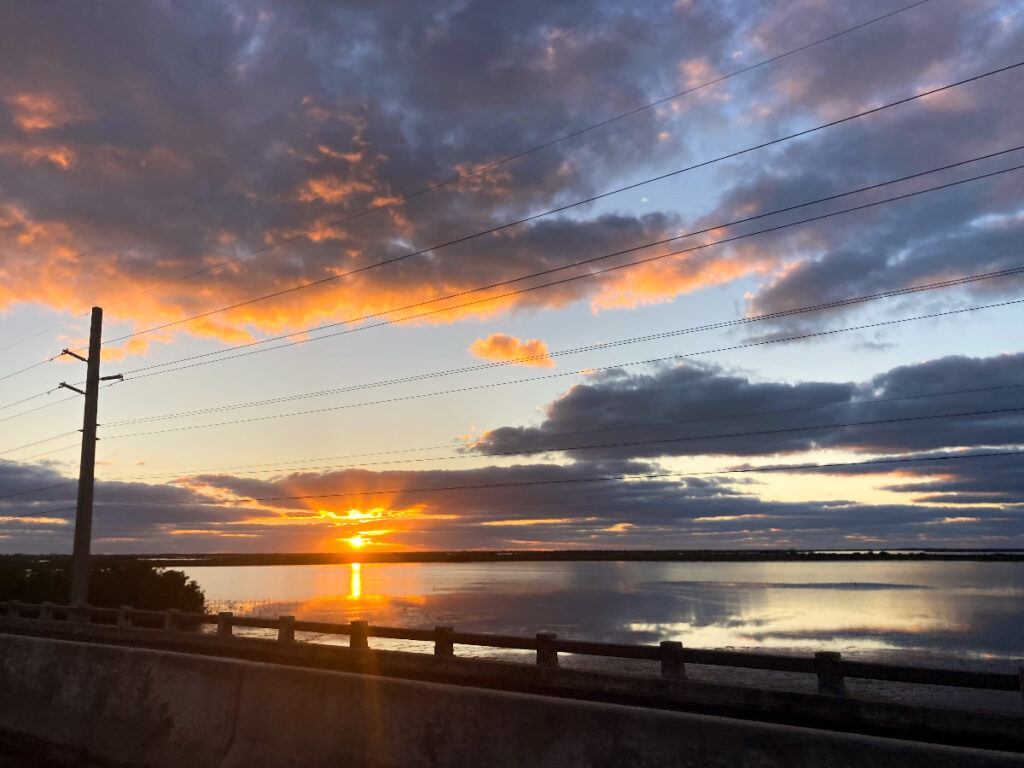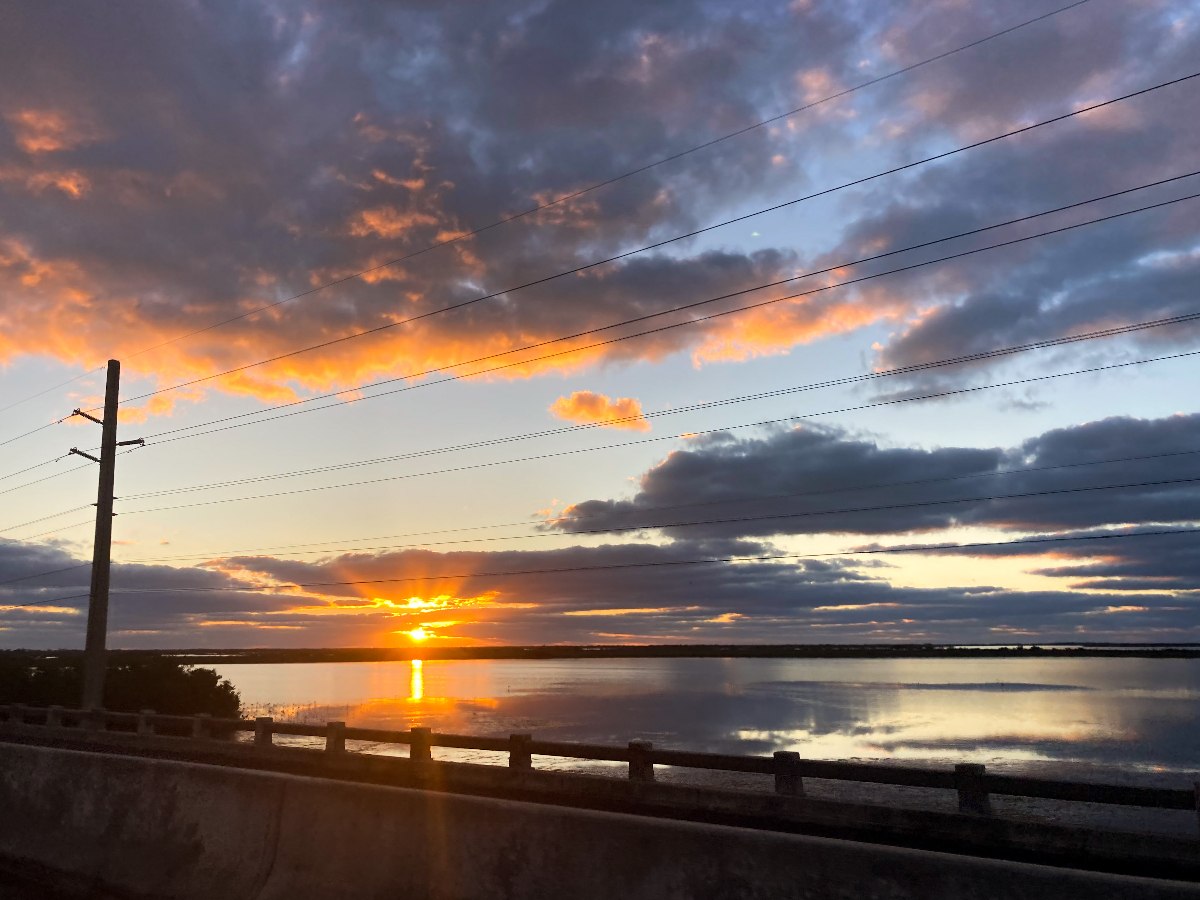 If you are an avid biker, you could take a backpack and cycle the paved, 90+-mile historic Overseas Heritage Trail from Key Largo all the way to Key West. There are 23 historic Flagler Railroad bridges, all of which are incorporated into this National Scenic Highway, which is popular among pedestrians, bikers, runners, skaters, sightseers, fishers, paddlers, and others. I managed to catch both the sunrise and the sunset along the route.
Beaches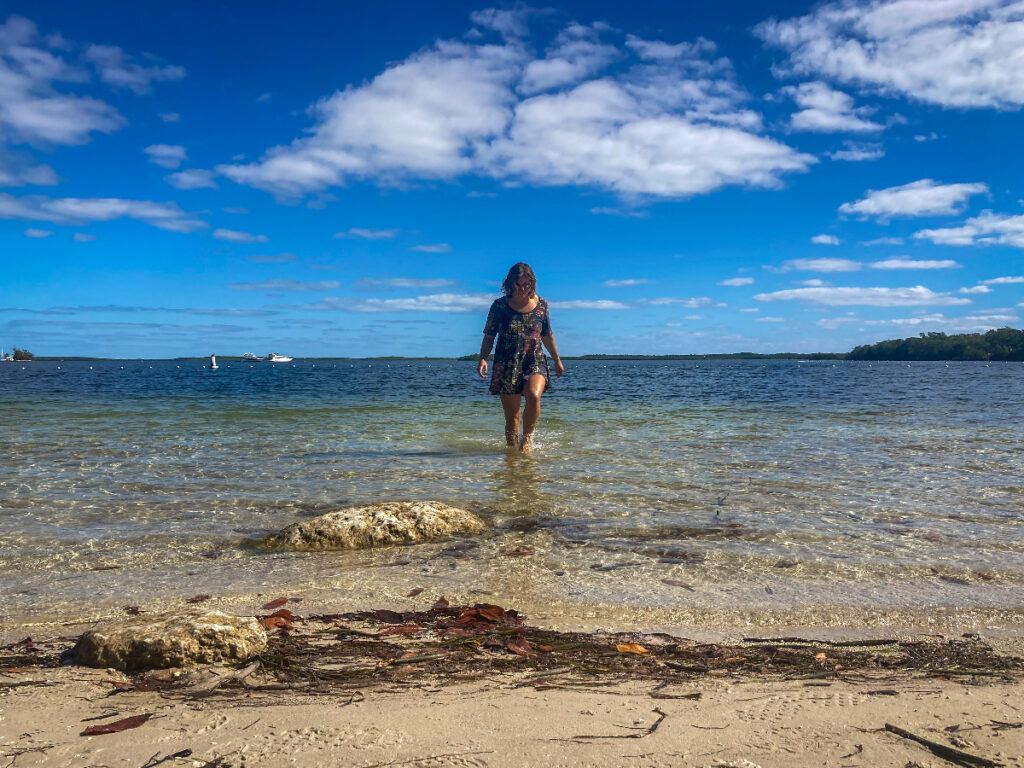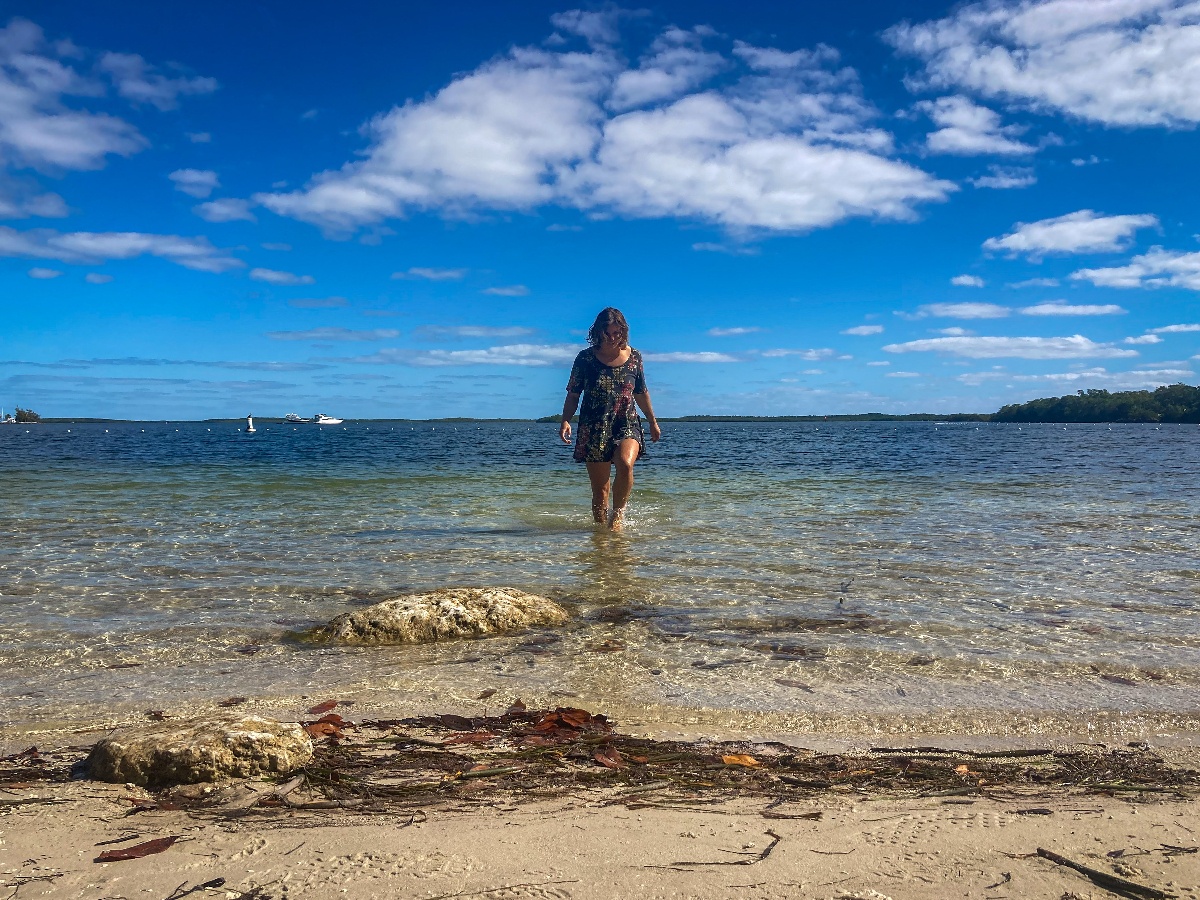 Key Largo has some fabulous human-made beaches. Bring a camera or a book, pack a drink and picnic lunch, go for a swim, tan yourself, build a sand castle, practice some yoga, or settle in to watch the sunset — there's room for all of that. Here's a brief overview of each one:
5. Cannon Beach
This sandy patch of shoreline is lined with 17th-century cannons. It's a great beach for children, because of the gentle slope of the swim area and the soft sand.
6. Far Beach
Part of Pennekamp and nestled into the mangroves, this beach also has a boardwalk along one edge. A few elderly people were enjoying a picnic lunch under the trees. I used some larger rocks as stepping stones to get a little deeper in the water, which allowed me to spot Cannon Beach in the distance.
7. Harry Harris Beach and Park
This is a great family beach, with a beautiful tidal pool and concrete walk along the breakwater overlooking the ocean, plus a fishing jetty to the left of the public boat ramp. The park has a sports area, picnic tables, grills, and bathrooms.
8. Rowell's Waterfront Park
I climbed up to a small outlook, walked along the concrete breakwater, and tested the temperature of the tidal pool. People launched sailboats at the nearby ramp, while others read books in the shade. 
You can read more about some of Key Largo's best beaches here.
Snorkeling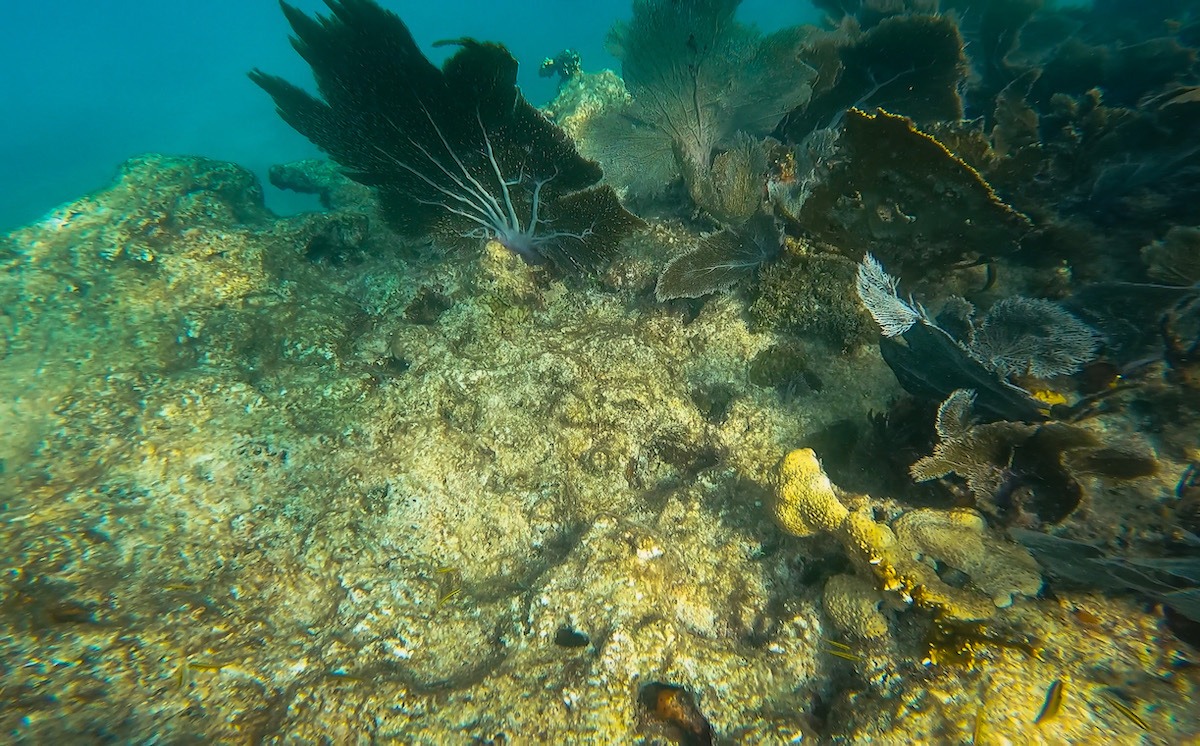 Key Largo is the self-proclaimed "dive capital of the world" because of its wrecks and rare living coral reef formations and statues. Of these, I particularly enjoyed seeing the Christ of the Abyss statue and the living fan coral. There was also a ton of wildlife: I saw angelfish, parrot fish, barracudas, groupers, a spotted eagle ray, a sea turtle, and scarily enough, plenty of Portuguese man-of-wars.
Here are some of the more popular reefs:
This has a wide range of underwater structures, because of the varying depths, which range from 6 to 90 feet; these are marked by buoys. You'll also see boulder corals and groove coral formations.
This is where the Christ of the Abyss statue is located, which stands on the ocean floor to honor those who lost their lives at sea. It's one of the most famous dive sites in the world.
This is a shallower and more protected reef, because of its crescent-shaped structure. Some rocks jut above the surface at low tide. 
This is one of the more shallow reefs and also contains two wrecks, the City of Washington and the Tonawanda. The tower that marks the reef is lit at night, so you could dive here after the sun goes down.
You can learn more about the best snorkeling in Key Largo here.
Scuba Diving
Scuba, which is an acronym for "self-contained underwater breathing apparatus" is different from snorkeling. In order to scuba dive, you need to have a certification or go with an instructor.
13. Get certified
Key Largo really is one of the best places to get your scuba certification, because there are so many fascinating dive sites for the open-water portion of the course. If you stay for at least three days, you can get your open-water scuba certification. 
You can even plan your vacation around your course (especially if you take the classwork portion online), and then you can dive into some of the deeper sites during the rest of your stay! 
To make it even more convenient, Amoray, a dive resort, offers accommodations and even shorter classes that allow you to start diving on the same day. When I spoke to them on the phone, they recommended you call the hotel at 305-451-3595 to register, because they will follow up via phone for any online registrants anyway, and the online processing fee is waived. The hotel and dive center share the same number, so just ask to be transferred to the dive center.
Key Largo has some beautiful off-shore wrecks that are only accessible with a tank. If you have your certification, check out the following:
14. USS Spiegal Grove wreck
The USS Spiegal Grove sank as it was being transported to its final resting spot as an artificial reef. It landed and stayed on its side until Hurricane Dennis flipped it into an upright position. At the time of its sinking, it was the largest artificial reef, at 500 feet long and 80 feet wide.
15. Benwood Wreck
The Benwood wreck is one of the more shallow wrecks in the Florida Keys, and combined with the abundant wildlife, it's a very popular artificial reef to visit. The ship was intentionally sunk after it was declared a total loss upon running into another vessel that was also blacked out (not shining any navigation lights at night).
16. USCGC Duane wreck
This ship, listed in the National Register of Historic Places, was intentionally sunk and is now an underwater museum and artificial reef.
Fishing
You'll need a Florida saltwater fishing license if you don't have one already, but then you're good to go!
17. Flats (inland)
The flats are where you'll catch the inland fish like bonefish, permit, and tarpon. Fishing the flats is good for beginners, because of the calmer waters. If you are a beginner angler, it's best for the environment if you go with a guide.
18. Offshore
Key Largo's ocean-side coast is dotted with wrecks and reefs, but you can also do some trolling for fish, like mahi mahi. Be prepared for ocean swell, though (you can bring peppermint essential oil or wristbands to help with seasickness). If you are new to offshore fishing, you'll get more out of your trip if you join an experienced guide.
19. Shore fishing
Many hotels in Key Largo allow you to fish off their docks, but you can also go to Largo Sound, Blackwater Sound, Tavernier Creek, and the fishing jetty at Harry Harris Park.
If you're an experienced angler, you can always rent a boat, bring a travel rod, and check out some of these spots on your own.
20. Boat Rental
If you prefer to travel and explore at your own pace, you can always rent a boat to go out to snorkeling sites, fish, or just putter around on the water. I love being able to drive my own boat exactly where I want to go! You can find a boat to rent here. 
If you were born in or after 1988, you will need a boater's safety license to operate a vessel that has a motor with horsepower of 10 or greater. Many rental companies issue a temporary license for a small fee, but you can take a course online for free.
21. Kayaking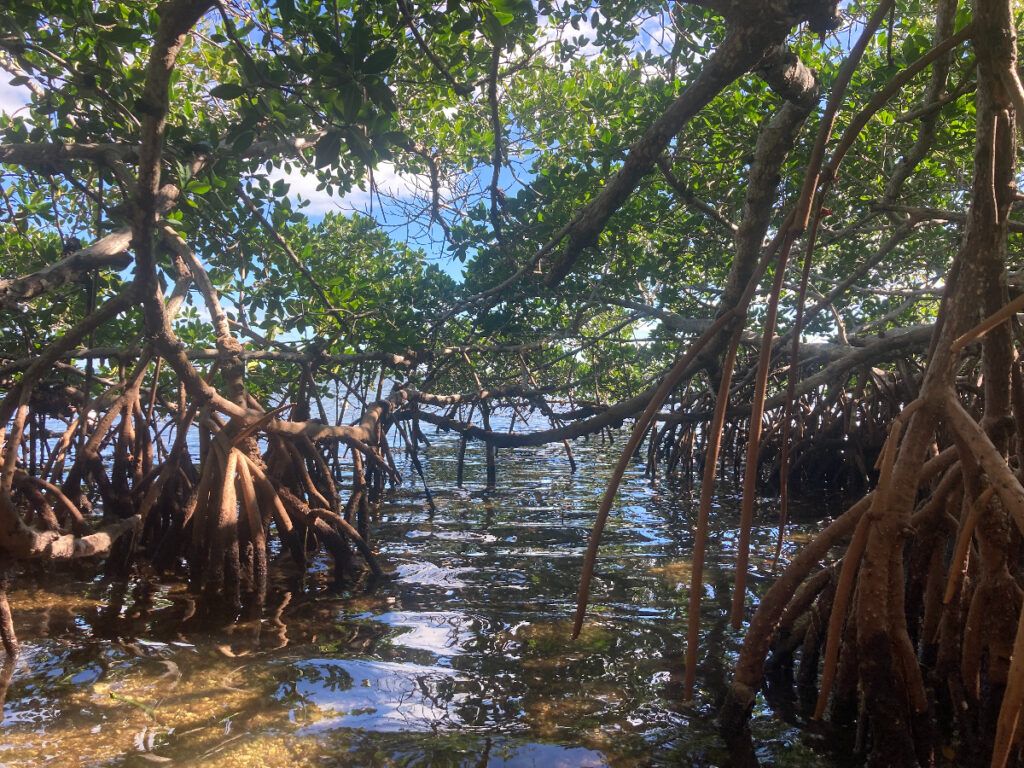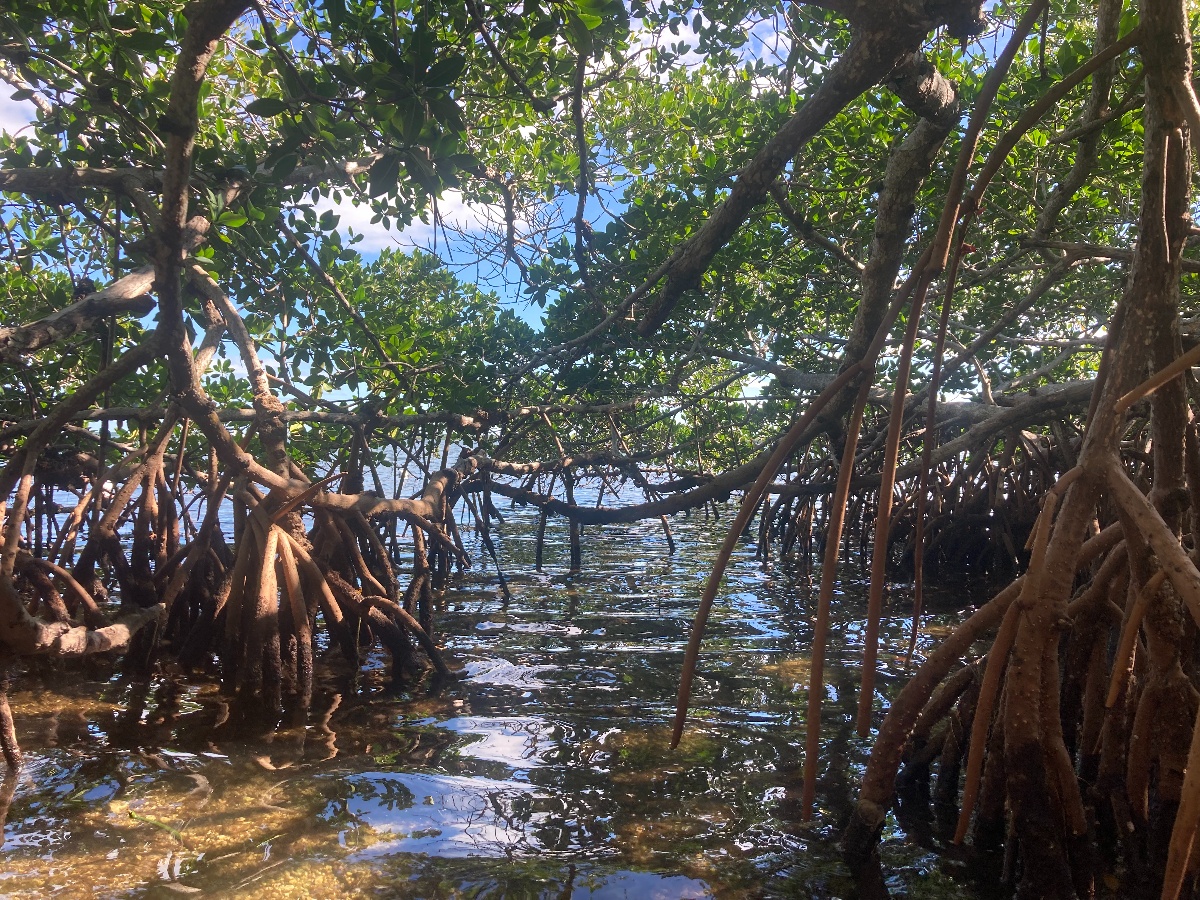 Most hotels in Key Largo will offer complimentary kayaks, so definitely take one out for a paddle! If you want to make an adventure of it, you can sneak into mangroves tunnels. I always feel like a kid playing in a fort when I do that, because of the way the branches loom so close overhead.
If you go on a guided mangrove tour, you'll learn a little about the impact and influence of mangroves on the environment. They are a protected plant, so be careful to not touch the branches or leaves.
22. The African Queen Canal Cruise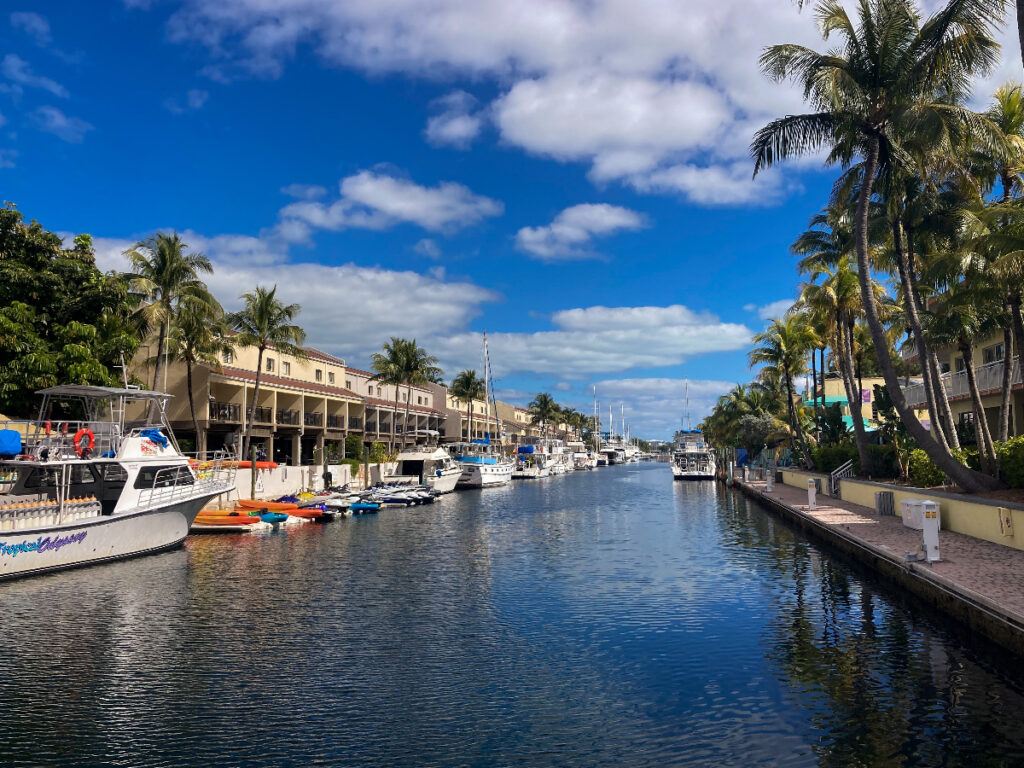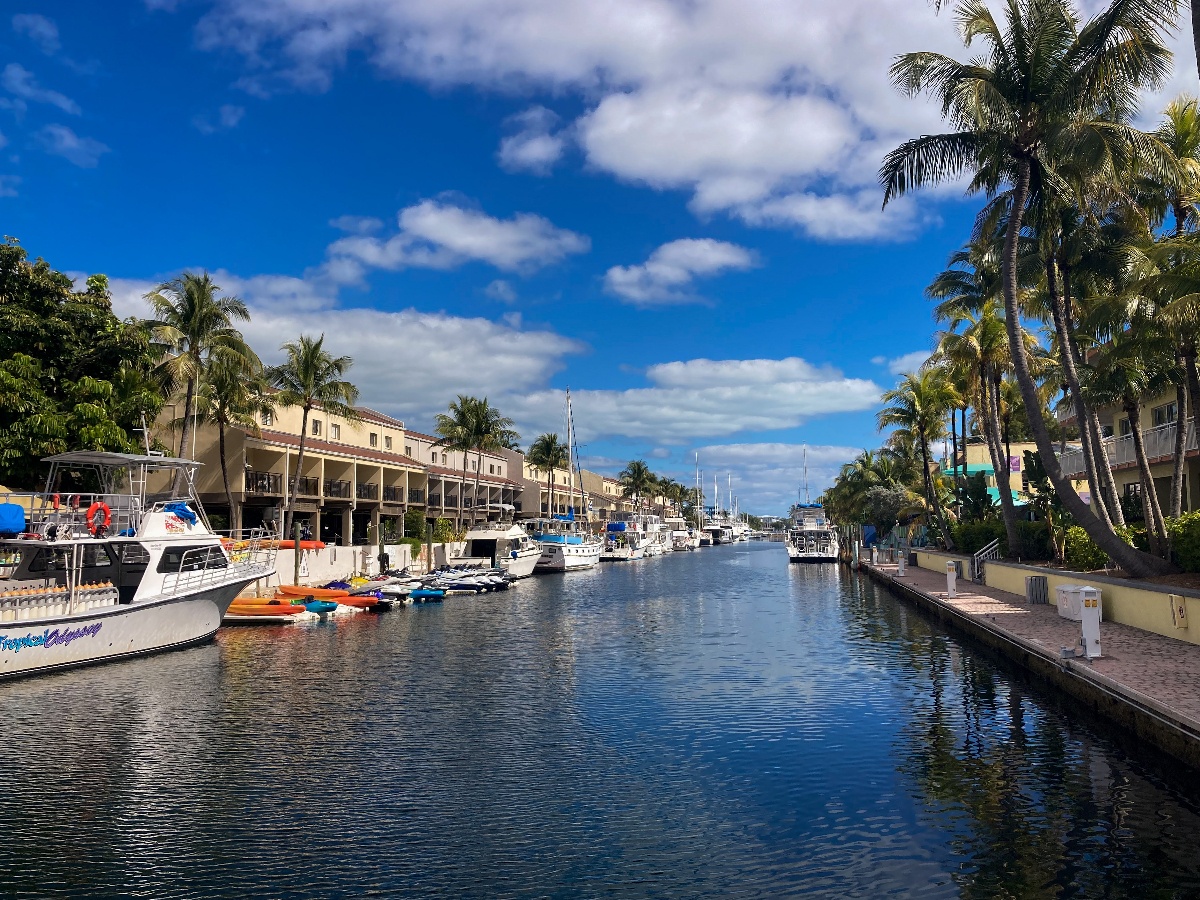 This historic steamboat experienced its rise to fame in the 1951 movie The African Queen, which starred Katharine Hepburn and Humphrey Bogart. The boat endured years of adventure and moving around, from England to San Francisco to Ireland; raced competitively in a handful of regattas (boat races); and eventually found her permanent home in Key Largo. It's the original, and you can hop on it for a canal cruise down the Port Largo canals until you reach the ocean.
23. Blond Giraffe's Serenity Garden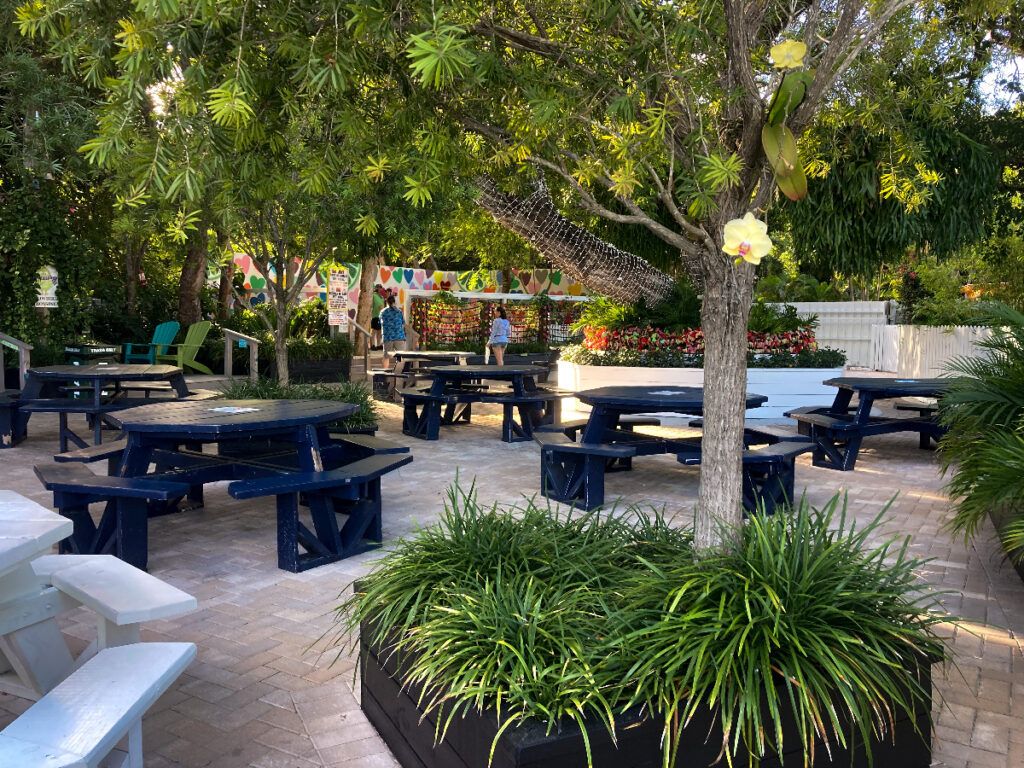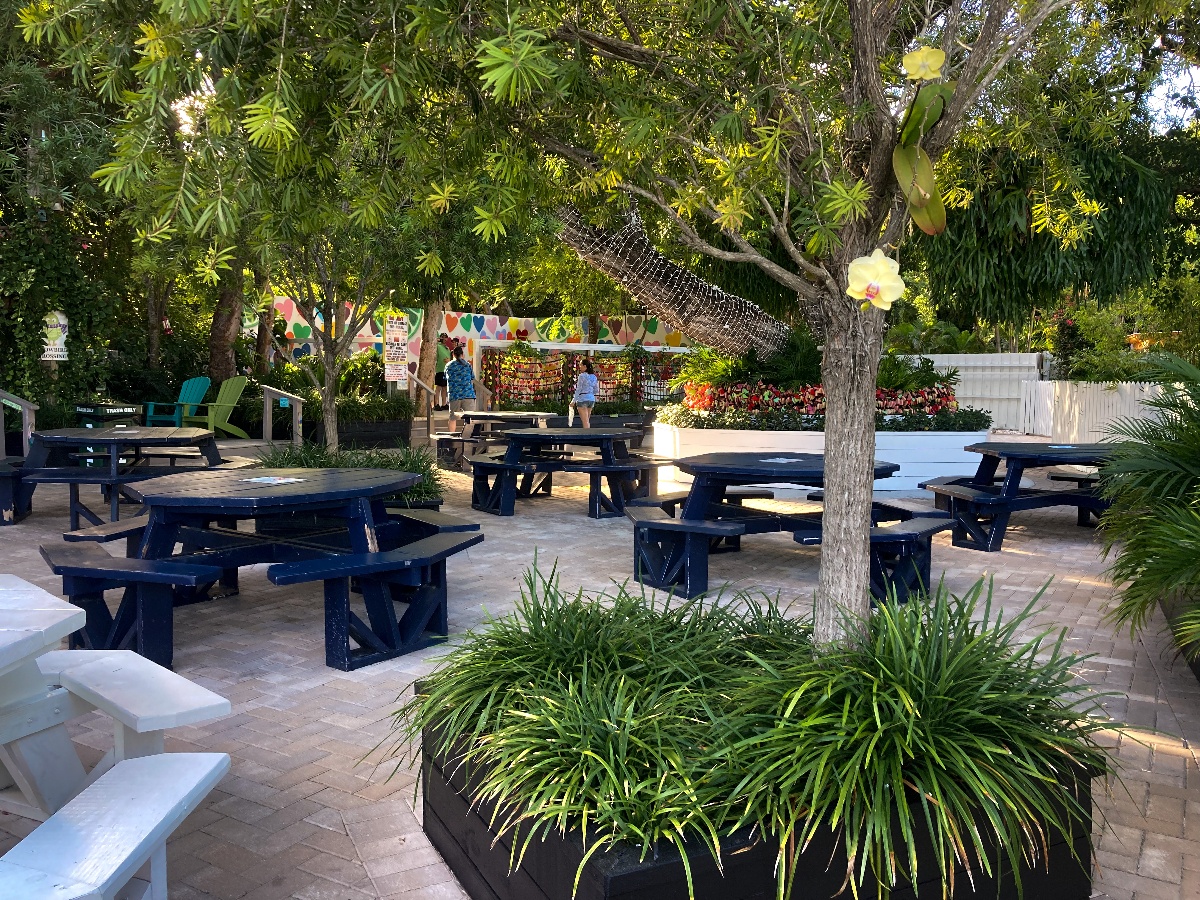 While its key lime pie was the perfect balance between sweet and rich, Blond Giraffe stood out to me because of its serenity Garden.
I could hear the birds chirping through the peaceful music. Orchids hung from large old trees, and there were small enclaves with picnic tables. Bushes, covered in love lockets, lined the yard, and there was a new mural by Shoker, a Ukrainian artist, which provided the perfect place for a photo shoot. There was even a tripod already set up.
24. Fresh, Local Seafood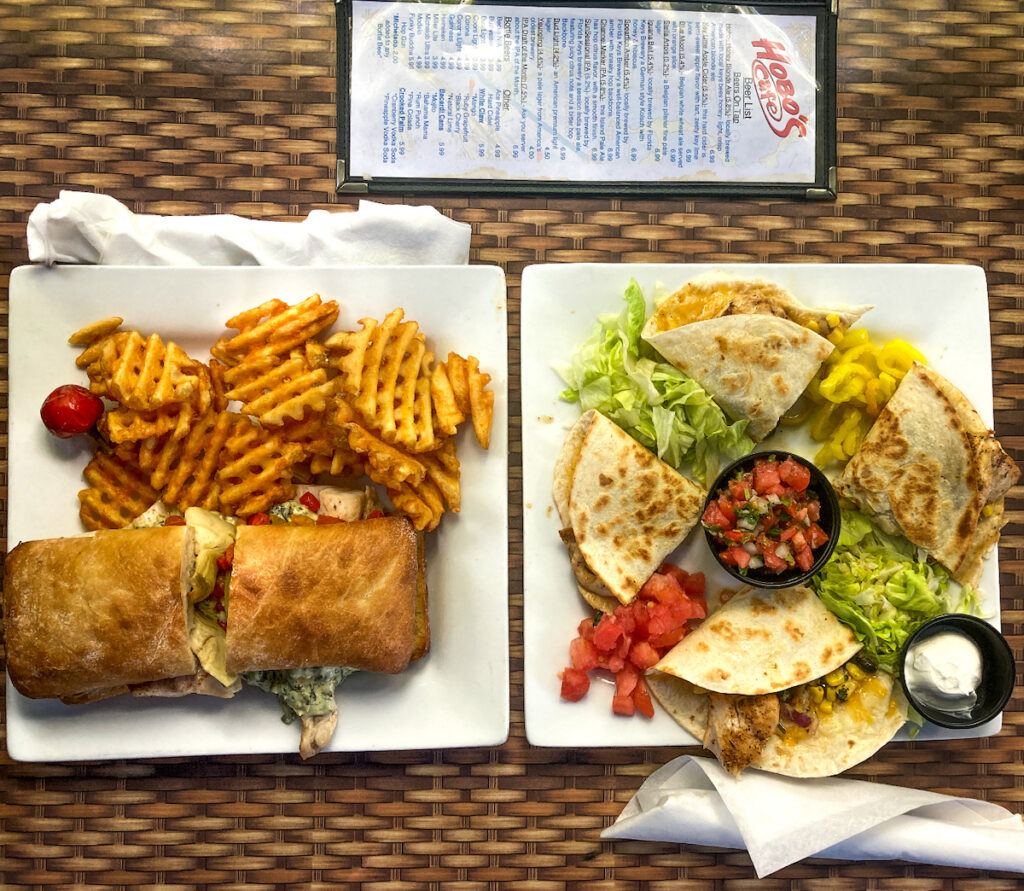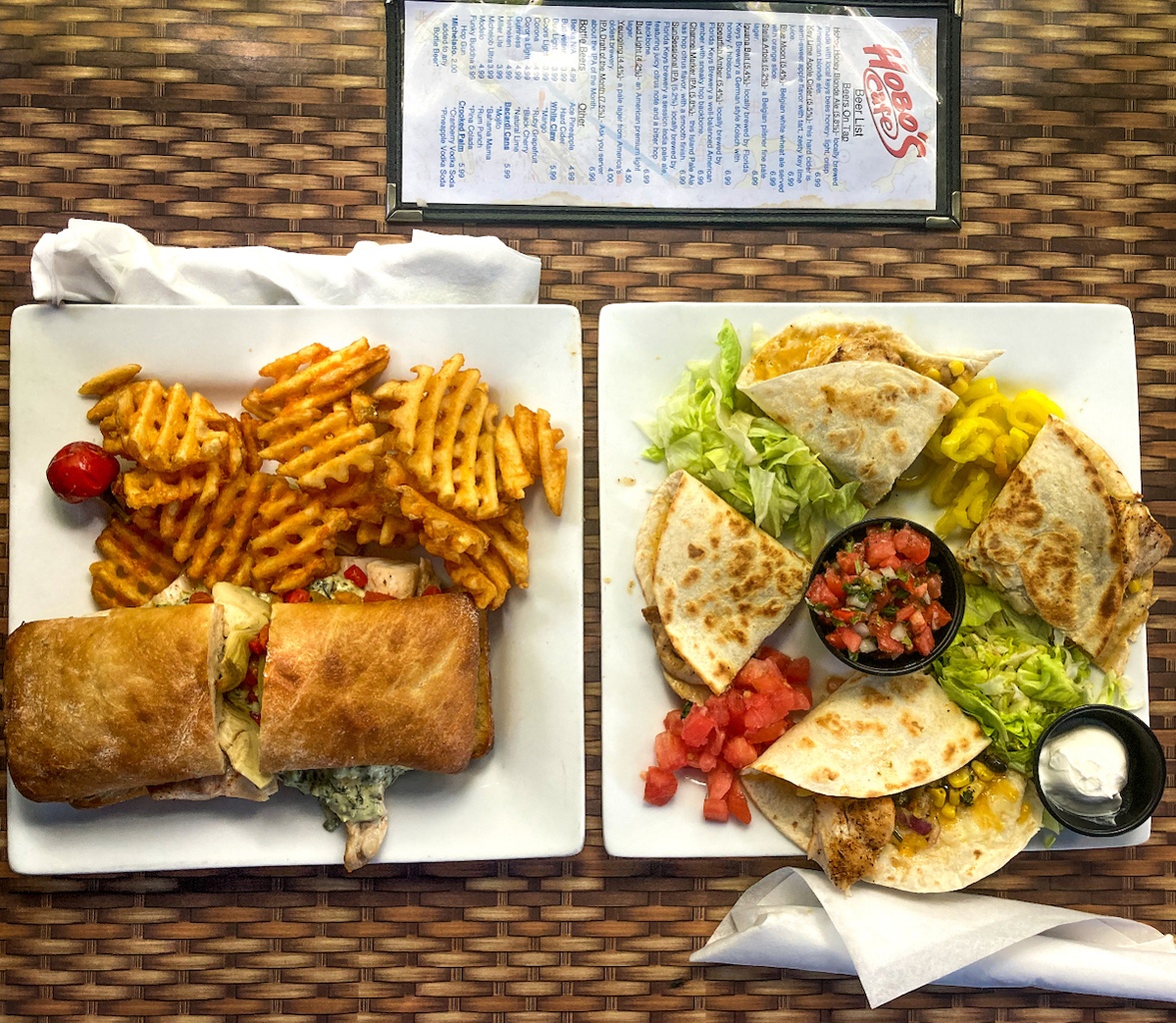 Hobo's Café was recognized by National Geographic as an authentic (or typical) Key Largo eatery. I ordered the mahi mahi sandwich with creamed spinach and artichoke hearts, and my friend got the mahi mahi tacos.
I have always been very picky about seafood, especially mahi mahi, because my family and I used to troll for this fish when we sailed along the Gulf Stream to the Bahamas aboard our sailboat. Once you have fresh seafood, it's hard to eat anything else! 
I can honestly say that the fish at Hobo's was worth the price! Plus, the service was great, and I loved the quiet outdoor seating area.
***
Hopefully this gives you an idea of the adventures that make Key Largo worth a visit! 
If you decide to go, which two things would you do? Let us know in the comments below!