Bimini are two islands on the edge of the Gulf Stream, where some say you can snorkel the road to the lost city of Atlantis. But trust me: it gets even more amazing than that. I had great fun exploring these islands I used to sail to with my family about 20 years ago.
Read on for 20 magical things to do in Bimini, Bahamas, a place that about two thousand people also call home.
How to Get to Bimini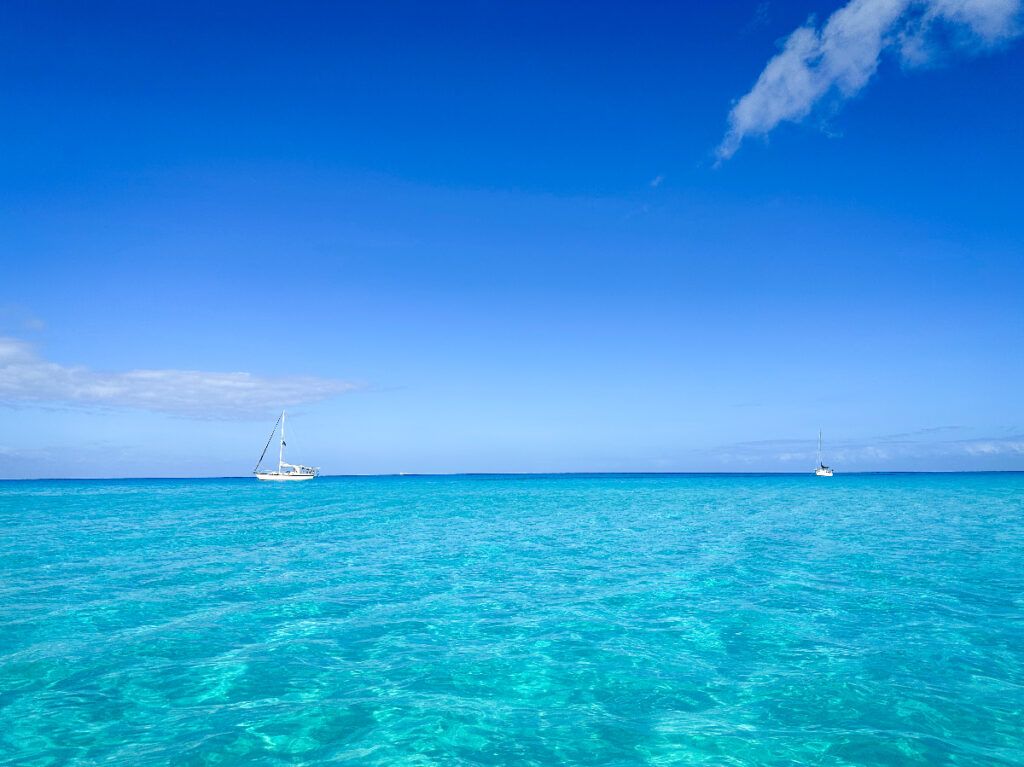 There are at least four ways to get to Bimini: private boat, cruise ship, plane or seaplane, and ferry.
Private boat – Avoid crossing the Gulf Stream with a north wind, and be sure to fly the quarantine flag until you clear customs and immigration.
Cruise ship – Over the past twenty years, North Bimini has developed to accommodate large cruise ships; then in 2021, Resorts World Bimini Cruise Port opened up. Cruise lines like Carnival, Crystal, Virgin, and MSC can now dock directly at the island.
Plane or seaplane – The quickest way to get to Bimini from Florida is by plane. You will land in South Bimini and then can take the quick ferry ride to North Bimini. (You can find flights here.) If you want to fly by seaplane, you will land and dock at North Bimini. Tropic Ocean Airways is the only seaplane line in Florida that offers flights to Bimini (and the rest of the Bahamas).
Ferry – Because Bimini is only fifty miles off the coast of Florida, you can also take a ferry from Fort Lauderdale or Miami. 
Know Before You Go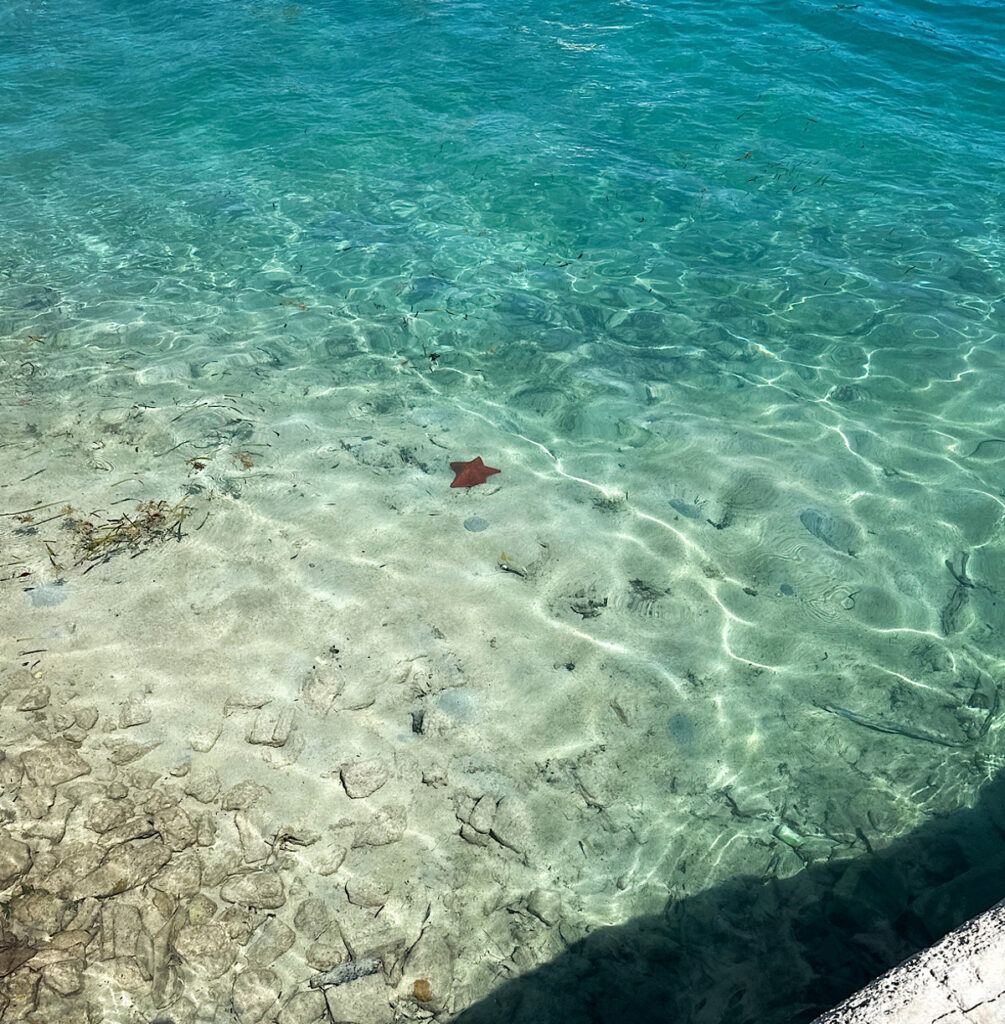 The best time to visit is in April and May, because of the mid-70s weather, the northeasterlies having dissipated, and the hurricanes being still at bay. You'll also avoid a lot of the big crowds, which tend to congregate in January, February, and March.
Fellow female travelers, you must be wearing a shirt if you enter a public building — a sports bra or swimsuit top won't cut it.
The Bahamian dollar is equal to one US dollar, and the latter is accepted most everywhere.
Everybody is on island time, which means shops open when the owner arrives and close when the owner leaves.
Bring a hydrocortisone cream in case you get into a poisonwood tree. You'll also need your passport, some reef-friendly sunscreen, hat, and sunglasses, as well as a good pair of water shoes and a sweater (the breeze gets chilly at night).
Don't pick starfish out of the water. Even just a few minutes of air time will kill them.
Things to Do in North Bimini
You'll probably spend most of your time in North Bimini. This is where a majority of the restaurants and popular attractions (and Biminites) are. The entire island is no longer than seven miles and no wider than a football field. In fact, I could stand on a hill and see the ocean on both sides. Despite its small size, there is so much richness to experience here.
1. Explore the seven-mile island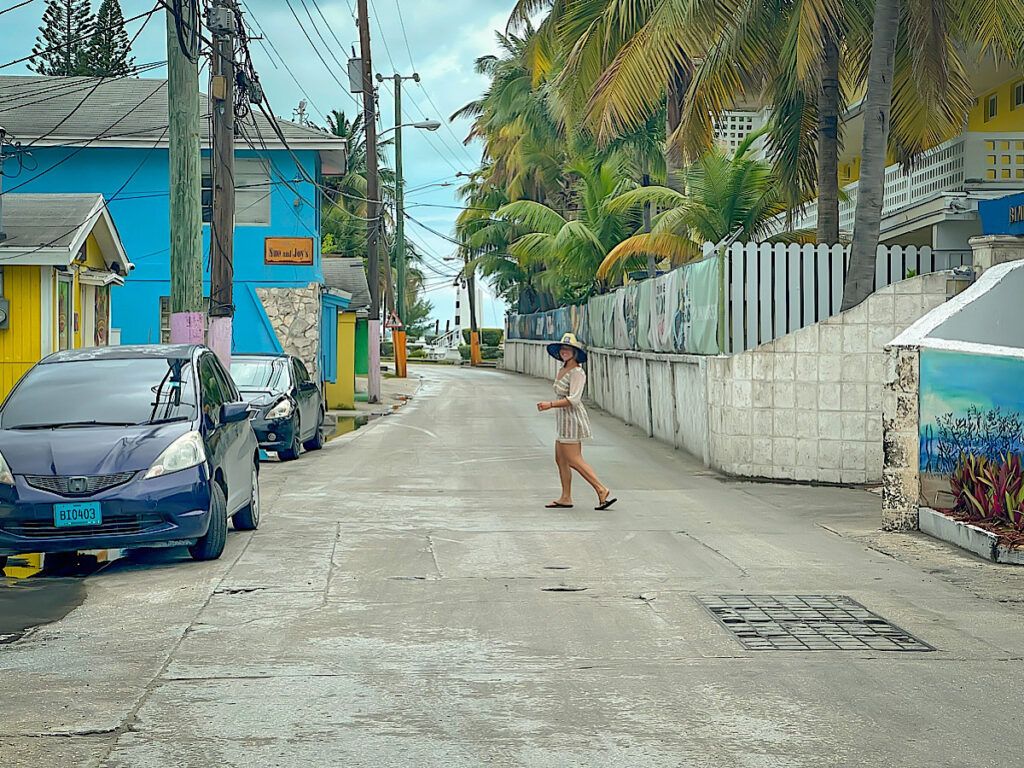 After I cleared customs and immigration, I skipped down the narrow streets and set off to explore the parks, beaches, and restaurants, on down to where Resorts World Bimini took over (it felt like I was back in Florida when I reached the gates). I loved seeing the piles of conch shells, chatting with the Bahamians, and admiring the colorful buildings. You can't get lost! (If you're not up for walking, you can rent a golf cart.)
2. Eat a loaf of Bimini bread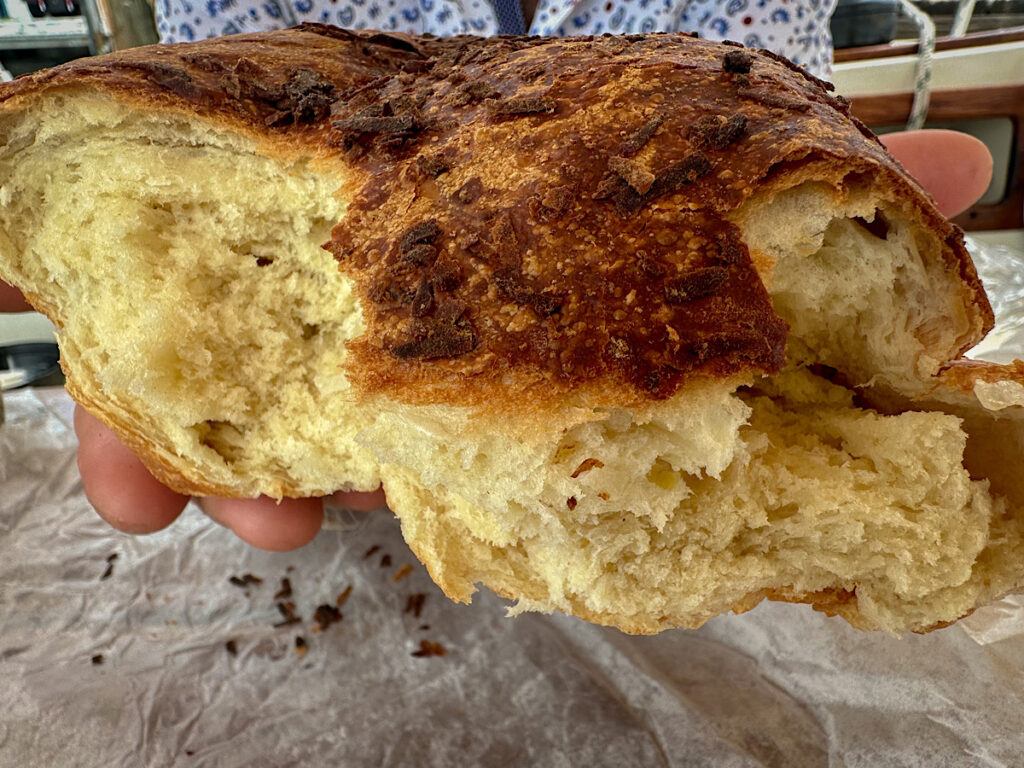 I'm not kidding. You'll probably end up eating the entire loaf, it's that good. I went to Nate's Bimini Bread and Catering during mid-morning, when he was still baking, and got a some hot from the oven. The smell was intoxicating, and the loaf melted in my mouth. I asked Nate about the recipe; he told me it was "made with love," but I think it's sourdough based. The coconut is probably fresh from the island (there are a lot of coconut trees here!). The rest is a delicious mystery. 
3. Lounge at a beach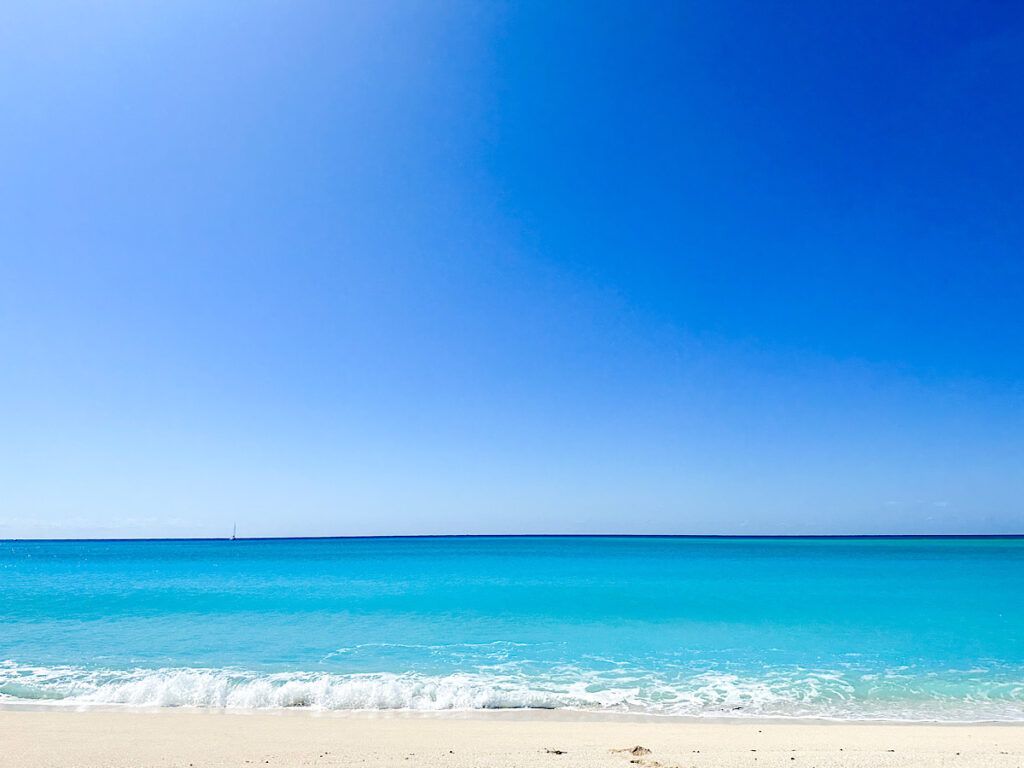 Check out any of North Bimini's beaches: Alice Town, Radio, and Beach 360. You'll find Bahama beaches are one of a kind: the sand is made from finely ground coral, so it's smooth to the touch and has a slight pink hue. And, looking out over the ocean, there is every shade of blue before the sea meets the sky. I spent hours resting beneath the sun and dipping into the gin-clear water to cool off.
4. Walk the low-tide spit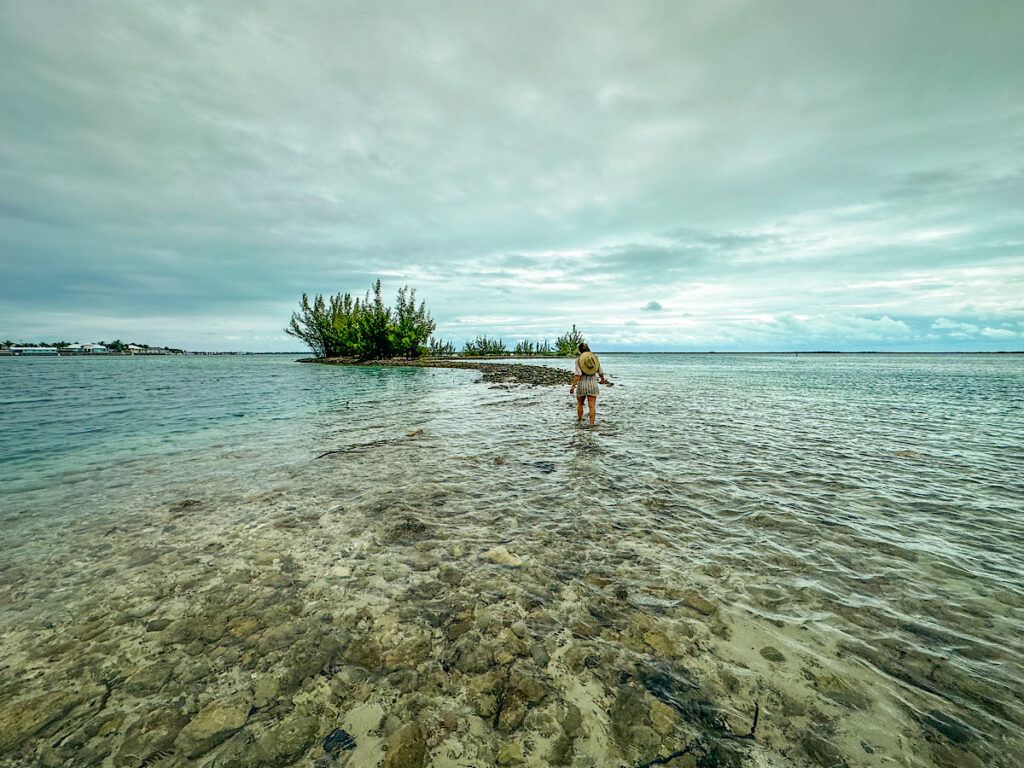 Heading north, you'll stumble upon a little trail on the right-hand side, just as you reach the piney part of North Bimini. That leads to a rock path that is about ankle-deep at low tide. You can take that path to a small island, where the trail zigzags to the end and pops you right in the middle of one of Bimini's major coves. It was a neat place to watch the seaplanes come in and look back at the rest of the island.
5. Visit the War Memorial and Heroes Park
This park honors the Biminites who lost their lives in World Wars I and II, recognizes leaders of their community and prominent sports figures, and features the victims of the December 2005 Chalk Flight 101 crash. Right off King's Highway (Bimini's only main road), it's a good place to rest and appreciate the community.
6. Go to the Dolphin House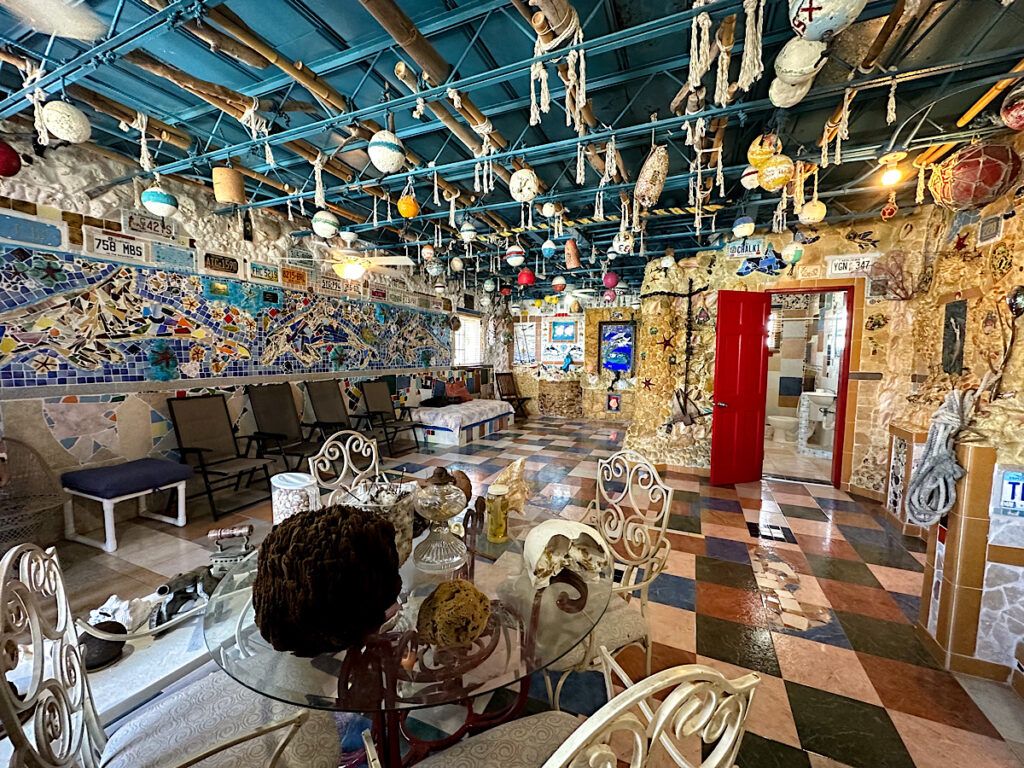 If you were one of those children who dreamed of living in a house built of seashells and sea glass (and concrete and rebar), visit the Dolphin House, probably the most artistic hand-built house in the world. It was started in 1993 by Ashley Saunders, the builder and the tour guide, who was inspired by the wild dolphins during a swim and wanted to build them a monument.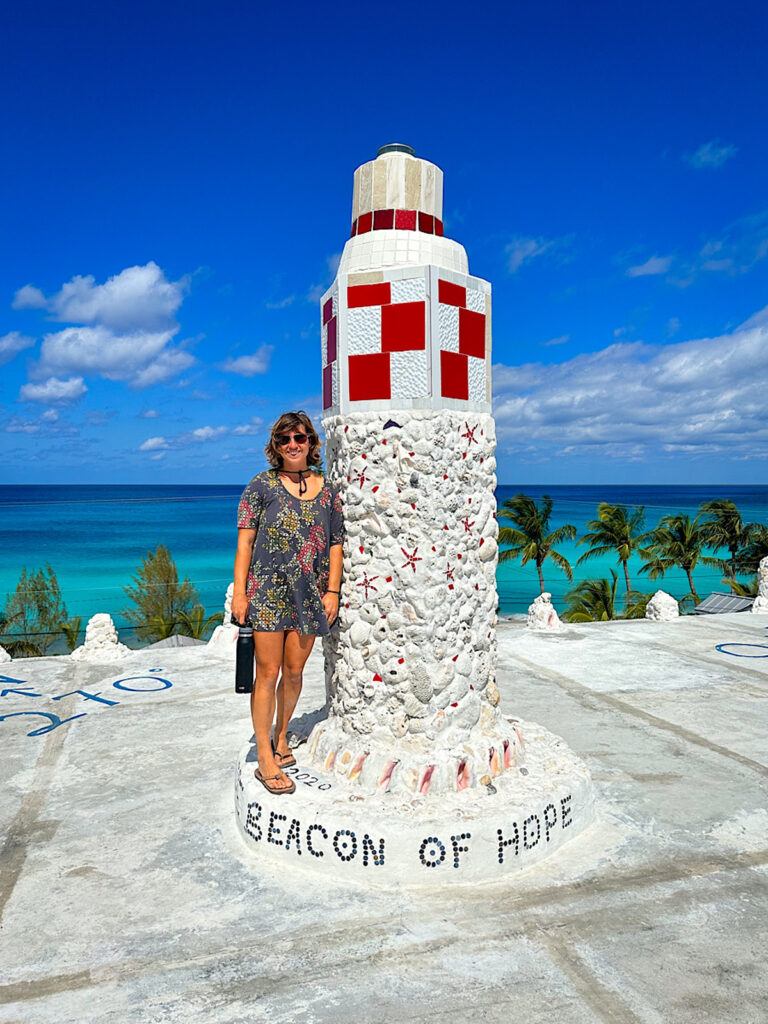 It's still under construction today, as he adds bits and pieces and makes the second floor into a B&B. The Dolphin House has withstood nine hurricanes and has one of the best rooftop views on the island from the lighthouse on top.
Admission is $10; you can either walk straight up to the house with a small group of people, or officially arrange a tour. Bring something for Ashley to plaster into the wall, and look for the token I left behind: a broken wooden clothespin with "S/V Arta" written on one side!
7. Visit a cemetery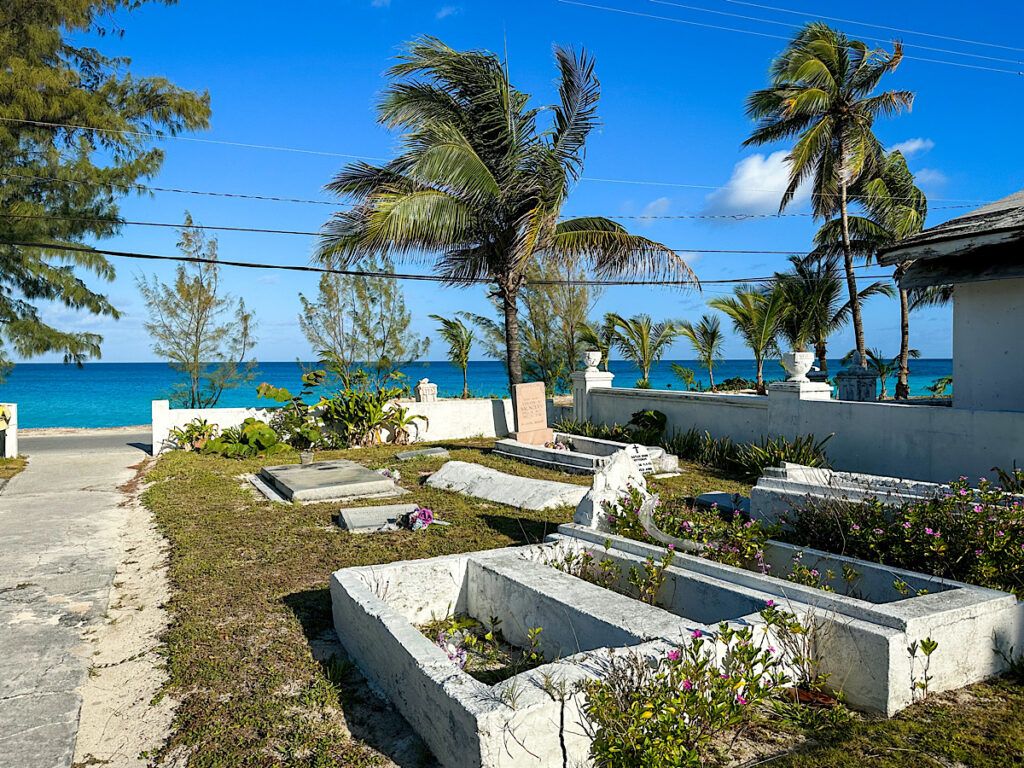 I think that if you want to get a sense of the community, you should walk through a cemetery. There was something about the small size of the island, speaking with the Biminites who were born and raised and still live here, and seeing the cemeteries that really made me feel like I was here to appreciate and to learn. There are several cemeteries on the island, most behind churches.
8. Walk into Wesley Methodist Church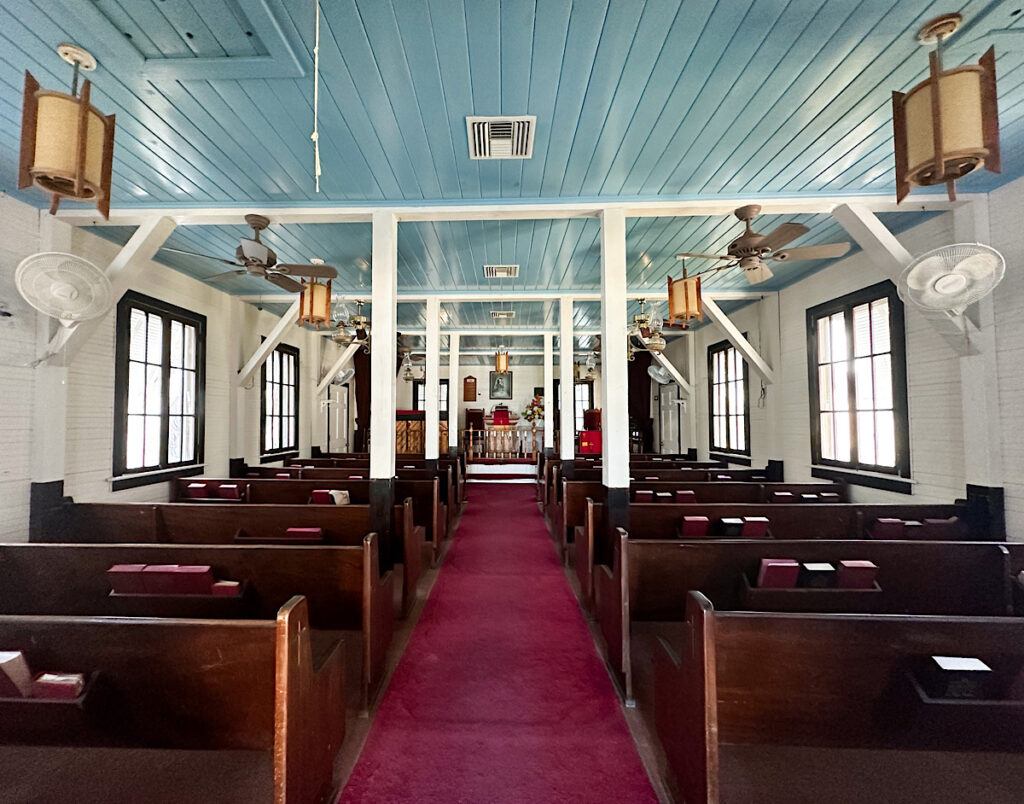 Possibly the most photographed church in all the Bahamas, Wesley Methodist was first established in 1858. In the 1920s, the original building was destroyed in hurricanes; it was rebuilt in 1928. Most services are held by visiting ministers.
9. Order a conch salad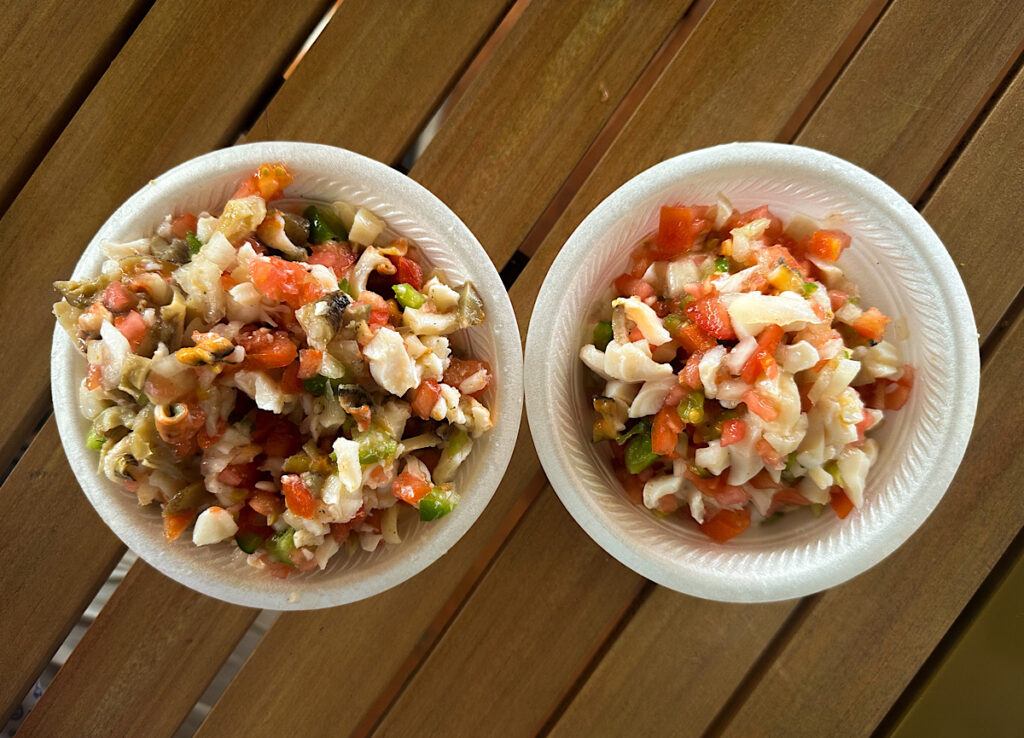 Conch is a staple of the Bahamian diet. There's even such a thing as a conch burger (I had one in Great Harbour Cay). In Bimini, I went to Joe's Conch Shack, which is built on stilts right over the water, providing excellent views. The conch was amazing, but definitely go light on the hot sauce at first, adding more as you wish. Just a few drops was good enough for me, and I can tolerate some heat!
10. Find yourself a conch shell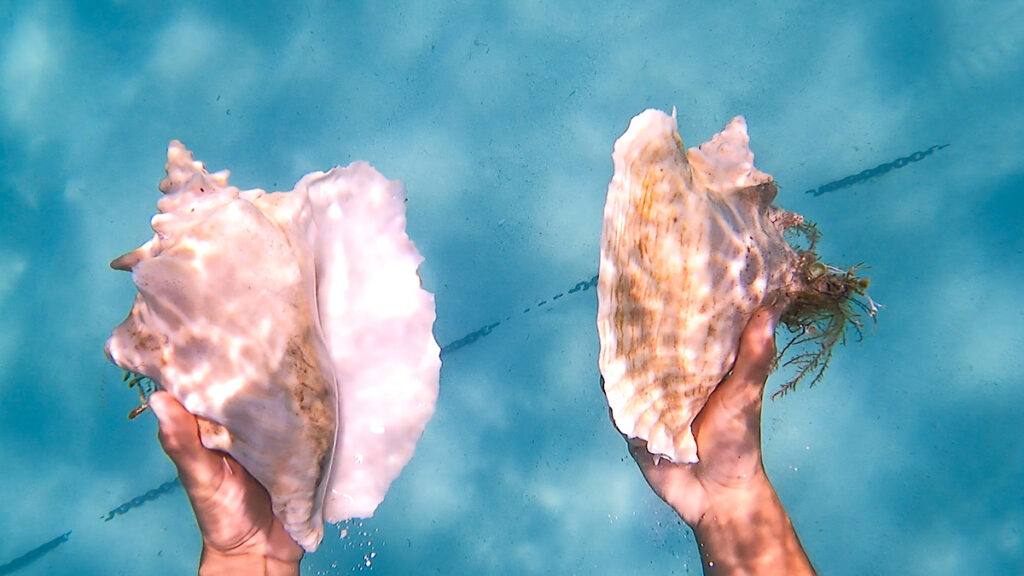 Some shops sell conch shells, but you can find your own just about anywhere that you look — there are probably hundreds of conch shell piles and thousands of empty shells. If you're searching in the water, just check to make sure nobody is home! If there is a creature still inside, leave it where you found it; there is a conch harvesting season with rules about how big they need to be.
11. Swim with the wild rays, sharks, and dolphins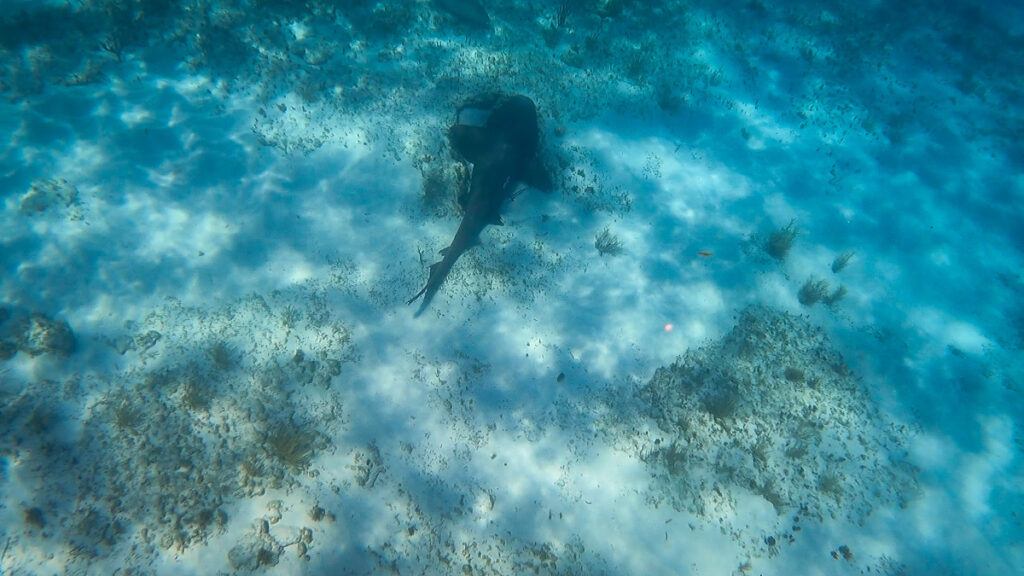 I was fortunate enough to be able to swim with rays and sharks on almost all of my snorkeling excursions, but I did not see any wild dolphins. If you want to increase your chances, you can book the full-day Honeymoon Harbor excursion here, on which you're taken to dolphin hot spots.
12. Snorkel the Sapona wreck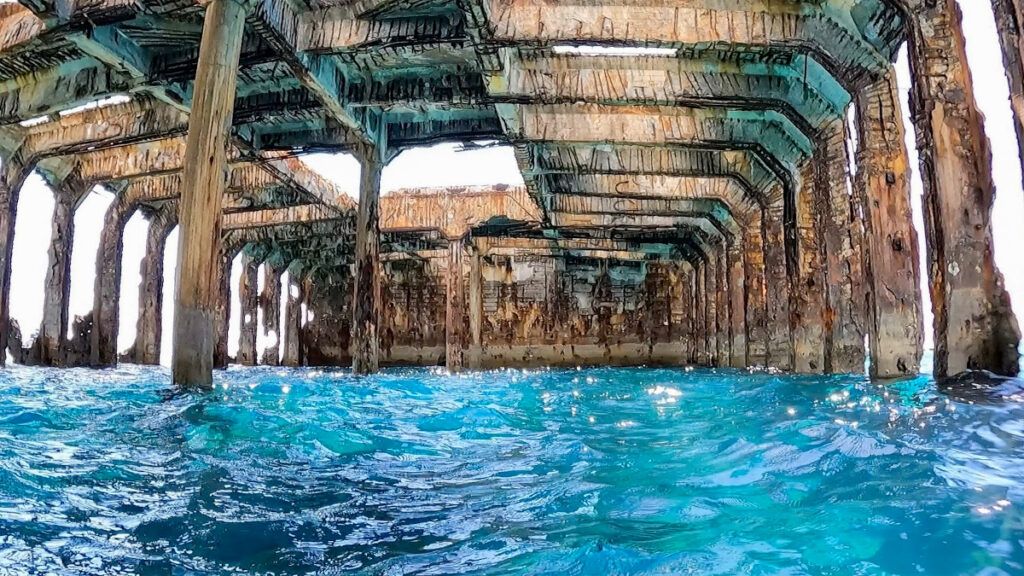 The SS Sapona was a 282-foot steamship made out of concrete. It carried cargo until it sank in 15 feet of water in a 1926 hurricane. Because the area is so shallow, it's a popular snorkeling spot. Part of the wreck is below the water and the rest is above. I could snorkel through holes in the walls, eventually finding the engine room. It was cute to see all the colorful little fish nibbling away at the wreck. The Honeymoon Harbor snorkeling excursion also brings you to the Sapona wreck.
13. Snorkel Bimini Road (the Road to Atlantis)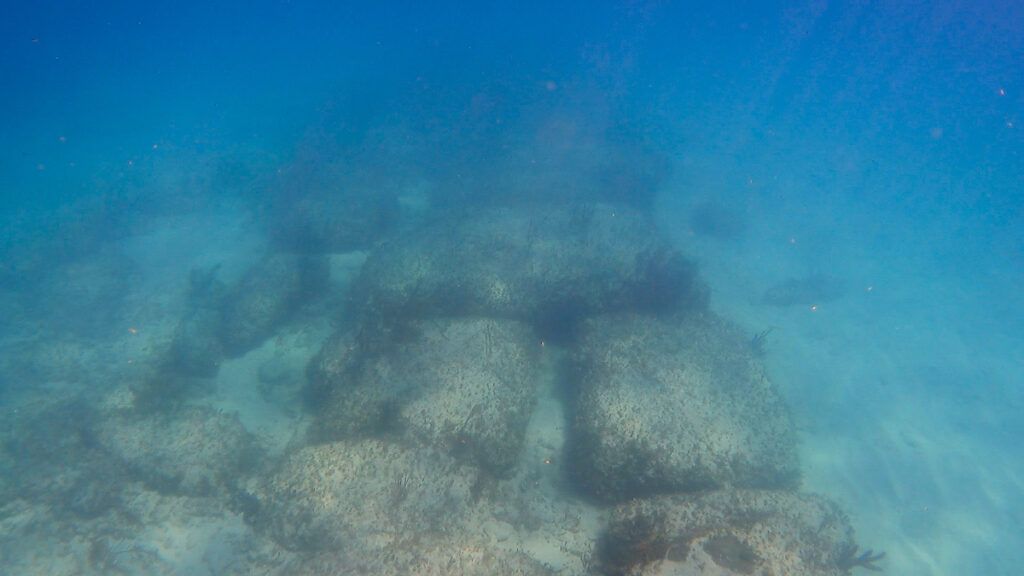 It might not look like much, but I decided to go anyway, and I'm glad I did. While swimming above the "road," it did really look like some sort of infrastructure from a past civilization. The shape of the stones and the way they were arranged, side by side, was too intentional to be a work of Mother Nature. Keep in mind that there is a lot of open water here, and it is about twenty feet deep. You can book an excursion here.
14. Snorkel the arch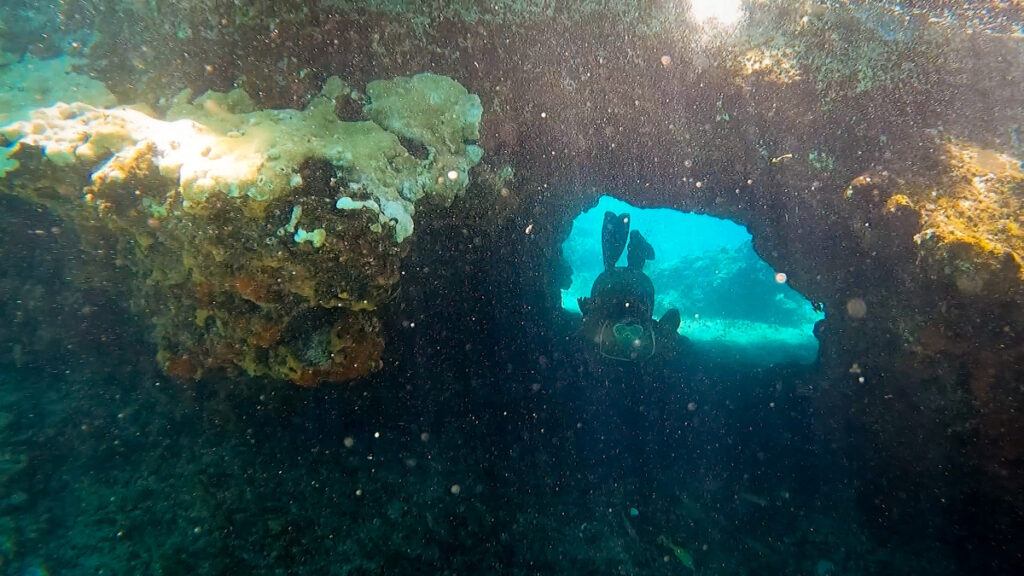 There are three rocks off the coast of North Bimini with some pretty wildlife and unique structures. Definitely go when the water is calm, because the rocks are jagged. The biggest rock is the one that has the arch. If you don't have your own boat, you can get here via the Bimini Road excursion.
15. Take the ferry to South Bimini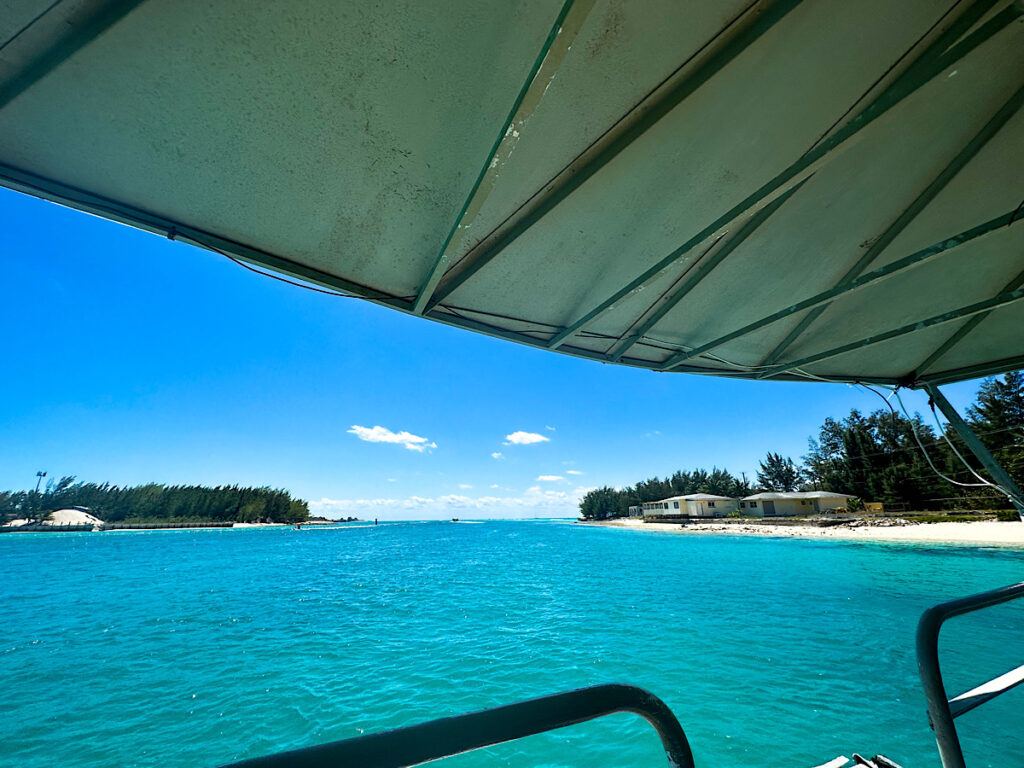 Even if you don't want to explore South Bimini, I recommend you hop on the ferry for a short harbor experience. I think the fare is $3, though they won't say no to more! There is no ferry schedule, but from what I could gather, the captain unties from the wharf when people are there. If you miss the ferry, don't worry: Just wait a few minutes and it'll be right back, because the ride across the channel is less than three minutes. Unless you have your own kayak or dinghy, there's no other way to cross (the current is too strong to swim).
Things to Do in South Bimini
South Bimini has Bimini's land-based airport and is where most long-term vacationers stay. So, it's a quieter island with fewer attractions, all of which are more spread out. But South Bimini was probably my favorite, because there were the following things to do:
16. Get a tour from a local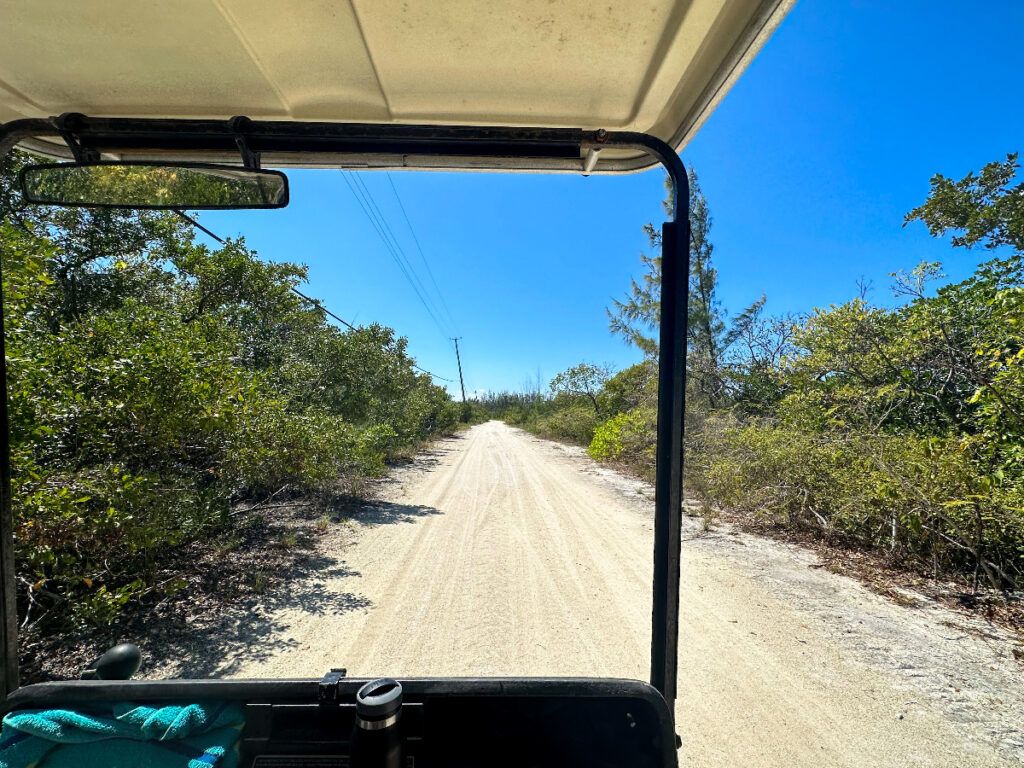 The best way to explore South Bimini is by golf cart, and the locals know that. They will kindly take an hour of their time and give you a tour. I was fortunate enough to make friends with one of the ferry crew, and he gave me and my boat buddy a tour of the entire island, bringing us to all the places I have listed below.
17. Drink from the Fountain of Youth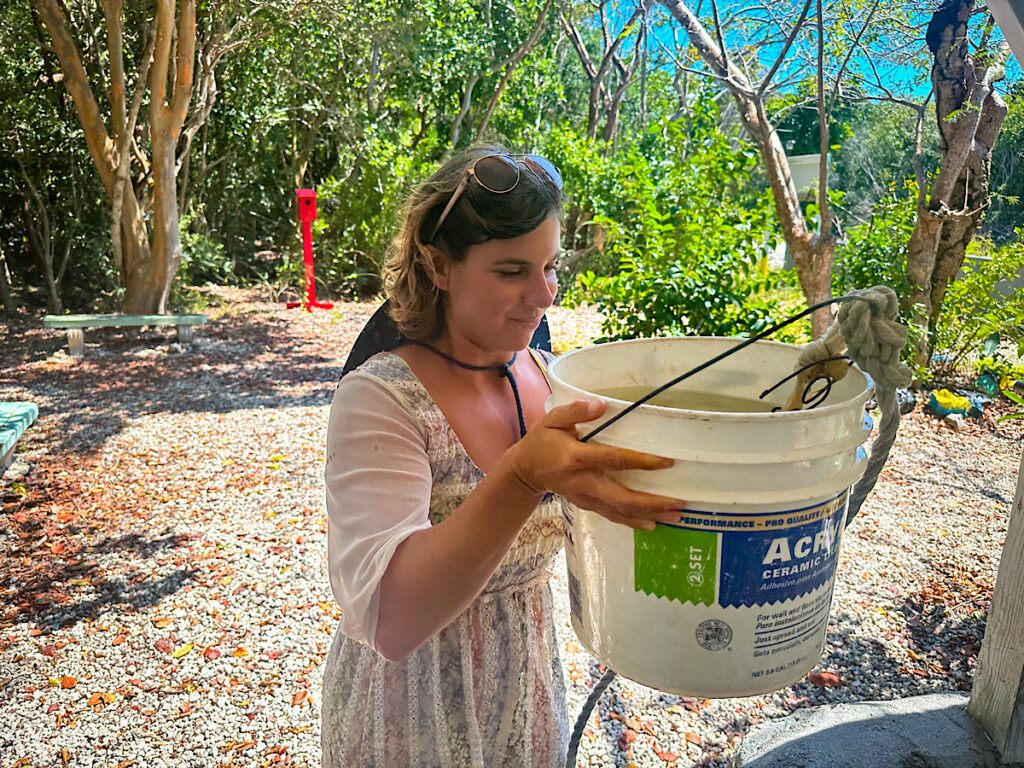 It's called the Fountain of Youth, because it's one of the few freshwater springs in Bimini. It's completely natural, but the Biminites have built a well around it to capture the water. There's a lovely five-gallon bucket on a rope that you have to sling down into the well. The bottom of the bucket looks kind of gross, and the well has some leaves in it, but I took a sip anyway, and it tasted just like water!
18. Harvest a coconut on a nature trail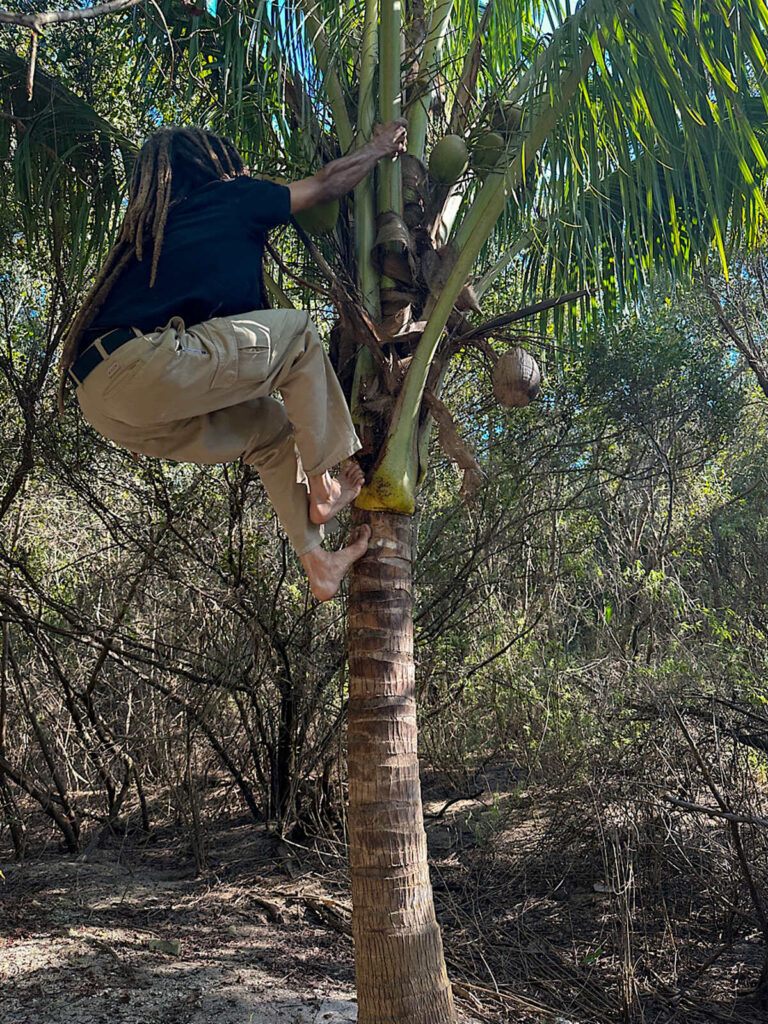 There are so many coconut trees, but you can't harvest just any coconut. It has to be ripe, which is when the fruit is a yellow-green. After you climb the tree, you need to twist the coconut until it breaks free. Then you jump back down onto the ground and slam the coconut against the trunk until it cracks open. Now you can drink from it until the water is all gone. When the coconut is empty, smash it against the tree until it splits completely in half. You can then push the flesh off with your fingernail before resuming your hike.
19. Find the Pirate's Well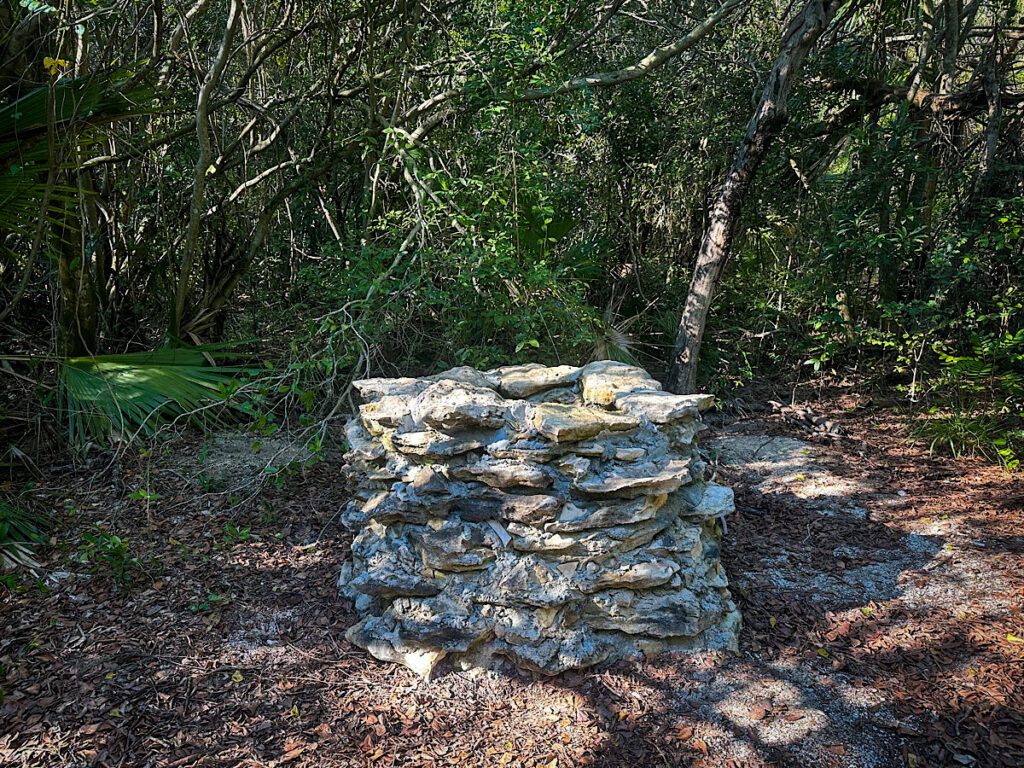 This is another freshwater spring, but there is no bucket on a rope to access the water. The water is also a bit murkier compared to the Fountain of Youth. I wouldn't drink from it; however, there are nature trails that lead off the Pirate's Well, which makes this a good landmark on your Bimini explorations.
20. Relax on a secluded beach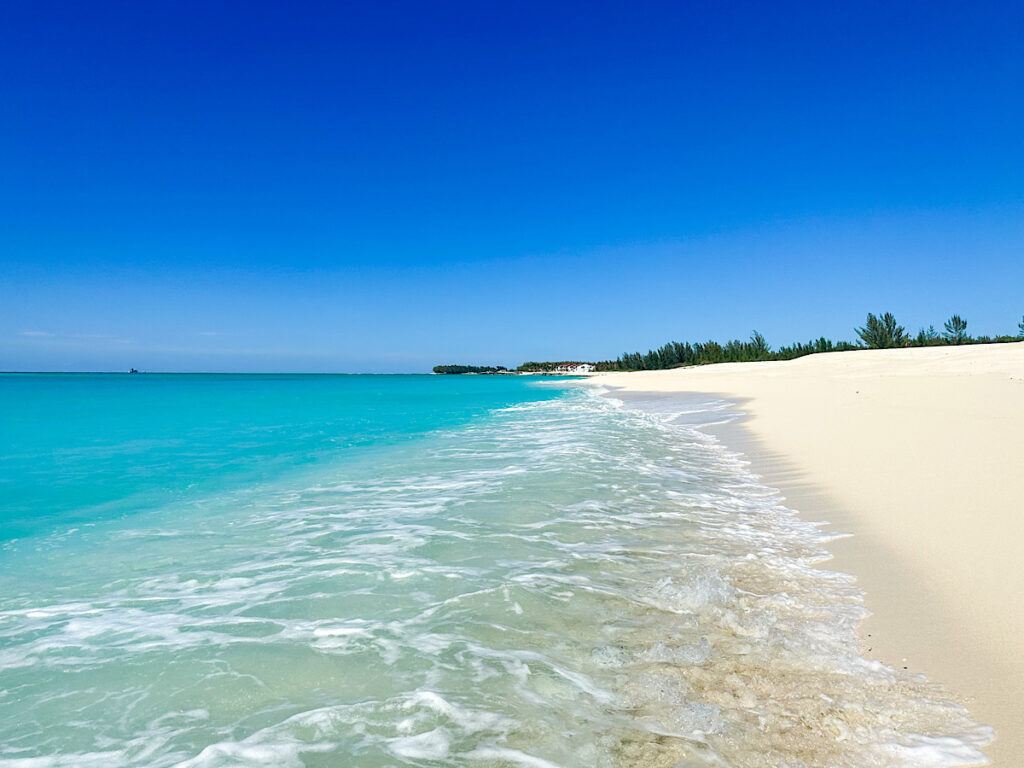 Unlike North Bimini, South Bimini beaches are devoid of waterfront bars and crowds. Unless there's somebody at their vacation home, you will have the entire soft, pink beach and sparkling-clear blue sea to yourself. I spent a few hours playing in the ocean and sunning on the sand.
***
If you've visited or plan to visit Bimini, which of these things seems most magical to you?