There are endless attractions and things to do in Kenya – "the safari capital of the world."
From world-famous safari parks like the Amboseli to the beautiful cities of Nakuru and Nairobi, Kenya is a fantastic place for game viewing and sightseeing. It's also a gateway to other adventure destinations in Africa.
While in Kenya, you'll have the opportunity to experience the Great Migration in Masai Mara, explore old towns like Lamu, climb Africa's second-highest mountain (Mount Kenya), and so much more.
After these adventures, you can relax on a beach in Watamu, dive in Diani, party in Mombasa, or even dare to explore the less traveled northern region.
I'm from Kenya, and even for us locals, every destination presents a secret discovery. New attractions, hidden gems, and unknown places are always waiting to be explored and uncovered.
In this article, I'll share my favorite things to do in Kenya. The below list is based on things I've done and places I've visited that I believe you should see and do too.
Here are the 20 Best Things to Do in Kenya
Check out this list of the best things to do in Kenya. It'll help you start planning a trip to my beautiful and magical home country.
1. Go on a Wildlife Safari (The Best Thing to Do in Kenya Overall)
Undoubtedly, going on a safari is one of the best things to do in Kenya. The East African nation is home to many national parks and reserves rich in wildlife and incredible sights. Whether you're interested in tracking the big five or watching the spectacular Great Migration, there's a dream destination for you in Kenya.
Choosing between safari parks and game reserves can be overwhelming, especially for first-time visitors. Therefore, I recommend visiting Masai Mara for the wildebeest migration, Amboseli or Tsavo national parks for the big five, and Lake Nakuru for rhinos.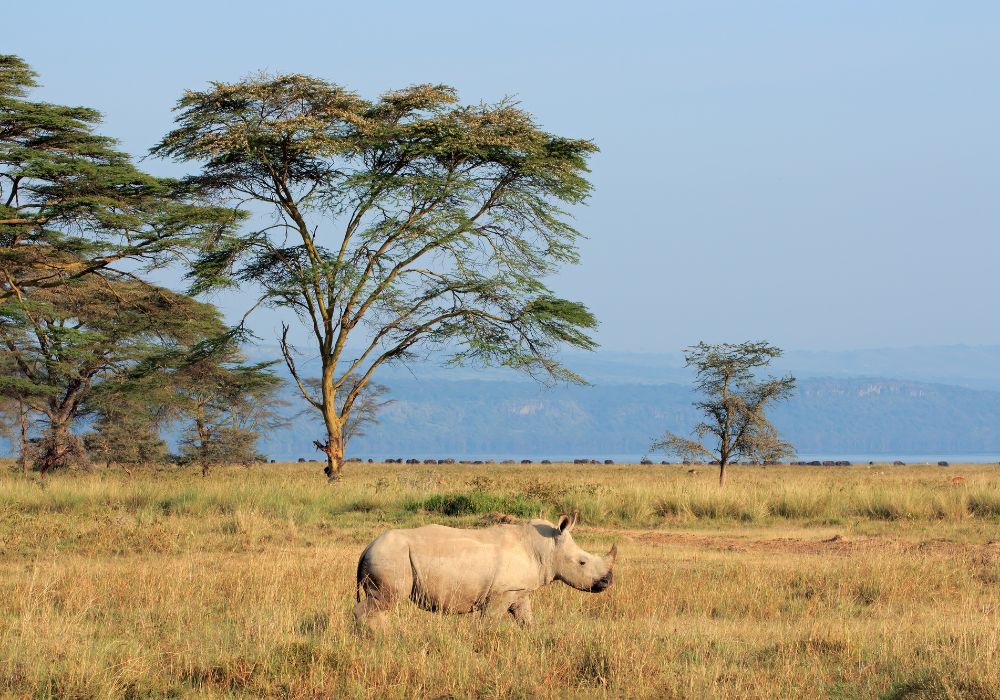 Check out our ultimate Kenya travel guide for detailed information and a guide to visiting Kenya, including the top places to visit, where to stay, hiking trails, where to eat, and the best beaches.
2. Hike in the Aberdares (One of My Favorite Things to Do in Kenya)
Unlike other national parks, such as Tsavo which is known for wildlife, Aberdare National Park is a hiker's paradise and a hidden gem for nature lovers.
The park comprises numerous forest trails that lead to splendid hilltops with beautiful views of the surrounding landscapes. It's also home to the most breathtaking waterfalls in the country, such as the Karuru Falls.
If you're like me and are always drawn to the great outdoors, hiking in the Aberdares is one of the best things to do in Kenya. You can take on the challenging Elephant Hills, attempt the Kinangop Peak, or enjoy the scenic trek along the Dragon's Teeth trail to Mt. Satima (my favorite).
Other hiking trails in Kenya outside the Aberdares include the popular Mount Longonot and the scenic Sleeping Warrior and Ugali Hills.
☞ SEE ALSO: 15 Best Trails For Hiking in Kenya
3. Climb to Point Lenana
If you're looking for more challenging treks beyond day hikes, there are several options for mountain climbing in Kenya. One of the best is summiting Mount Kenya (the second-highest mountain in the African continent).
The mountain's beautiful landscapes and natural attractions draw many trekkers. The journey to the snow-capped peaks follows serene forests, calm rivers, and valleys with stunning views. It also leads to idyllic glacier lakes and magnificent waterfalls.
There are three peaks on Mount Kenya – Batian (5,199 m), Nelion (5,188 m), and Point Lenana (4,985 m). The latter is the most popular with climbers because it's less technical and is suitable for hikers of all levels.
Climbing Mount Kenya with a professional guide increases your chances of reaching the summit. You can find organized tours by certified guides on websites such as Viator and GetYourGuide.
4. Explore Nairobi City on Foot
Taking a stroll along the streets of Nairobi is a journey of discovery and an opportunity to experience the city's rich history. Several old buildings, national monuments, statues, and markets add to the stories and influences of its colonial past.
You can walk freely, admiring the city's attractions like the McMillan Memorial Library, Kipande House, Jamia Mosque, and war memorial pillars.
Along Kimathi Street, you'll see the statue of Field Marshall, Dedan Kimathi, and landmarks such as the Hilton Hotel. A short distance away, you'll come across the statue of Tom Mboya, and if you walk further along Moi Avenue, a sobering history awaits you at the August 7th Memorial Park.
One of the best ways of experiencing Nairobi on foot is by joining a guided tour like this. Your local guides will share information and stories about the city and will take you to the most exciting spots and sights.
After sightseeing, you can head to an open-air market like the Masai Market to buy gifts or souvenirs. This is also a great opportunity to interact with locals (and test your haggling skills!).
☞ SEE ALSO: 25 Best Things To Do in Nairobi, Kenya
5. Nairobi Wildlife Experience (One of the Best Things to Do in Kenya)
There are several places to visit in Nairobi for a wildlife experience. In addition to introducing you to animal conservation efforts in Kenya, these places prepare you for safaris to other destinations.
Nairobi National Park is the best place to start. The park is close to the capital center and offers travelers a rare wildlife experience. You can take a game drive in the park to watch wild animals and even spot lions feasting on their prey if you're lucky.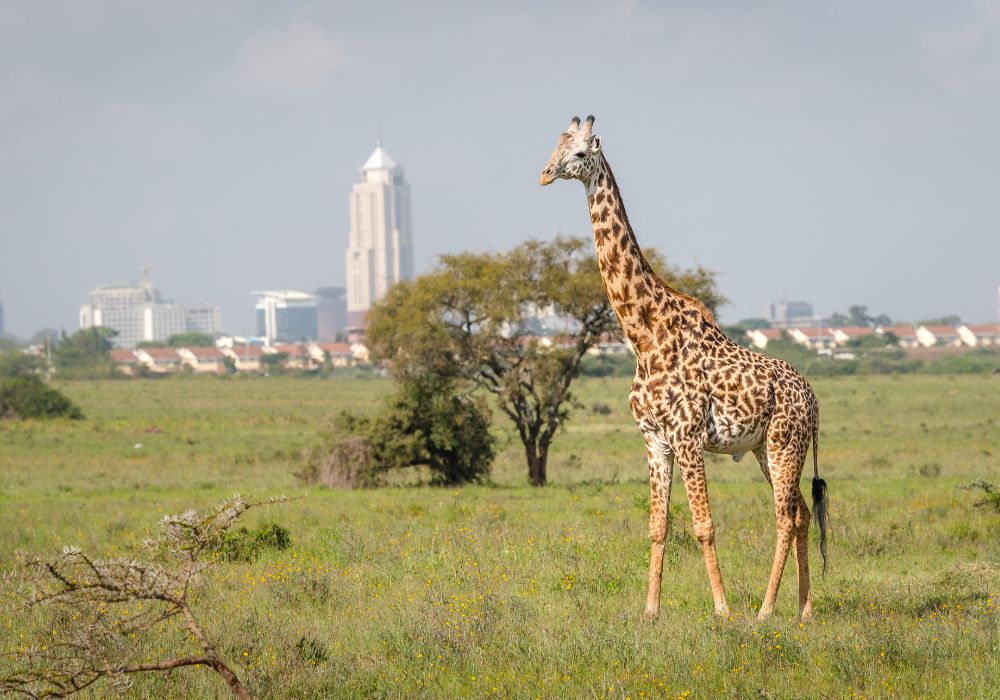 Other game centers worth visiting in Nairobi are the Elephant Orphanage and Giraffe Center. The latter is home to the endangered species (Rothschild's giraffe), while the former takes care of orphaned baby elephants.
Join this exciting full-day guided tour to see all three attractions (Nairobi National Park, Elephant Orphanage, and Giraffe Center).
6. Go on a Museums Hunt
Nairobi is home to several museums, but the most popular is the Nairobi National Museum. It's close to the city center and offers travelers an opportunity to experience Kenya's history through its diverse exhibits and galleries.
If you're keen to learn about Kenyan history, culture, and heritage, join this 4-hour tour of the Nairobi National Museum. The guided tour also includes visiting a nearby reptile park to see different snakes and crocodiles common in Kenya.
Other museums in Nairobi worth visiting are the Kenya Railway Museum (my favorite) and the Karen Blixen Museum. Make sure you also check out this exciting things to do in Nairobi post for more ideas.
7. Chase Beautiful Waterfalls
In addition to hiking and exploring historical sites, I love chasing waterfalls, and Kenya is home to some of the most beautiful in East Africa. These natural attractions are located inside safari parks, wildlife reserves, forests, and remote destinations.
My favorite waterfalls in the country are Karuru Falls and Zaina Falls in the Aberdares Forest. The former is the tallest in Kenya, while the latter is a jewel hidden close to a rustic village in central Kenya.
If you'd like a unique adventure in Kenya, below is a list of other magnificent waterfalls worth the chase. Local hiking groups like Hikemaniak organize visits to these lesser-known natural gems.
Thomson Falls, Nyahururu
Gura Giant Falls, Aberdares
Paradise Lost Falls, Kiambu
Sheldrick Falls, Shimba Hills National Park
Oloolua Nature Trail Falls, Nairobi
Ragia Falls, Ragia Forest
Lugard Falls, Tsavo East National Park
Karura Falls, Karura Forest
Chania Falls, Thika
Fourteen Falls, Kilimambogo
Nithi Falls, Mount Kenya
8. Relax on a Beach in Watamu
Kenya is blessed with many beautiful beaches along its 536-kilometer coastline. These beaches feature soft sands (white and golden) and are surrounded by luxury resorts and vacation homes.
Watamu is one of my favorite beach destinations in Kenya. The Swahili town along the north coast comprises five alluring beaches perfect for couples, families, and watersport lovers. Turtle Bay Beach, Garoda Beach, and Jacaranda Bay (the most beautiful) are some of the best beaches in Watamu.
In addition to Watamu, there are other magnificent beaches along the Swahili coast. They include Mombasa beaches like Nyali Beach and Bamburi Beach, and Diani Beaches such as Tiwi, Diani Beach, and Galu Kinondo Beach.
☞ SEE ALSO: Top 10 Best Beaches in Kenya
9. Go Diving in Diani
Diani is a small beach resort town south of Mombasa with plenty of things to do and see for all travelers. You can relax on the beach, go for a swim, eat at a lovely restaurant, and if you're adventurous, go scuba diving.
Kenya has many dive sites, but Diani is my favorite for its attractive corals and beautiful fish species to be found. Some of the best spots include Galu Reef, Kinondo Reef, and the Waa Wreck (a purpose-sunk ship).
There are several dive centers in Diani offering a range of PADI dive courses and fun trips to divers of all levels. These include Dive the Crab and Ocean Tribe.
While in Diani, you can do these activities, stay at this beach hotel, and eat at this romantic restaurant.
10. Explore Mombasa Old Town
Mombasa is Kenya's principal port and the second-largest city. The coastal island has existed since the 1500s and hosts many of Kenya's tourist attractions.
Exploring Mombasa Old Town is the best way to start your sightseeing trip in coastal Kenya. It gives you an idea of how inhabitants – locals, Arabs, Asians, and Europeans – have lived together and how the co-existence shapes Mombasa.
Walking along the streets of Mombasa is one of the best free things to do in Kenya, and you don't need a guide. However, I recommend joining this exciting tour to experience the town with a local. The tour also involves visiting interesting sites like Fort Jesus Museum.
I've visited Mombasa several times, and each time it offers more than just a rich history and cultural experience. It's also home to beautiful beaches, wildlife sanctuaries, adventure parks, and fantastic holiday resorts.
Make sure you visit Nyali Beach, go on an adrenaline-filled adventure at Wild Waters Kenya, and eat with locals at Char-Choma Restaurant.
☞ SEE ALSO: 15 Best Things To Do in Mombasa, Kenya
11. Sample Local Meals and Street Food
Sampling street food and eating local meals are some of the top things to do in Kenya. You get a chance to meet local vendors and see how different dishes and snacks are prepared and served – in restaurants and on the streets.
The best way to have such an experience is by exploring with a local guide. They know the ingredients and menus, where to go, and what to taste better than anyone.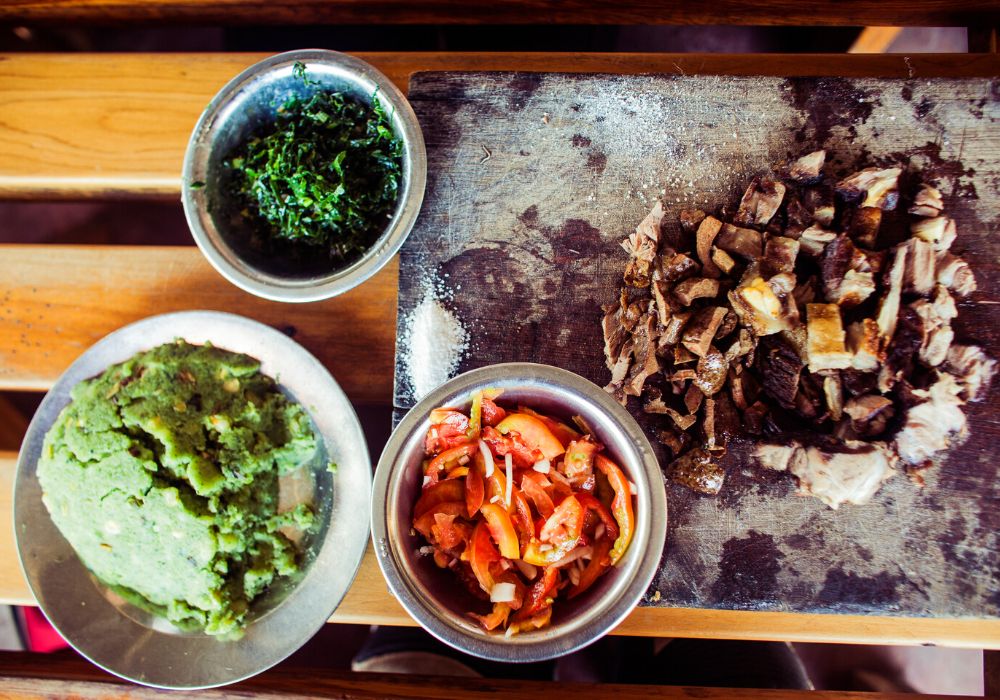 If you're in Mombasa, join this street food tour in the city. You'll learn about Swahili dishes and get a chance to taste some of them. Make sure you try samosas, chicken biryani (fried rice with chicken), or pilau (spiced rice).
There are several food experiences in Nairobi too. You can visit a restaurant like Carnivore for a delicious nyama choma (roasted meat) or join this street food tour. Make sure you try out boiled eggs with kachumbari.
12. Visit Lamu Old Town (Best Thing to Do in Kenya for History Lovers)
With its narrow labyrinthine alleyways, ancient buildings, and rich history, exploring Lamu Old Town is one of the top things to do in Kenya. This ancient town dates back to the 12th century when the Swahili coast was a busy trading route.
Besides the narrow paths, (which are only accessible by foot), handcarts, and donkeys, the town features beautiful architectural designs, museums, and historical sites. It's also home to Shela Beach, one of Kenya's most magnificent beaches.
While there, you can visit the Lamu Museum, attend the Lamu Festival, marvel at coral stone buildings, or stay in a Swahili-style house. Make sure you also take a traditional dhow ride (a traditional sailing vessel) to other islands in the Lamu Archipelago – Kiwayu, Manda, and Pate.
13. Go on an Adventure in Naivasha
Although many travelers use it as a pit stop when heading to more famous places like Masai Mara, Naivasha is home to some of the best tourist attractions in Kenya. It's also a hot spot for adventure seekers and a center of weekend nightlife for locals and expatriates.
There are plenty of things to do in Naivasha, Kenya, ranging from wildlife viewing to exploring small lakes and islands.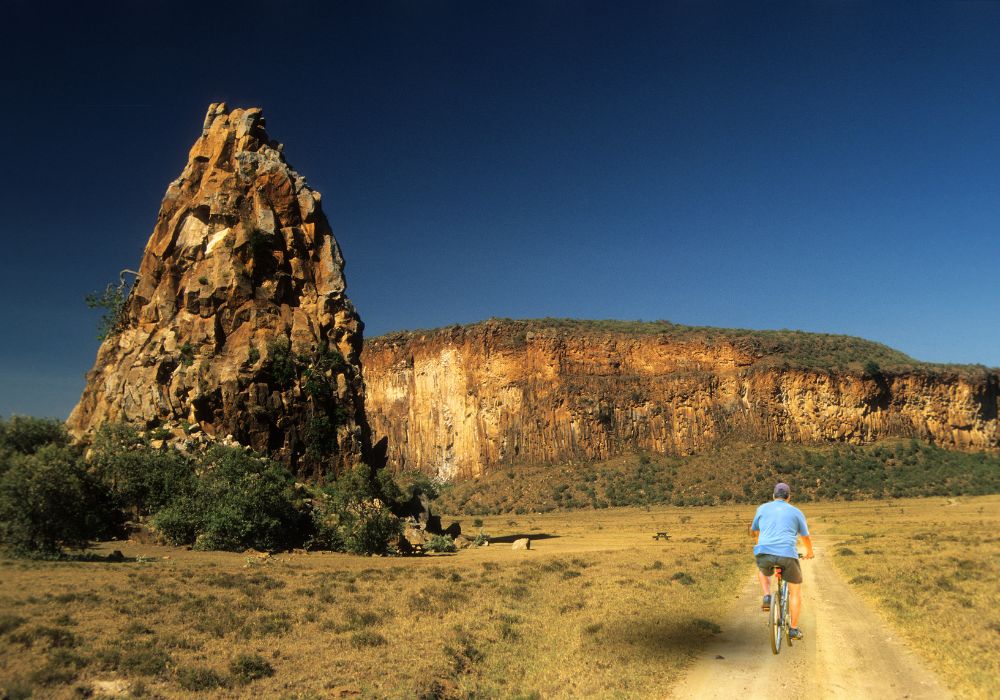 My favorite adventure activity in the small town is biking in the wild at Hell's Gate National Park. I also enjoy boat rides to Crescent Island and camping at Camp Carnelley's.
For more adventures, I recommend joining this day trip to Mount Longonot, which includes a boat ride on Lake Naivasha to see hippos. Also, make sure you try some fresh fried fish with ugali at Karagita Beach.
14. Take a Roadtrip North
Although often overlooked in favor of more popular tourism circuits like Nairobi and the coastal region, northern Kenya is home to many great places to visit. The region boasts several national parks, game reserves, wildlife conservancies, archeological sites, and less explored desert zones.
You can take a road trip from Nairobi to Nanyuki and explore attractions like Ol Pejeta Conservancy and Ngare Ndare Forest. See things to do in Nanyuki.
From there, head north to Samburu National Reserve, Marsabit National Park, Mount Ololokwe, and Chalbi desert. If you still have time, visit the Kobi Fora archaeological site at the northeastern tip of Lake Turkana to see the specimens of hominin fossils dating back millions of years ago.
☞ SEE ALSO: Ultimate Kenya Itinerary – Safaris, Culture & Adventure
15. Backpack the Swahili Coast
Backpacking along the Kenyan Swahili coast tops the list of fun things to do in Kenya for adventurers. The coastline stretches for about 536 kilometers between Vanga and Kiunga. It's dotted with beaches, wildlife parks, islands, coastal villages, beach resorts, and many attractions.
I've backpacked the entire coastline in segments, but I recommend making it a single trip. Starting from the south, travel up to Shimoni and take a boat ride to Wasini Island to swim with dolphins. From there, travel north to Diani, Tiwi, and then to Mombasa via Likoni Ferry.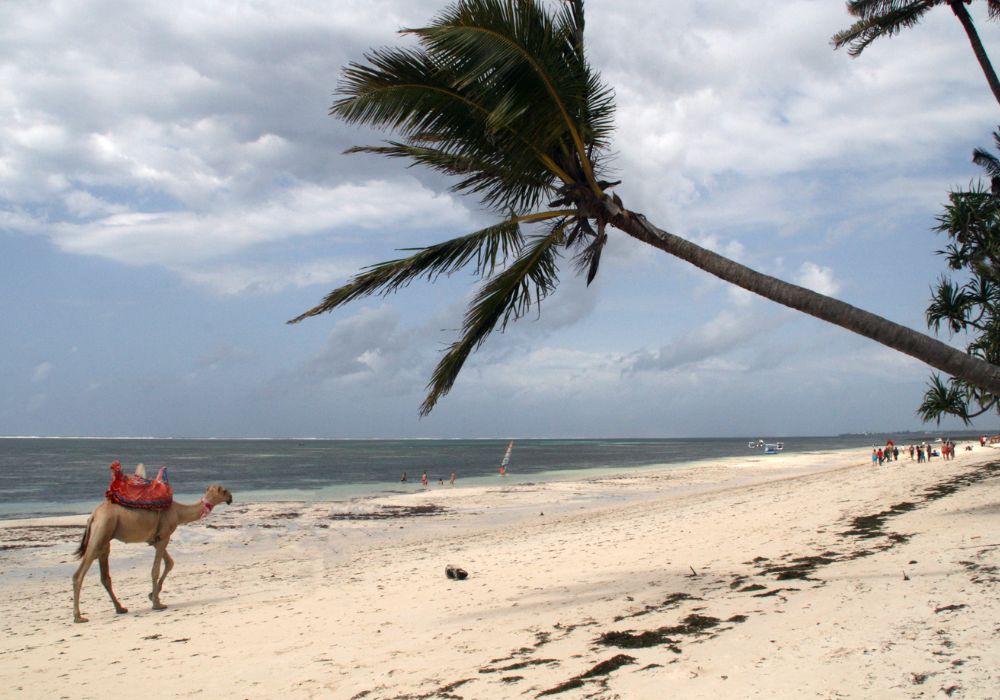 After a short stay in Mombasa, continue your journey towards Malindi town, passing through Nyali, Mtwapa, Kilifi, and Watamu. Make sure you visit Shanzu Beach, Watamu Marine Park, Gede Ruins, and historical monuments in Malindi.
From Malindi town, you can take a bus to Lamu Island, but I recommend boarding a flight from Malindi Airport. Make sure you explore the old town and walk to Shela Beach.
☞ SEE ALSO: 15 Best Things To Do in Diani
16. Visit Lodwar Town
Lodwar is a small town in the northwestern part of Kenya. The town is a gateway to South Sudan and the unexplored western shores of Lake Turkana.
If you like visiting off-the-beaten-path destinations, travel to Lodwar and explore the beautiful Turkana region of Kenya.
You can camp at Eliye Springs Beach, take a boat ride to Central Island National Park, stay with locals, and hike the Lodwar Hills.
17. Ride the Madaraka Express Train
Before 2017, the Lunatic Express was Kenya's only long-distance train service. The train took over twelve hours to travel between Nairobi and Mombasa but offered passengers a wonderful experience through the Kenyan hinterland.
Today Kenya has the Madaraka Express. The service is experiential, reliable, safe, and is one of the most economical means of traveling between the two cities.
The trains run along a standard gauge line with three daily departures (8:00 am, 3:00 pm, and 10:00 pm) from either city.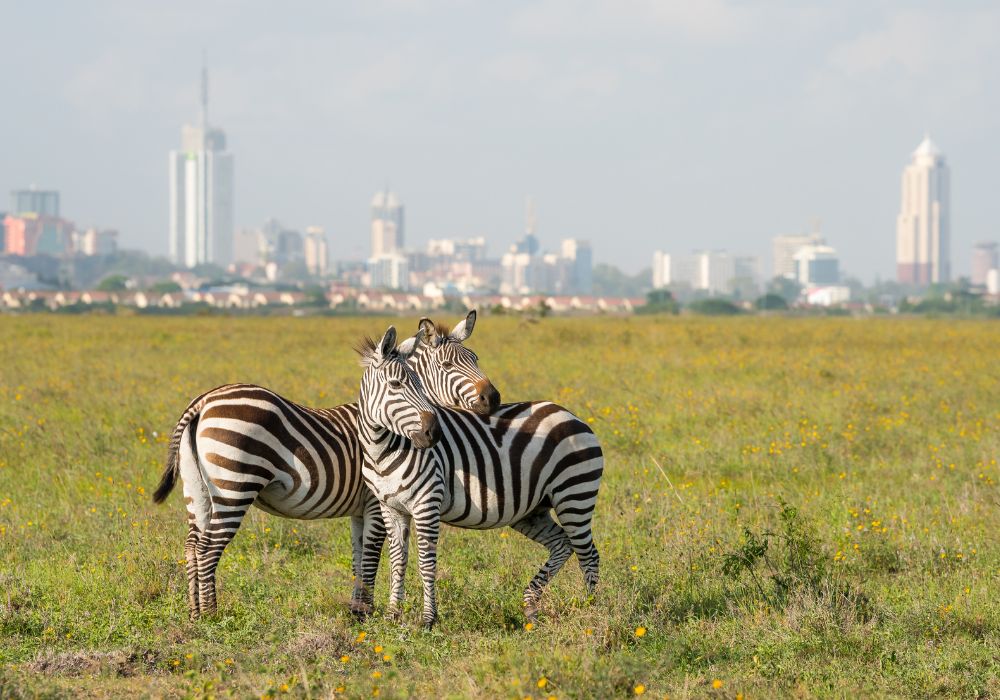 If you want to see parts of the Kenyan countryside and spot wildlife, I recommend taking the morning train. It takes 6 hours and passes through local towns, Nairobi National Park, and Tsavo national parks.
18. Go for a Nature Walk in Nairobi
Besides wildlife centers, Nairobi is home to plenty of special places to visit. One of those places is the serene Oloolua Nature Trail. You can go there for a nature walk, a jog, or a camping experience. The trail also boasts a scenic waterfall, a cave, and a picnic site.
Karura Forest and Paradise Lost are other excellent destinations near Nairobi for nature lovers.
19. Stay at The Famous Giraffe Manor
One of the best things to do in Kenya for couples is to stay at the iconic Giraffe Manor. The boutique hotel in the Karen suburb of Nairobi offers a once-in-a-lifetime luxury experience.
It's beautiful, elegant, and perfect for nature and animal lovers. As you enjoy breakfast or relax in the evening, it's not unusual for giraffes to stick their heads through the window.
The hotel is located on the same property as the popular Giraffe Center. It's also close to the Karen Blixen Museum and Oloolua Nature Trail.
20. Sleep Under The Stars
Loisaba is a private wildlife conservancy in the Laikipia plains of northern Kenya. The conservancy features abundant wildlife and some of Kenya's most luxurious accommodation facilities.
If you would like to relax in true African wilderness, book your stay at Loisaba. They have various properties, including Loisaba Lodo Springs and the stunning Loisaba Star Beds.
The beds (which sit on wheels) are rolled out at night onto raised wooden platforms so that you can sleep under the magical star-lit sky.
Quick Travel Itineraries For Kenya
Here are a few simple itineraries to follow when exploring things to do around Kenya.
1 Day in Kenya Itinerary
The best way to spend one day in Kenya is by joining a wildlife tour of Nairobi. This guided experience includes a game drive at the Nairobi National Park and visits to the Elephant Orphanage and Giraffe Center.
An alternative option is to take an adventurous day trip to Naivasha. Here you can go cycling at Hell's Gate National Park or take a boat ride on Lake Naivasha. Check out this tour.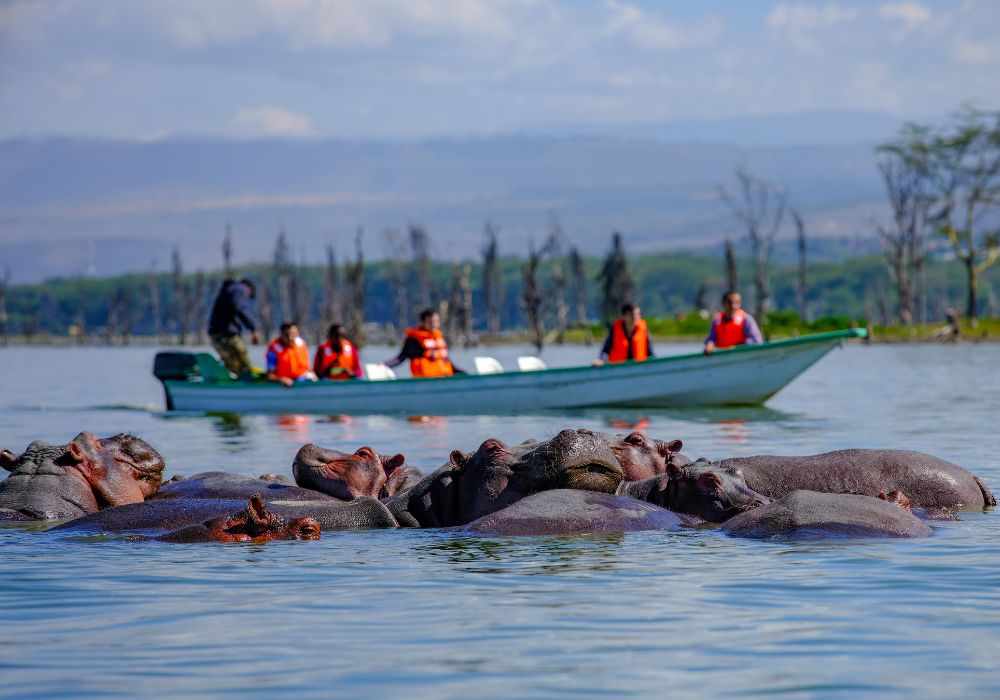 Finish your day in Kenya with a nice dinner at a local restaurant like the Kilimanjaro Jamia. Check out these best places to stay in Nairobi for accommodation recommendations.
2-3 Days in Kenya Itinerary
If you're wondering what to do in Kenya for 2-3 days, I recommend exploring the capital, going for a hike, and seeking a safari experience.
Day 1: Spend your first day visiting Nairobi wildlife centers like Nairobi National Park and Giraffe Center. Make sure you also pass by the Karen Blixen Museum and Bomas of Kenya to see cultural dances.
Day 2: On the second day, join a hiking trip to Mount Longonot which includes a boat ride on Lake Naivasha to watch hippos.
Day 3: Spend your third day in Kenya learning history and culture. Start by visiting Nairobi National Museum and then explore Nairobi on foot. Make sure you shop for gifts at the Masai Market.
A perfect alternative is to join a 3-day wildlife safari to Masai Mara to experience the wildebeest migration – an unforgettable sight.
1 Week in Kenya Itinerary
You can do many things if you have a week in Kenya. A typical 7-day Kenya itinerary involves sightseeing in Nairobi, hiking, game viewing, and a quick dash to the coast.
Day 1: Spend your first day exploring Nairobi on foot. While there, visit a local market like the Masai Market. An alternative option is to join this half-day game drive at Nairobi National Park.
Day 2: Start your second day in Kenya by hiking Mount Longonot. After the hike, head to Karagita Beach for lunch (fresh fried fish with ugali). You can also take a boat trip on Lake Naivasha before returning to Nairobi.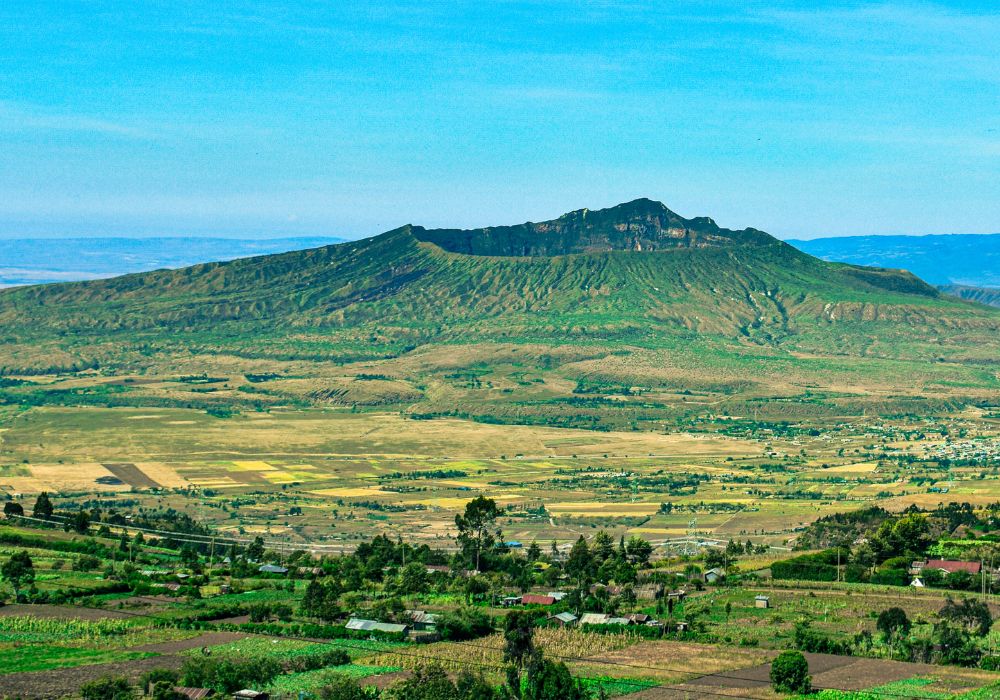 Day 3 – 5: Take a train ride to Mombasa and spend the next two days sightseeing in the coastal city. You can explore the old town, relax on a beach or join this exciting street food tour.
Day 6: While still in Mombasa, join this day trip to Tsavo East National Park to track the big five and see the Lugard Falls. Return to Mombasa and go out for dinner at Forodhani Restaurant.
Day 7: Start your last day in Kenya with a stroll along the beach. From there, return to Nairobi to catch your flight home.
An alternative way to spend a week in Kenya is by visiting the Masai Mara or climbing Mount Kenya.
☞ SEE ALSO: 15 Best Things To Do in Mombasa
Getting To Kenya
Below are the best ways to arrive in Kenya.
By Plane: The best and most convenient way of arriving in Kenya is to fly into the main hubs. These include JKIA in Nairobi and Moi International Airport in Mombasa. Kenya Airways, Ethiopian Airways, and Emirates are some of the best international flights to the country.
Overland: Travelers can also get into the country by road through borders with neighboring countries. The main ones include Namanga and Lunga Lunga (Tanzania), Busia (Uganda), and Moyale (Ethiopia).
Getting Around Kenya
Here are some of the best ways to travel around Kenya.
By Plane: Flying around Kenya saves time and allows you to explore more places. Some of the best domestic airlines are Jambojet, AirKenya, Fly 540, and SafariLink.
By Trains: Kenya Railways operates several train services, including Madaraka Express between Nairobi and Mombasa, and trains to Kisumu and Nanyuki.
Hire a Vehicle: Hiring a self-drive vehicle allows you to travel at your own pace. Check out local car hire services like Roadtrip Kenya.
Hire a Driver/Guide: If you're not comfortable driving around Kenya yourself, you can also hire a vehicle with a driver/guide or join a tour.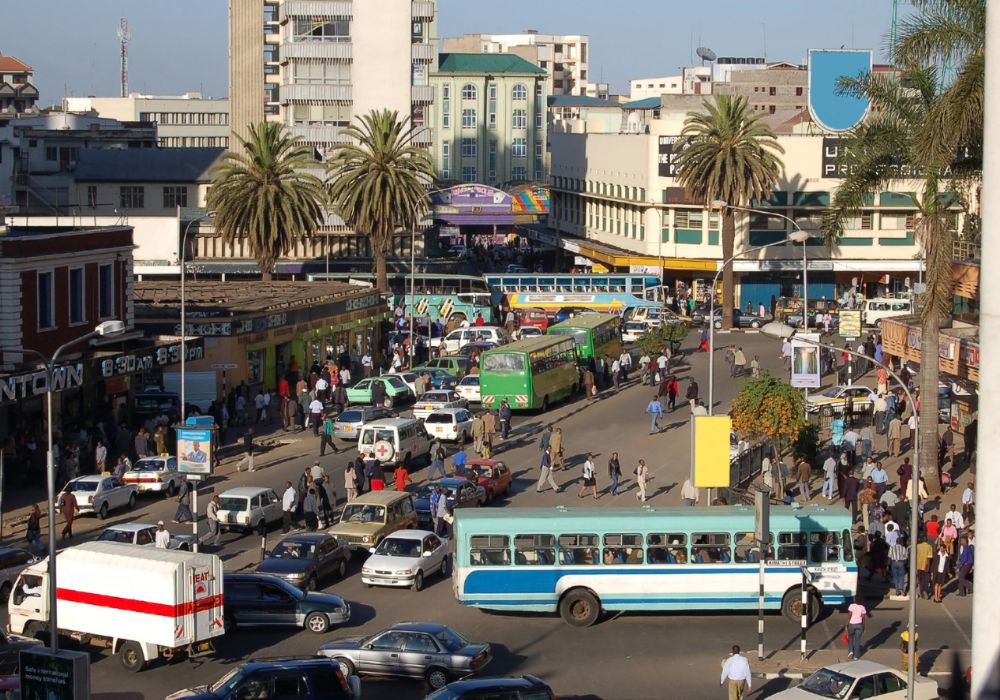 Public Transport: It's easy to travel between cities and major towns in Kenya using long-distance buses like the Ena Coach and Buscar. Journeys within cities are possible using shared taxis like Uber, motorcycles, matatus (minibusses), and by walking.
Things To Do in Kenya: FAQs
Here are some answers to commonly asked questions about visiting Kenya.
What is Kenya known for?
Kenya is best known for its annual wildebeest migration, the big five, and its friendly people. It's also known for its world-class athletes, rich cultural heritage, and fantastic safari destinations.
When is the best time to visit Kenya?
You can visit Kenya year-round. However, the best time to visit for a wildlife safari is during the dry season between July and October.
Is Kenya worth visiting?
Yes. Kenya is diverse, with plenty of tourist attractions, beautiful landscapes, wildlife parks, and rich history.
How many days should I spend in Kenya?
I recommend spending at least 14 days in Kenya. However, 3-7 days in Kenya is enough to take a wildlife safari, relax on a beach, and hike.
Is Kenya safe?
While Kenya is generally a safe destination, it's essential to be vigilant, especially in big cities.
What is the most popular thing to do in Kenya?
Going on wildlife safaris is the most popular thing to do in Kenya.
What is the best beach in Kenya?
There are many beautiful beaches in Kenya that are perfect for different activities. Diani Beach is the best for couples and diving, while Watamu Beach is popular for family holidays.
What foods should I try in Kenya?
While in Kenya, make sure you try nyama choma (grilled meat) served with ugali and kachumbari.
What are the top attractions in Kenya?
Masai Mara, Lake Nakuru, Mount Kenya, Mount Longonot, Diani Beach, and Lamu Old Town are some of Kenya's top attractions and places to visit.
What do people do for fun in Kenya?
There are plenty of fun things to do in Kenya for families, couples, and solo travelers. They include hiking, going on safari, visiting museums, relaxing on the beach, and eating out.
Now You Know What to Do in Kenya
There are endless things to do and see in Kenya, and this article highlights just a few to give you ideas on where to go.
For example, if you travel north of Naivasha, you'll pass the shores of Lake Elementaita and Kariandusi Museum before arriving at Nakuru – Kenya's newest city. Here you can hike at the Menengai Crater, visit Hyrax Hill Museum, and go game viewing at Lake Nakuru National Park.
Beyond Nakuru is the western circuit, which hosts attractions such as Lake Victoria, Kakamega Forest, and Thimlich Ohinga – a UNESCO Heritage Site.
Whether you like following the tourist trails or prefer the less traveled places, Kenya has something for you. Make sure you spare at least a week to experience the best of this beautiful country.
Like This Article? Pin it!
The post 20 Best Things To Do in Kenya appeared first on Goats On The Road.