15 Best Things To Do in Malindi in 2023 – Goats On The Road
There are plenty of unique things to do in Malindi. A small town along the northern coast of Kenya that's rich in history and culture. It's also known for its beautiful beaches and rustic beach hotels, making it one of the best holiday destinations in Kenya. 
While in Malindi, you can visit a museum, go snorkeling or scuba diving, catch sunrises, and plenty more. You can also take a day trip to a national park for a wildlife safari or to Mombasa for some historical sites. After these experiences, I recommend relaxing on a beach or eating at a local restaurant.
My attraction for Malindi is based on my love for history and relaxation. The place is like a living museum which I often revisit to see what's changed. Many explorers and tourists have passed by Malindi, while others have called it home for ages.
Travelers like Ernest Hemingway, Zheng He, and Vasco da Gama were here and left their marks. However, it's the locals, residents (mostly Italians), and tourist attraction sites that make the place most magical.
As a local Kenyan and someone who has visited the coast several times, I'm excited to share with you my favorite Malindi attractions. I have also included information on how to get there, the best places to stay, and restaurants. Even though it's quite small, there are so many places to visit in Malindi – make sure to add it to your Kenya itinerary!
Best Things To Do in Malindi
Check out this list of some of the most exciting places to see and things to do in Malindi. It's based on attractions I've visited and fun activities that I've experienced myself. Traveling around Kenya is exciting and the coast and Malindi have a lot to offer visitors.
1. Go Scuba Diving or Deep Sea Fishing
The Kenyan coast contrasts the wild deserts, safari parks, and beautiful landscapes upcountry, and this is why many visitors head south for the sand, sun, and sea. However, it's not devoid of adventure.
For those inclined to scuba diving, the coral reefs in Malindi are some of the most beautiful in the world. They're filled with various species of marine life, including colorful fish (like snappers, filefish, angelfish, and groupers). Thousands of divers flock there yearly to plunge and marvel at the world beneath the surface.
Malindi Marine National Park is the place to go if you want to indulge in scuba diving. For the latest prices, schedules, and more information, check out Bluefin Diving. They offer the best diving trips along the northern coast.
Besides scuba diving, deep sea/offshore fishing is another of the best things to do in Malindi. The sport was popularised by Ernest Hemingway when he visited the place in the 1960s. Check with your hotel to see if they can arrange a fishing trip.
Address: Marinepark Rd off Casuarina Rd.
2. Explore the Beaches in Malindi
Although less famous than the ones in Diani and Watamu, Malindi beaches are spectacular. They have golden and white sands, suitable for relaxation, long walks, or jogging (if you're so inclined). Close to these beaches, you'll also find some of the best beach villas and resorts in Kenya.
There are several beaches in Malindi including Golden, Casuarina, Marine Park, and Silversands. Golden Beach is the most popular due to its easy accessibility. For watersport activities and beach amenities, head to Marine Park.
Address: Click on each beach for directions – Silversands, Golden, Casuarina, Marine Park, and Mayungu.
3. Enjoy a Full Day Safari at Tsavo East National Park
The Kenyan coast is mostly for relaxation, but if you fancy wildlife safaris, join a tour to Tsavo East National Park. It's located about 4 hours from Malindi and is one of the best safari parks in Kenya.
Besides game-watching (elephants, leopards, lions, and other animals), Tsavo East is home to other scenic attractions such as beautiful landscapes, Mudanda rock formations, and the eye-catching Lugard Falls.
The best way to visit the park is by joining an organized safari. While it may not be the most affordable thing to do in Malindi, prices for such a great experience are still very reasonable. You can also access the parks by road through the Sala Gate.
If you intend to spend a night in Tsavo East National Park, I recommend booking your stay at Ashnil Aruba Lodge – a beautiful bush camp featuring a restaurant, an outdoor pool, and tents that overlooks Aruba dam.
Address: Click here to see the location of Tsavo East National Park. The park is best reached via the Sala Gate.
4. Try Swahili Dishes (One of the Best Things to Do in Malindi)
Although I don't consider myself a foodie, this is one of my favorite things to do in Malindi. When visiting the coastal town, I always sample some of the delicious Swahili dishes – and you should too. This is some of the best food to try in Kenya.
The local culinary scene is diverse. It offers various foods that reflect the destinations' rich culture. You can begin by trying biryani (aromatic rice cooked with spices and chicken or beef), pilau, and wali wa nazi (coconut rice). Also, try snacks such as samosa and pastries like mandazi/mahamri (a form of fried bread).
In addition to the Swahili cuisine, which has African, Indian, and Arabian influences, you can also indulge your taste buds in Italian flavors. Due to Malindi's sizable population of Italians, pizza, pasta, and various seafood are readily available.
Address: Check out Seafront Swahili Dishes and Baby Marrow – my favorite Italian Restaurant and Pizzeria.
5. Go Swimming and Snorkeling
As mentioned earlier, Malindi Marine National Park is an underwater paradise. It's also my preferred spot to go swimming and snorkeling. During my trips to Malindi, I always make sure to join a trip to the coral heads, which are full of colorful fish.
If this beautiful experience appeals to you, be sure to head to Malindi Marine National Park. You'll find experienced guides who will take you to the coral gardens on glass-bottomed boats for around $15 per person. Check out marine boat excursions based inside the park.
Swimming is also possible on Malindi beaches since the water is warm and the ocean is calm. However, it's best to wear shoes during low tide to avoid injury from corals in some places.
Address: Click here for directions to the marine park.
6. Learn History at the Malindi Museum
I love history, and my first stop in any new place I visit is usually a museum. This informational site teaches almost everything about the place and forms a good basis for what to expect and look forward to during your stay.
Besides hosting historical information and artifacts, the Malindi Museum is a relic. The building on which it stands was constructed in 1891 by Adhussein Gulamhussein as the "House of Columns." It then changed hands between government departments (like fisheries and wildlife) until 2004, when it became a museum.
Within the museum, you can expect to learn about the history of Malindi, its people, and the fauna found in the Indian Ocean.
Address: The museum is easily accessible from anywhere in town, whether by foot or car. Click here for directions.
7. See Vasco da Gama Pillar
Vasco da Gama, a famous Portuguese explorer, and navigator, sailed the East African coast in the late 15th century. He was among the first Europeans to set foot and leave his prints in Malindi.
When Vasco da Gama arrived on Easter Sunday, 1498, the Sultan of Malindi welcomed him and his crew. He gave them food provisions and someone to lead them to India (Ahmad ibn Majid). On returning to Malindi, the explorer built a pillar as a "thank you" gesture to the Sultan for his generosity and guidance.
Vasco da Gama Pillar is one of the most visited Malindi attractions. The monument (under the Museums of Kenya) has been relocated several times due to silts that erode coral reefs and is now located on the seafront in Shela Neighborhood.
If you intend to see the pillar, I recommend getting a ticket from the Malindi Museum. For only $3, you can visit the museum, see the Vasco da Gama Pillar, and the Portuguese Chapel.
Address: Click here to see the directions to the Vasco da Gama Pillar.
8. Visit the Portuguese Chapel
Another of my favorite things to do in Malindi is to visit the Portuguese Chapel (St. Francis Xavier Chapel) – a small place of worship built by Vasco da Gama's crew in 1502.
Around 1545, St. Francis Xavier, a catholic missionary, landed in Malindi and was delighted to see a symbol of Portugal there. He stayed on for a few days, buried a seaman, and went on to Goa.
The chapel is roughly five square meters. It features white walls of coral rocks, a rooftop cross, ten wooden benches, and an altar. Outside the chapel, there's a graveyard where it's believed 36 people are buried. Among these people are sailors and some of the town's prominent persons.
Address: Click here for directions to the Portuguese Chapel.
9. Take a Day Trip to Mombasa
After almost 100 years in Malindi, the Portuguese shifted their base to Mombasa where they established a fort (Fort Jesus) to guard the old port. The fort is located at the edge of Mombasa Old Town, which is also a wonderful place to visit and wander around.
To better appreciate the Portuguese significance in Malindi, I recommend taking a day trip to Mombasa. In addition to visiting Fort Jesus and the Old Town, you can visit other tourist attractions and enjoy the interesting things to do in Mombasa.
Check out this exciting tour of Mombasa City that includes a visit to Fort Jesus.
Address: Here is the location of Fort Jesus and the Mombasa Old Town.
10. Visit Hell's Kitchen in Marafa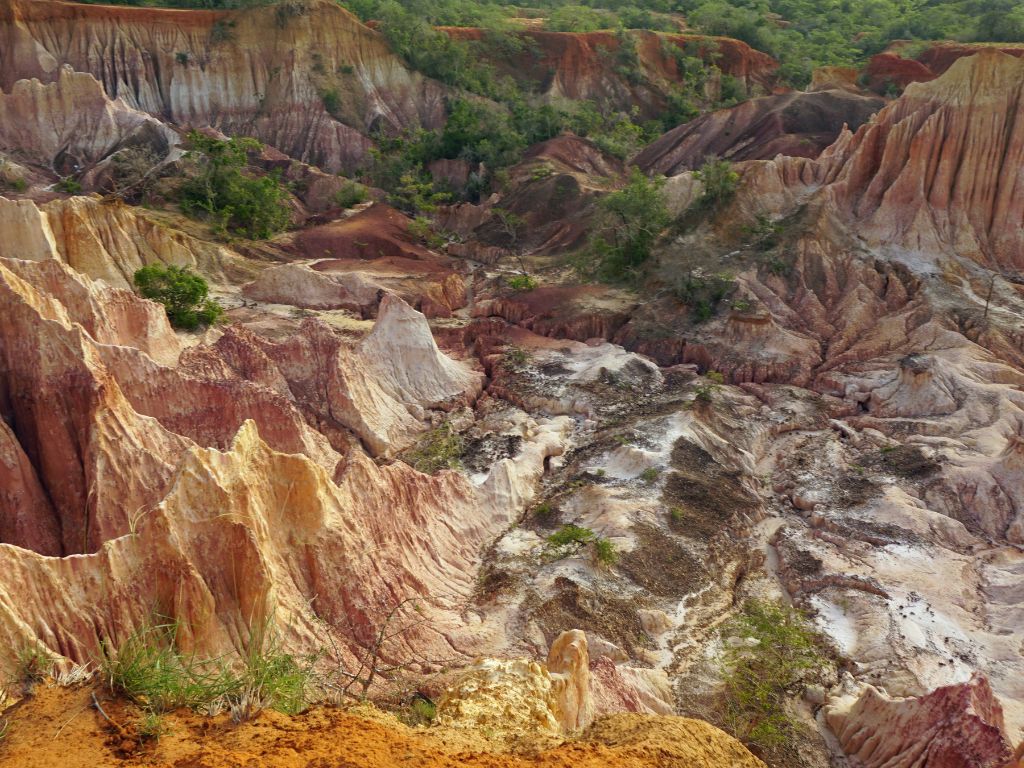 Further north of Malindi (about 30 Km) in Marafa is where you'll find one of my favorite sights along the Kenyan coast – Hell's Kitchen. The depression is an eroded sandstone canyon with stunning cliffs and rocks of red, pink, and orange hues.
If you can wait until the evening, this masterpiece of nature is sure to surprise you. Each sunset paints the gorges in fiery colors, like a painter's palette in motion. It's a truly memorable experience.
The local community manages this marvelous attraction, which they call "Nyari" – the place broken by itself. The fee for this tourist site in Malindi is $10, which goes toward helping the community and managing the site. While there, you can hire a local guide to inform you more about the place. They usually charge around $5 for a one-hour tour.
The best way to visit Hell's Kitchen is by joining this guided day trip. You can also hire a taxi from Malindi town (or request your hotel/host to hail one for you). Learn more about the highly-rated trip to Hell's Kitchen.
Address: Hell's Kitchen in Marafa
One of the best free things to do in Malindi is to explore the town on foot. It's a sure way of understanding the history, culture, and locals' way of life. Wandering along its streets gives you a memorable experience of the coastal town.
Begin from your hotel and simply walk everywhere. Look for unique architecture along the way (usually stone houses of limestone). You'll also see locals doing business – in shops, restaurants, and bus stops.
Some of the things that fascinate me in Malindi are the Swahili curved doors. These wooden works are a common feature in many buildings. According to a local I spoke with, they come in different styles based on the influencing culture. My favorite was the Zanzibar-style door which had iron tiers on it. Others include Gujerati, Oman, Bajuni, Siu, and Kijumwa doors.
Check out this resource to learn more about Swahili doors.
Address: Click here for the location of Malindi Town.
12. Catch Sunrise or Sunset at the Malindi Pier
While still exploring Malindi town, stop by the popular Malindi Pier. This 400-meter-long concrete bridge spans deep into the ocean and offers a spectacular spot to catch sunset or sunrise.
I highly recommend visiting between 6 am-8 am for the sunrise. During this time, few people are around, and you'll likely be able to watch fishermen returning to shore. Head there between 4 pm-6 pm for the best chance of a sunset.
This landmark straddles Golden Beach – one of the best places to relax and feel the ocean vibe while in Malindi.
Address: Click here for directions to Malindi Pier.
13. Explore the Sand Dunes in Mambrui
About 20 kilometers north of Malindi is the town of Mambrui. Most buildings there have a deep Muslim influence and if you look around, it's easy to link the place with the ancient Arab trading that happened there.
You'll notice an amazing attraction as you head toward the ocean outside the town – the Mambrui Dunes. The wonderful spread of dunes stretches from Mambrui Beach to Ngomeni village. It's one of the best things to see in Malindi and the easiest way to get there is to hire a taxi from Malindi town. Your hotel can also arrange for the same.
A few kilometers offshore from this area is the San Marco site – a rocket launch pad by the Italian Space Administration.
According to various sources, the site is one of the factors associated with the high population of Italians in Malindi. The engineers who worked on the site arrived in Malindi and popularised the town by making it home. This attracted tourists and expatriates who settled in, hence the nickname "Little Italy."
Address: Click here to see the location of the Mambrui Dunes.
14. Go Kitesurfing at Che Shale
In addition to scuba diving, snorkeling, and swimming, there are other water sports activities in Malindi. Water-skiing, kitesurfing, and wind-surfing are some to name a few. Hotels along the coastline have introduced dhows and sails on surfboards for those seeking a little adrenaline.
My favorite hotel in Malindi for kitesurfing is Che Shale, a beach hotel (25 Km north of Malindi town) that organizes surfing trips for visitors of all levels. They also have one of the pioneering kite schools in Kenya (Kitesurfing in Kenya & East Africa).
As well as surfing, Che Shale offers cruise trips on their beautiful wooden dhow (Sawa Sawa). The dhow was built in Mozambique down south and sailed to Malindi. A full-day excursion on the Sawa Sawa includes food and activities such as swimming and snorkeling. Click here to book your stay at Che Shale Hotel & Kitesurf Center.
Address: Click here for directions to Che Shale – along Lamu Road.
15. See the Hanging Gardens of Malindi
To close this list of the best things to see and do in Malindi is The Hanging Gardens, an Orchid nursery that specializes in various species including the Tillandsia (Spanish Moss). What they do with plants here is remarkable, and the experience is well worth adding to your itinerary.
As well as seeing various types of orchids you likely have never seen before, you'll also have the opportunity to purchase them. Visits to this center are by appointment only – to book a visit, contact the owner through their website here.
Address: The Hanging Gardens of Malindi is about 3 Km from town. Click here for directions.
Quick Travel Itineraries For Malindi
Now that you know the best places to visit, here are my suggested itineraries for your trip to Malindi. Feel free to mix the tourist attractions and sites to meet your tastes and interests.
1 Day in Malindi Itinerary
Start your day with breakfast at your hotel or resort in Malindi. From there, take a taxi or tuk-tuk to town. Here, you'll visit Malindi Museum and be issued a day's ticket. After learning about the history and gaining some deeper information about the area, head down along Silversand Road. Stop at the Portuguese Chapel before proceeding to the Vasco da Gama Pillar.
After a half day of history, head back to town for lunch. Try out local delicacies at the Seafront Swahili Dishes. Their chicken biryani and tamarind juice are my favorite – you can't go wrong.
From there, head to Malindi Marine National Park where you can walk along the beach or go swimming and snorkeling. Finish your day with dinner at Baby Marrow.
2-3 Days in Malindi Itinerary
Start your first day learning the history and culture of Malindi. And afterward, take a walk in town admiring the architecture and wood pieces of furniture. Ensure you also visit Malindi Museum, Portuguese Chapel, and Vasco da Gama Pillar. Before the day's end, eat at a Swahili or Italian restaurant that catches your eye, (or nose!).
Spend your second day enjoying the sea and sand. Relax on one of the magnificent Malindi beaches or participate in water sports. Malindi Marine National Park is the perfect spot for this; go swimming, scuba diving, deep sea fishing, and snorkeling from there.
The third day is best suited for a day trip outside Malindi town. You can join this exciting safari to Tsavo East National Park or head north to see the Mambrui Dunes. Hell's Kitchen in Marafa is also a perfect escape for a day.
1 Week in Malindi Itinerary
If you have seven days in Malindi, combine relaxation, adventure, history, and watersports at your leisure.
Spend the first two days wandering around Malindi town. Start with the historical sites and then hit the beach for watersports and relaxation. Malindi Museum and Malindi Marine National Park are the best places to base your adventures on.
On the third day, head northwards and book a hotel for two days. I recommend staying at the Che Shale. You can visit the Mambrui Dunes and Hell's Kitchen in Marafa, and if you're more attracted to the sea, Che Shale offers various water-related activities including kitesurfing and dhow cruise trips.
Head back to town on the fifth day and visit two of its best tourist sites The Hanging Gardens. Finish the day watching the sunset from the Malindi Pier and then enjoy dinner at a local restaurant.
Spend the last two days in Malindi relaxing and revisiting your best attractions like the beach or marine park. You can also take a day trip to see Fort Jesus in Mombasa or wildlife at Tsavo East National Park. If you opt for Tsavo, I recommend staying at the Ashnil Aruba Lodge for your last night.
Where to Stay in Malindi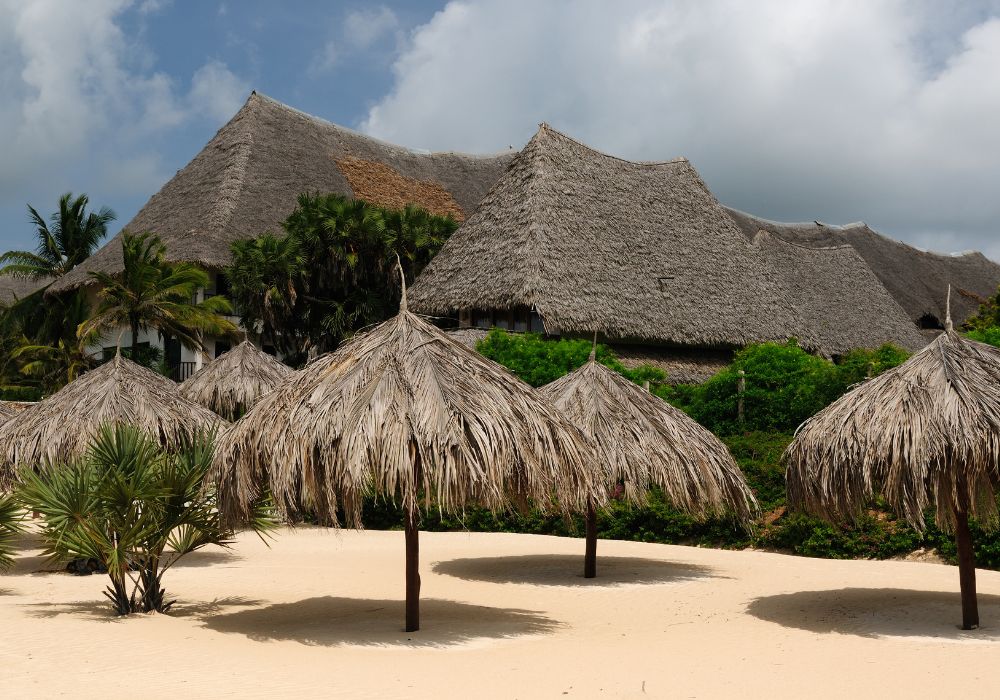 Just like you'd find in other coastal destinations such as Diani, there are few neighborhoods in Malindi. However, the place has many holiday homes, elegant apartments, and even luxury beach villas.
Below are some of the best places to stay in Malindi for tourists:
Beachfront Penthouse – Best for Couples and Small Families
Most people visit Malindi to enjoy the sun, sand, and sea views, and there's no better place to experience this than the Beachfront Penthouse. This beautiful 2-bedroom apartment has amazing ocean views and also features all necessary amenities suitable for families, solo travelers, and couples. Click here to book.
Beverly Suites – Best for Group Travelers and Families
Not everyone travels solo or as a couple. So, if you're a group of up to 5 searching for a fantastic beach villa in Malindi, the Beverly Suites could be perfect. The facility has a swimming pool, and all the units are fully equipped for self-catering guests. Click here for more information.
Primeshade Guesthouse – Best for Budget Travelers
When I last visited Malindi, a backpacker's hostel didn't exist. Almost all the accommodation facilities I found were either mid-range or high-end. Fortunately, however, I've since stumbled upon Primeshade Guesthouse. For around $25 per night, the facility is well-priced for budget travelers.
Their rooms are spacious, with a clean bathroom and free toiletries. They also have an outdoor swimming pool, a garden, a shared lounge, a restaurant, and free private parking. Click here for more information.
Leopard Point Luxury Beach Resort – Best for All Travelers
Let's face it. Sometimes we love a luxury resort; like the one found at Leopard Point where we get pampered with everything, and all we have to do is relax – no self-catering or coping with unruly backpackers in a hostel. It's just eating, swimming, going to the beach, working through the cocktail list, and attacking the mini-bar.
If you're after some splendor, this 5-star beach resort in Malindi is your best bet. Click here to find out more.
Kilili Baharini Resort – best for first-time visitors and couples
If you're looking for things to do in Malindi for couples and places to stay, this resort is best for you. The small boutique hotel only has a small number of rooms, ensuring privacy and comfort. It also features a private beach to relax and enjoy the ocean breeze.
Featuring elegant rooms with private verandas, a beachside restaurant, and pools, Kilili promises nothing but a memorable experience. Book here now.
Best Restaurants in Malindi
Check out my list of some of the best restaurants in Malindi. Here you can enjoy Swahili dishes like biryani, eat pizza, order drinks, and connect with locals.
Seafront Swahili Dishes
As the name suggests, Seafront is an authentic restaurant in Malindi for Swahili food. Besides biryani chicken and samaki wa kupaka (fish in coconut curry), they serve some delicious seafood. I also love their tasty ukwaju (tamarind juice).
Baby Marrow – Italian Restaurant & Pizzeria
Baby Marrow is one of the best Italian restaurants in Malindi. Here, you can enjoy a wide selection of Italian delicacies like pizza and pasta. They also serve seafood (fish, prawns, and octopus) and local dishes (ugali and nyama choma). After eating, you can wash down the food with a glass of wine or beer.
Try out their samosas, fish fillet, and tasty dessert cakes. Click here to book a table/make a reservation.
Rosada Beach Restaurant
Rosada is a great beach restaurant with a relaxed vibe that offers various dishes. It's a casual hangout joint with a pleasant atmosphere and good music. In addition to seafood such as fish and prawns, they have great local delicacies. Don't leave the restaurant without tasting the pizza – it's pretty great.
Getting to Malindi
Below are the best ways to get to Malindi from Nairobi, Mombasa, and other places in Kenya:
By Plane
Flying to Malindi is the best option as it saves time, which you can use to experience more places. A domestic airport serves the town with daily scheduled flights from Nairobi, Mombasa, Lamu, and Diani.
Some leading domestic airlines to Malindi Airport include Kenya Airways, Jambojet, and Air Kenya. Once at the airport, taxis are available to take you anywhere around Malindi.
Check out transfer services from Moi International Airport (Mombasa) to Malindi.
By Bus
Malindi is connected by long-distance buses from Nairobi and Mombasa on a regular schedule. Most of these buses are safe and comfortable, making the journey bearable.
From Nairobi, you can board the luxury buses along River Road. If you're coming from Mombasa, buses to Malindi are boarded from Mwembe Tayari or along Abdel Nassy Road.
The leading bus companies in Malindi include Tahmeed Coach, Modern Coast, Buscar, and Dreamline Express.
By Train
There are three daily trains from Nairobi to Mombasa operated by Kenya Railways. The scenic journey from the capital city to the coastal city takes 5-6 hours.
Once in Mombasa Terminus, you can take a taxi or a shared van for the two-hour trip to Malindi. Alternatively, you can get this private transfer with an experienced tour guide.
Getting Around Malindi
Here are the best ways to get around while sightseeing in Malindi:
Walking
For short distances, it's best to walk around. The town is safe, and some of its attractions are close to each other.
Motorcycles and Tuk-Tuks
There are plenty of motorcycle taxis and tuk-tuks in Malindi. They are affordable and can take you anywhere around and outside town. Request your hotel to link you up with a reliable driver.
Using Hired Taxis
Normal taxis are the most comfortable and safest means of transport around Malindi. It's easy to hire one from your accommodation facility or town center. They typically have a "taxi" sign. You can also speak with your resort or hotel and have them arrange a ride for you.
Things To Do in Malindi: FAQs
Here are some answers to commonly asked questions about the best things to do in Malindi:
What is Malindi known for?
Malindi is popular for its beaches, holiday homes, and beach villas. It has a rich culture and history, influenced by Swahili people, Italians, Portuguese, and Arab traders.
When is the best time to visit Malindi?
The best time to visit is during the dry season – June to October and December to February.
Is Malindi worth visiting?
Yes. Malindi is worth visiting for its stunning beaches, watersports, and historical sites. It offers a unique blend of adventure, relaxation, and other experiences.
How many days should I spend in Malindi?
A recommended stay in Malindi would be around 7 days – to engage in water activities, visit tourist sites, and enjoy leisure time.
Is Malindi safe?
Malindi is considered safe for tourists. However, like in other places, staying alert and exercising caution is important. See the latest travel advisories from UK and USA.
What is the most popular thing to do in Malindi?
One of the most popular activities in Malindi is visiting tourist attractions like the Malindi Museum. Other top things include snorkeling, scuba diving, and beach walking.
Which is the best beach in Malindi?
Golden Beach (Buntwani) is the best beach in Malindi. Others include Silversands, Marine Park, and Mayungu.
Why do Italians love Malindi, "Little Italy"?
Malindi is sometimes called "Little Italy" because of the many Italian travelers and residents. The popularity can be attributed to the town's laid-back coastal lifestyle and beaches. It also dates back to the opening of the San Marco rocket launch pad by the Italian Space Agency in the 1960s.
Which language is spoken in Malindi?
Kiswahili is the primary language spoken in Malindi. However, English and Italian are also common.
In Closing
So, there you have it. Those are my favorite things to do and places to visit in Malindi. Hopefully, you can see by now why I believe it to be one of the most captivating destinations in Kenya – it's overflowing with beauty and tourist attractions.
There are countless ways to while away your time there. So, whether you crave relaxation or adventure, Malindi delivers an unparalleled experience.