There are lots of fantastic things to do in Korce. Also known as Korca, Korcha, Kortcha, Korça, or Korçë, there are so many things to keep you occupied in this lovely little city in the southeast of Albania.
It's just three hours from Tirana, and is best known as being the home of the popular beer with the same name, Korca! But, there's so much more to Korce than beer, with beautiful architecture, scenery, and delicious food to discover.
Like Shkoder, Korce is another seriously underrated place to visit in Albania, with most tourists and travelers opting for the capital or for the towns and cities on the coast. However, it's so worth a visit. Here's a list of what to do in Korce ahead of your trip to Albania.
Best Things To Do in Korce
While often overlooked on the Albanian tourist trail, there are some incredible places to visit in Korce making it one of my favorite places in the Balkans.
From art and history to cafe culture and its own beer, there's plenty of great stuff to do in Korce for all ages and all interests.
Here are some of my favorite things to do in Korce to help you make the most of this incredible city:
1. Stroll Down St George's Boulevard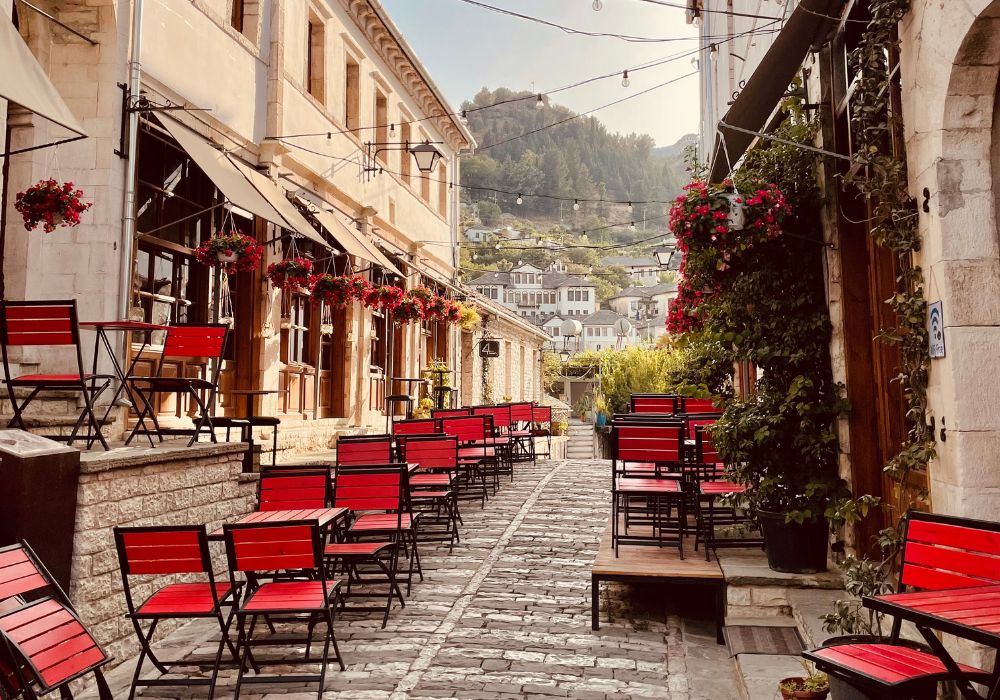 One of the best free things to do in Korce is to take a walk down St George Boulevard, or Bulevardi Shen Gjergji as it's called in Korce.
It's the main pedestrian road in the city, which is lined with beautiful trees and is surrounded by cafes, ice cream parlors, bars, and restaurants on either side. It's lovely to take a walk, which is popular with tourists and locals alike, and enjoy an ice cream or perhaps sip a coffee.
My favorite place is Creperie Pedonale for the best crepes ever.
Address: Bulevardi Shen Gjergji, Korce
2. Check Out the Panoramic Views from the Red Tower
For the best views of the city, you can't miss out on visiting the Red Tower. It's definitely one of the best things to do in Korce.
The Red Tower, also known as the Panoramic Tower, is located at the north end of the Bulevardi Shen Gjerji. It's not exactly the prettiest building, but it does have spectacular 360 views of the city, and the beautiful mountains and countryside.
To get to the top, you have to climb eight flights of stairs; it's not too bad, but there's thankfully the option to get the elevator up if that sounds like too much effort. It costs around 50LEK ($0.50 USD) to gain access to the top.
In my view, it's best to go up at sunset, so you can enjoy the views of the country as you watch the city light up for the evening. It's one of the best things to do in Korce at night.
Address: Panoramic Tower, Korce, Albania
3. Embrace Cafe Culture at Korce Old Bazaar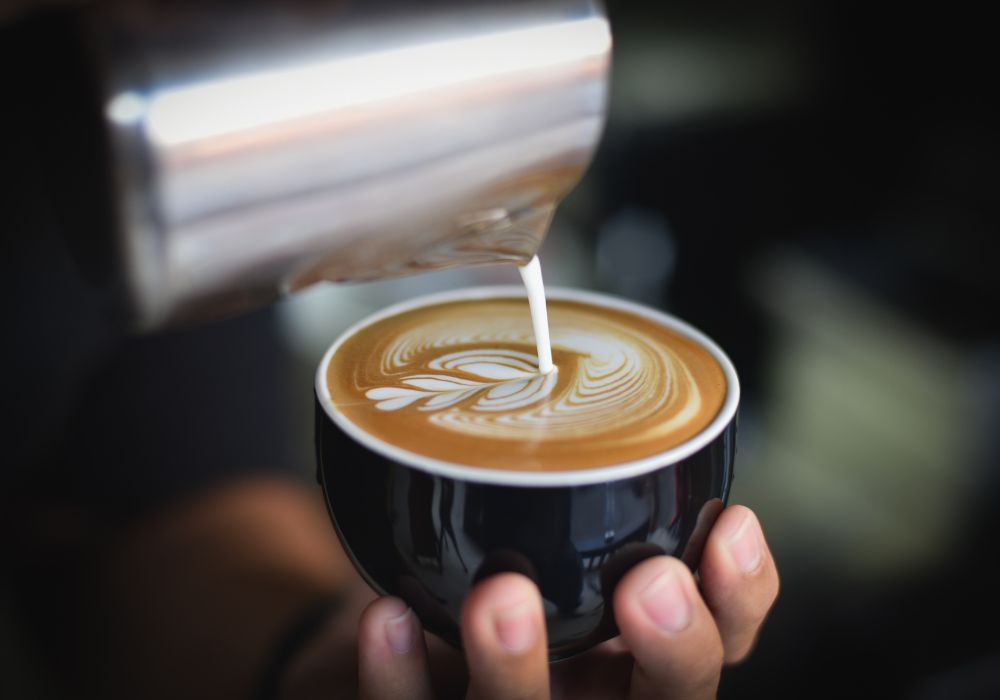 The Old Bazaar, also known as Pazari i Vjeter, is one of my favorite places to see in Korce. During the 19th and 20th centuries, the bazaar was the beating heart of Korce with over 1,000 stores.
Since then, it's been completely refurbished and is now a modern example of a stunning renovation that's hugely popular with locals and tourists alike.
Head to the Old Bazaar and browse the many souvenirs and traditional items. My favorite pastime is to grab a coffee in one of the many small cafes surrounding the bazaar and watch the beat of daily life unfold. It's one of the best people-watching spots in town and one of my favorite places to visit in Korce.
Address: Korce Old Bazaar, Korce
4. Marvel at Mirahori Mosque
When sightseeing in Korce, the Mirahori Mosque has to be at the top of your list of places to visit. It's the oldest building in the city, built in 1496, and today, it's one of the most impressive and attractive buildings in Korce.
The Mosque has a super interesting history; it was once used as a warehouse during communism when all religion was banned and also survived a 6.2 magnitude earthquake in 1960 thanks to its structurally sound design. You can learn all about the history from the information boards at the mosque.
It has a gorgeous clock tower and a minaret, both of which were destroyed by the earthquake and rebuilt in a sympathetic style in 2014.
Address: Xhamia e Mirahorit, Rruga Floresha Myteveli 12, Korçë, Albania
5. Enjoy a Cold Beer at Korce Beer Factory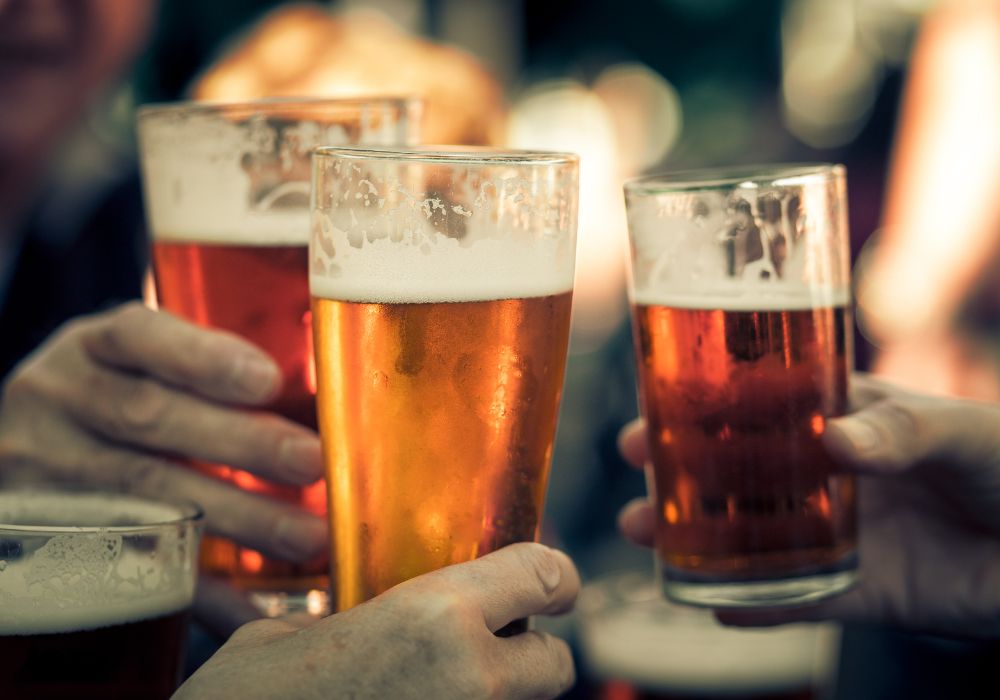 You can't visit Korce without visiting the famous beer factory where the well-loved Albanian beer Korca is brewed. It's one of the best attractions in Korce and is well worth a visit.
I recommend that you take a tour of the brewery and learn all about the history of the beer, which is very interesting. Make sure to leave lots of time to enjoy the bar attached to the brewery and the beer garden afterward.
Prices are super cheap, with a pint of Korca costing a mere 70 Lek ($0.50). There's also barbecue food available to soak up some of the beer, just be prepared as sometimes the service is a little slow when it's busy.
If you visit Morava Mountain, you'll be interested to know that it's the spring water from this mountain that's used to make Korca beer.
Address: Bulevardi Fan Noli, Korçë, Albania
6. Hike Morava Mountain
One of the top things to do near Korce is to hike to the top of Morava Mountain, which not only provides beautiful nature to explore but also offers a great vantage point of the city.
From Korce, you can either get the bus to the mountain or hire a bike and cycle there. Once you arrive, you can hike to the top, where there's a large cross and church. This is where you'll enjoy the best views.
After your hike, there's a good restaurant called La Montagna where you can grab a coffee or refuel with a bite to eat. It has a lovely garden to enjoy in the summer, and a cozy interior to warm up in if you're visiting in the colder months.
Address: Kruqi Morave Church and its amazing cross, where you'll find the most incredible views.
7. Visit Albania's Largest Orthodox Church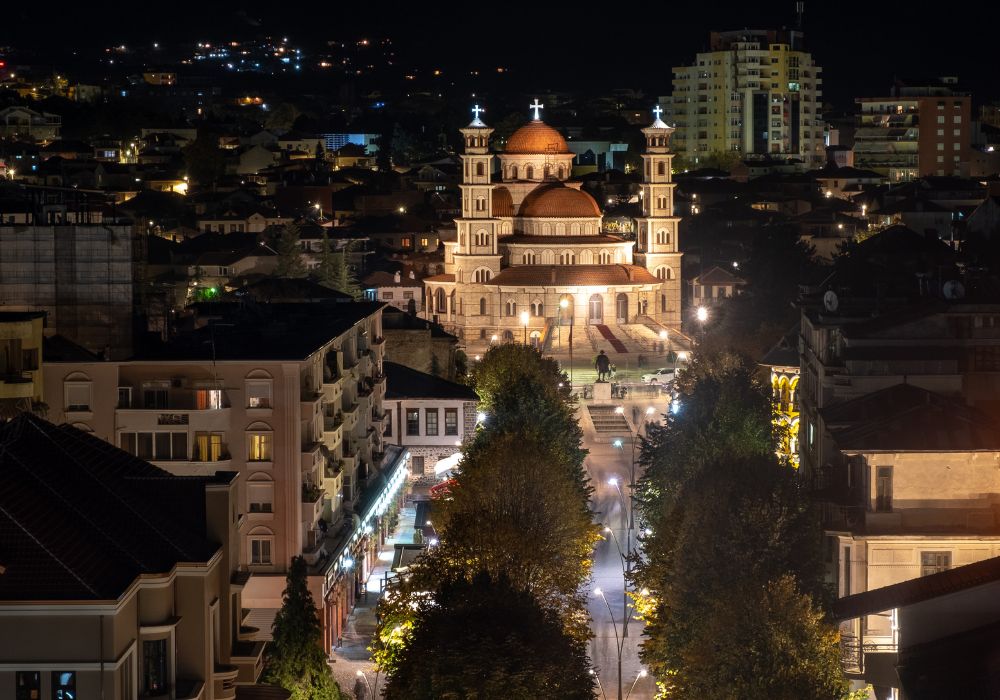 Located in the center of Korce, the Resurrection of Christ Cathedral is the largest Orthodox church in Albania. Its prominent location in the heart of the city makes it a focal point, and a great reference point if you get lost.
In the 1960s, The ruling Communist Party at the time destroyed the original cathedral, and the process of renovation started after the fall of communism in 1995. Today, the renovated cathedral has a distinctly classical feel to it thanks to its renovation being partly funded by Greece.
Inside the cathedral, you'll find brightly colored paintings adorning the walls of various Christian figures. The size of the cathedral is really impressive, as is its importance to the community; making it one of the best things to do in Korce.
Address: The Resurrection of Christ Cathedral, Bulavardi Republika, Korce
8. Visit the Museum of Medieval Art
One of the best Korce attractions, and certainly my favorite museum to visit in Korce, particularly if you're interested in Art or Religion, is the Museum of Medieval Art.
It showcases works from the 15th to 18th Centuries from all over Albania, and it's wonderful to see this collection of artistic expression, particularly after the ban on all religions during communism.
The layout of the museum is fantastic and has different colors to represent each period of time and artist, which makes it a lot easier to follow. The entrance is quite expensive in Albanian terms, at 700 Lek (around $6.50) and to get the most out of the experience, a guide is recommended.
Address: Bulevardi Fan Noli 59, Korçë, Albania
9. Take a Day Trip to Voskopoje
Voskopoje is a little town in the Albanian countryside just 30 minutes outside Korce. It's known for the 26 churches it's home to, which were built between 1630 and 1780. It was an important religious hub at the time, being located on the trade route between Venice and Istanbul.
Today it's a lovely little town to have a wander around, take a look at the churches and ruins, and grab a bite to eat. It's actually a small ski resort too.
For food, there are a couple of taverns in the area. I recommend that you visit Ambassador for the most delicious local food and its cozy and welcoming atmosphere. The lamb there was some of the best I have ever tasted. They also have a huge selection of wine, so make sure you arrange transport to make the most of it.
Address: Voskopje, Albania
10. Join a Free Walking Tour
One of the best ways to get to know a new city is by joining a walking tour, and there are some brilliant free options to do just that in Korce.
There's a free walking tour that departs from the Old Bazaar (mentioned above), at 10 am or 6 pm. The tour lasts around 2 hours and takes in all the best things to do in Korce including the bazaar and the cathedral.
The guides are really knowledgeable and friendly, and in addition to learning about the history of Korce, you'll also come away with plenty of food and drink recommendations to enjoy by the end.
It's a great option if you're short on time and want to tick off some of the best places to visit in Korce. Equally, it's the perfect way to feel at home in Korce on your first day and meet some other travelers at the same time.
Address: The walking tour meets in front of the Old Bazaar at 10 am and 6 pm.
11. Visit the Shores of Lake Ohrid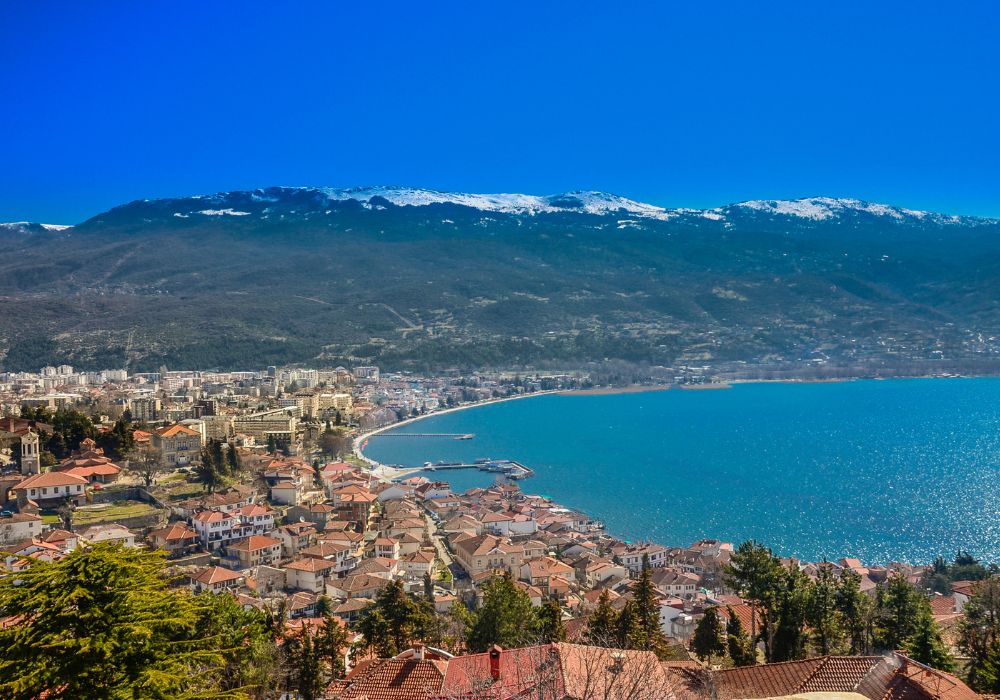 Korce is only 40 kilometers south of the city of Pogradec, which sits on the shores of Lake Ohrid. The lake is widely regarded as one of the oldest and deepest lakes in the world and straddles the border between Albania and Macedonia. The Macedonian side is a UNESCO World Heritage Site.
Hire a car or jump on a local bus from Korce to Pogradec and visit the National Park of Drilon on the banks of Lake Ohrid. This is one of the best national parks in Albania. It's one of the smaller parks, so is easy to explore in a day, take a stroll along the River Drilon, and stop in at the beautiful cafes along the way.
It's a beautiful change of scenery from city life and one of my favorite places to visit near Korce.
Address: The National Park of Drilon, Pogradec
12. Try Local Delicacies like Lakror Pie
The food in Albania is incredible and Korce is the perfect place to try some local specialties. One of my favorites is Lakror Pie. It's made from a flaky pastry and stuffed with cheese and either spinach or leek. It's similar to the Greek Spanakopita and is a delicious midday snack.
If you're lucky enough to be in Korce in July, then keep your eyes out for the Lokrar Pie Festival. This annual festival celebrates this delicious pastry amongst other local and regional culinary delights. It's by far one of the best things to do in Korce for foodies.
Out of festival season, head to the Old Bazaar for some authentic cafes and restaurants serving Lokror Pie and Qofte (baked or fried meatballs). Or check out FindFour, on Boulevardi Republika in the center of the city, for local food in a trendy setting.
Address: Old Bazaar, Boulevardi Republika
13. Try Raki at Cafe-Museum Komiteti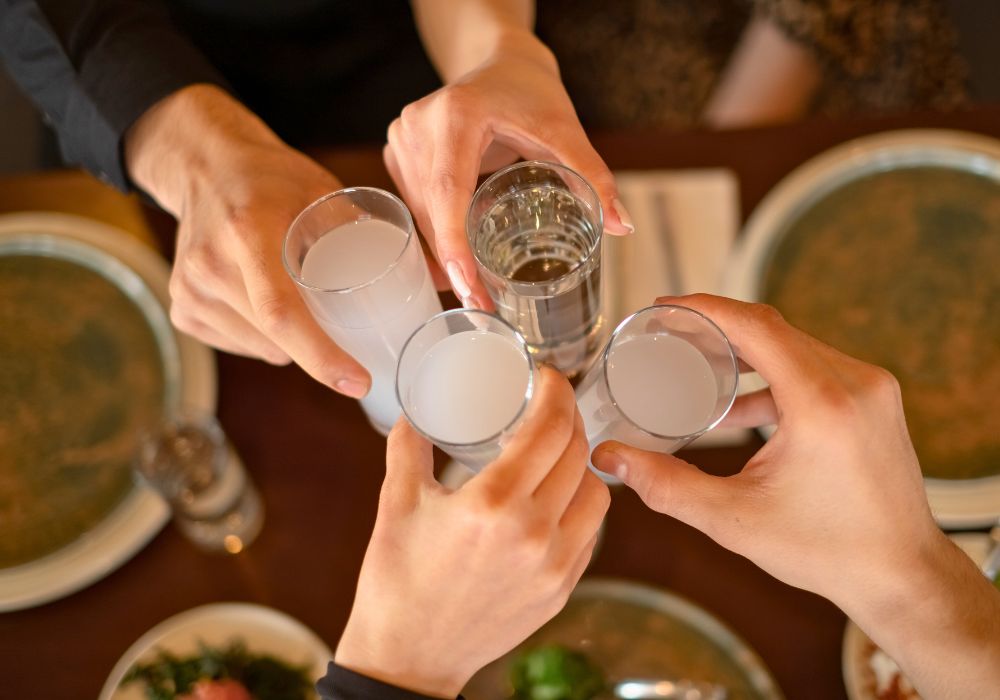 One of the best places to visit in Korce is without a doubt the famous Komiteti cafe. You'll find one in most of the main towns and cities in Albania. Komiteti is also one of my favorite bars in Tirana, so make sure you pop in if you're in the capital!
An incredible bar crossed with a museum with lots of fascinating artifacts and memorabilia from communist time, Komiteti is a brilliant place to learn and kick back with a few drinks.
It specializes in raki, the traditional alcoholic drink that you'll come across frequently in Albania, that's made from distilled grapes or other fruits and traditionally enjoyed after dinner, (the locals are convinced of its digestive properties!).
In Komiteti, they make wonderful cocktails with this spirit, which completely transforms it from a spirit that will make you wince to something utterly delicious. The Komiteti Cafe and Museum is definitely one of the best places to visit in Korce.
Address: Komiteti Kafe Museum, Korçë, Albania
14. Explore Korce's Archaeological Museum
If you're a lover of ancient history, then the archaeological museum is one of the best places to visit in Korce.
It's packed full of fascinating artifacts that detail Korce's early history as a settlement dating back to the Neolithic period. The museum is located just behind the cathedral in the center of the city, so it's easy to find and convenient to take in as part of a tour of the center.
It's a very small museum, but it's been carefully curated. If you're lucky, the curator himself may take the time to talk you through some of his favorite exhibits. It's not a flashy museum, but if you love ancient history, this hidden gem could be one of the best things to add to your itinerary.
Address: The Archaeological Museum, Rruga Mihal Grameno, Korce
15. Visit Parku Rinia
One of the best things to do in Korce for families is to visit Rinia Park – it's one of the loveliest parks that I've visited in Albania. It's super green and clean, and there are lots of locals and other tourists alike who enjoy it throughout the year.
However, while it's a good option for families, it's also one of the best places in Korce for couples. It's home to a few bars and cafes where you can sit in the sun and enjoy a beer or a coffee together, watching the world go by.
There's also plenty of shade, so you could even take a little picnic. It's a great place to visit in Korce for a break away from the city and for some fresh air.
Address: Parku Rinia, Korce, Albania
Quick Travel Itineraries For Korce
There are so many fantastic tourist attractions in Korce that it can be difficult to know where to start. To help make this simpler, I've put together the following itineraries to help you make the most of your time in Korce:
1 Day in Korce Itinerary
If you only have a day in Korce then I definitely recommend joining a walking tour. This will cover the best things to do around Korce and provide you with some excellent advice on where to eat and drink during your day.
If you join the 10 am tour, you'll be back at the bazaar around midday which is the perfect time to dive into one of the many cafes in the Old Bazaar to have a coffee and try Lakror Pie.
Once you're refueled, head to Red Tower in the afternoon for incredible views over the city. Take in one of the museums or if you prefer to be outdoors, grab a taxi and stroll around Parku Rinia. In the evening, head to St George's Boulevard for some great food and drinks.
2-3 Days in Korce Itinerary
If you have a couple of days to see the best places in Korce then start off with the 1-day itinerary above to get to know your way around and get your bearings.
On your second day, consider hiking the incredible Morava Mountain. Here, you can enjoy some incredible views and some amazing nature around Korce. Stop in at La Montagna for a snack or drink. After the mountain, head to Korce Beer Factory, for a well-deserved drink in the sun.
If you have a third day, tick off either the Museum of Medieval Art or the Museum of Education to learn more about Korce's history and culture. Or jump on the bus and head to Pogradec and Lake Ohrid for a day by the water.
1 Week in Korce Itinerary
If you have a full week to spend then you'll be able to tick off all the amazing, fun things to do in Korce at a nice, leisurely pace.
On top of the itineraries above, take a day trip out to Voskopoje to learn more about life in rural Albania and enjoy exploring this charming town.
Take a bit more time to really soak in the atmosphere of Korce through its strong cafe culture. Slow down and try some of the many different cafes in Korce as you sit back and people-watch. Visit Komiteti for something a bit different; sample their raki flight and relax on St George's Boulevard watching the locals going about their daily business.
Where to Stay in Korce
These are a few of the best neighborhoods in Korce for tourists:
The Old Bazaar – Best for First-time Visitors
One of the coolest places to stay in Korce is inside the Old Bazaar itself. Here, you'll be close to all the main things to do in Korce, and you'll be able to enjoy the incredible bars, restaurants, and cafes in beautiful surroundings.
My favorite place in the Old Bazaar is Hani i Pazarit Boutique Hotel. It's designed like a traditional inn, in keeping with its surroundings, while at the same time, offers a luxury stay with super comfy rooms overlooking the courtyard. A stunning place to stay in Korce.
Bulevardi Fan Noli – Best for Nightlife
Korce comes alive at night. Whether it's the cafe culture at the Old Bazaar or the huge range of restaurants and bars in the center, if you want to experience the best of Korce's nightlife, then I recommend basing yourself near the Cathedral in the center of the city.
From here, all the main tourist attractions in Korce are within easy reach. Equally, the best bars and restaurants are in this part of town. Check out the excellent Boulevard Boutique Aparthotel located on the popular Bulevardi Fan Noli.
Parku Rinia – Best for Couples
If you want easy access to the city center and to be able to escape the hustle and bustle of the city, then there are some excellent options near Parku Rinia.
Take a look at the incredible Vila Eden Boutique Hotel. This hotel retains its traditional looks and combines them with super romantic and modern twists. It's a beautiful place for couples to retreat to after days out in the city center.
Best Restaurants in Korce
Don't miss these great places to eat in Korce:
Antik Restaurant & Pizza
Antik is the best place to visit in Korce for a fantastic pizza. I also loved the salad here as the portions were large, and the ingredients were super fresh. The setting here is perfect too; you're surrounded by foliage and there's a little conservatory area with seating too. Click here for directions.
FindFour
FindFour serves incredible Italian and Albanian food, with a couple of Asian dishes for good measure. I ate here a few times and for me, it's a must-visit. The homemade Korce meatballs were mouthwatering. The pasta dishes are all fresh and homemade, and the pizzas are amazing too. Click here for directions.
Vila 95
Vila 95 is a fantastic Mediterranean restaurant with a real Greek feel to its food. The presentation and quality of the food and ambiance of the restaurant give it a very high-end feel. The prices are a little pricer than in other places, but it's totally worth it. Click here for directions.
Restaurant Frogs Zhabkat
Frogs Zhabkat is super popular with locals, and it's easy to see why. The portions are huge, prices are inexpensive, and most importantly, the food is absolutely delicious.
While you don't have to eat them, they do specialize in frogs and snails, which although delicious, are absolutely not compulsory! There are plenty of other fantastic dishes on the menu besides. Click here for directions.
Vila Cofiel
Vila Cofiel has to be one of the most relaxing and picturesque restaurants in Korce. Everyone here is super friendly and welcoming, and they have live music playing traditional songs making the place feel really authentic. My favorite thing to try is the Albanian tartas (baked cheese and meat tarts). Click here for directions.
Getting to Korce
If you're traveling to Korce, it's likely that you'll fly into Tirana Rinas, the closest airport. Tirana is about 80 miles from Korce, which takes around 3 hours by car or bus.
The best option is to take a bus from Tirana Bus Station. The tickets are inexpensive and will cost around 500 Lek ($5). Alternatively, there are shuttle buses that carry around 8 people. It will be a little more expensive, but potentially more comfortable.
You can also travel directly from Korca to and from Thessaloniki in Greece and from Ohrid, North Macedonia; two popular places on the backpacker trail in the Balkans.
Finally, you can also rent a car, which is a great option if you're planning on exploring other Albanian cities during your trip. However, it generally isn't required for exploring Korce itself as it's a very walkable city.
Things To Do in Korce: FAQs
Here are some answers to commonly asked questions about visiting Korce:
What is Korce known for?
Korce is known for being the home to Korca beer of the same name, but it's also known as being a cool and relaxed city.
When is the best time to visit Korce?
You can visit Korce all year round. The best time is to visit in spring, so you can enjoy some countryside, parks and beer gardens. However, it's also a brilliant place to visit in winter for the ski resorts.
Is Korce worth visiting?
Yes, Korce is absolutely worth visiting. There are some fantastic things to do in Korce and lots of tasty places to eat and drink. It has a very relaxed vibe which is different from other cities in Albania.
How many days should I spend in Korce?
I recommend spending 2-3 days to see all of the best places to visit in Korce. If you have more or less time, I still recommend a trip, it's a really beautiful place.
Is Korce safe?
Like most of Albania (potentially excluding the border with Kosovo), Korce is very safe and you won't have any worries here, even when walking at night. It's a great destination for solo travelers.
What is the most popular thing to do in Korce?
The most popular thing to do in Korce is to climb the panoramic tower or to visit the Korca Factory and Bar (particularly for beer lovers).
What is the best beach in Korce?
Korce isn't a coastal city, so there aren't any beaches here. If you're visiting Korce in summer and want to swim, the best place to go to is Pogradec, which is around 45 minutes north of Korca. It's here where you can swim in the lovely Lake Ohrid.
What foods should I try in Korce?
Although not a food, you could definitely try raki in Komiteti Bar! In terms of eating, make sure you try the Albanian tarts (cheese and meat tarts) as well as the lakror pie of course!
Why is Korca called "Little Paris"?
Korca is called Little Paris due to its charming architecture and because it's considered as the birthplace of Albania's beautiful culture, with its literary and artistic identity originating in the city.
In Closing
There are so many great things to do in Korce, and it's a really beautiful city, from the stunning architecture to the lovely parks and green spaces in the area. There are also some fantastic places to eat, so it's perfect for foodies.
I hope this post helps you plan what to see in Korce and that you have a brilliant trip.
Like This Article? Pin it!