There are so many things to do in Fethiye that revolve around nature and culture, it's a place that definitely holds a special place in my heart. Turkey is a huge country, and many people don't see past Istanbul. That's understandable; Istanbul is amazing and it's somewhere I love to go, but another place on my regular visit list is Fethiye.
I spent an entire summer in Fethiye, Turkey and in that time I came to understand not only its beauty but its traditions too. There are many Fethiye attractions that suit beach lovers, but it's a destination that's packed with so much history that you could say it's almost like an open-air museum.
I feel lucky to have been able to spend so much time in the Fethiye area with my Turkish husband. I learned a lot, not only about the best places to visit in Fethiye but also about the things you shouldn't miss that are a bit off the beaten track.
So, if you're thinking of visiting this beautiful region, let me give you some words of wisdom to help make your vacation the best it can be.
Best Things To Do in Fethiye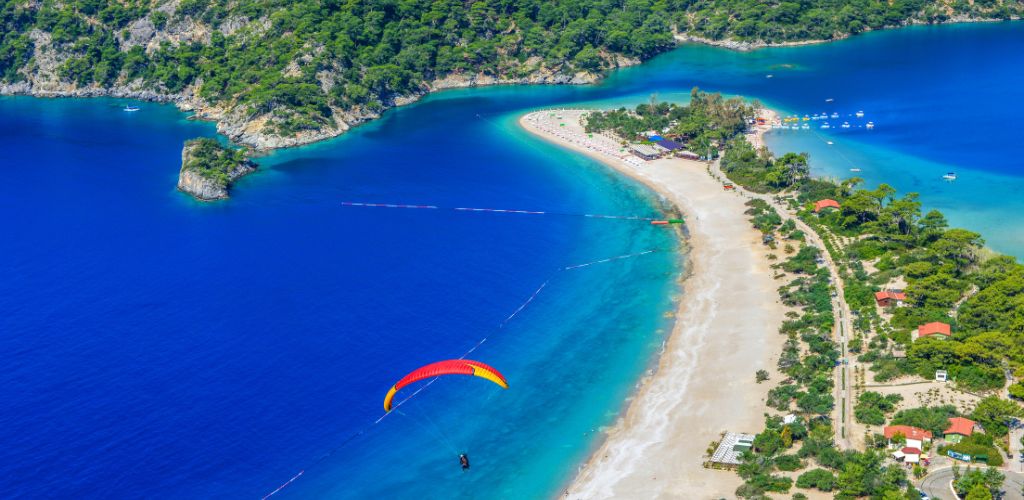 The first thing to know is that Fethiye is a lot bigger than you might think. It's incomparable to places like Marmaris, which are large beach towns, but don't really extend beyond that; Fethiye encompasses several resorts, and they're all idyllic.
Fethiye itself is a medium-sized city, but you also have Ölüdeniz, Hisaronu, Ovacık, and Çalış to name just a few. Sightseeing in Fethiye is such great fun, especially if you love spending time outdoors. Let's take a look at 15 of the best things to do in this beautiful part of Turkey:
1. Saklikent National Park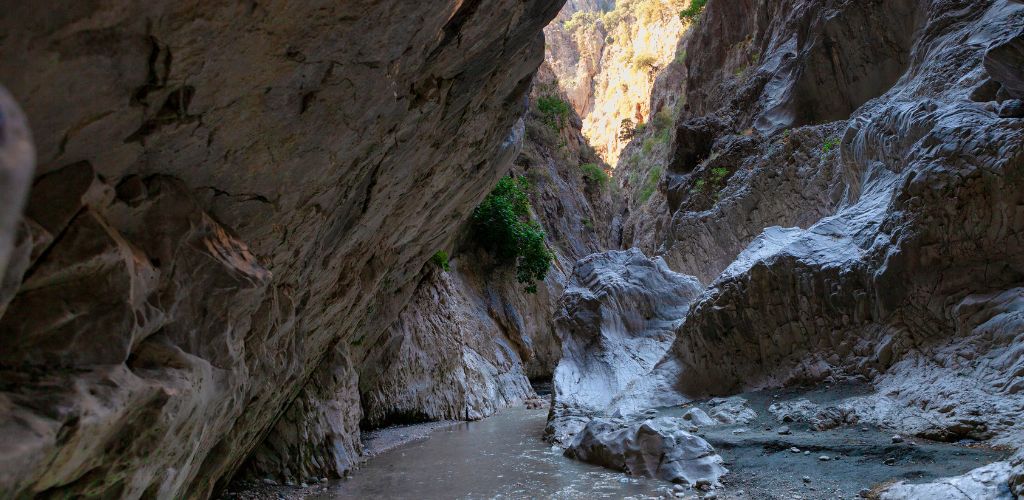 Without a doubt, one of the best things to do in Fethiye when it's hot is to visit the stunning Saklikent National Park. The canyon itself is very deep and offers some much-needed shade from the intense sun. It's also said to be the third longest canyon in the whole of Europe.
The best tip I can give you is to wear water shoes as you'll have to walk through the river at one point, and although it's not deep, it's fast-moving, and there are a lot of slippery rocks. That water is nothing short of refreshing, however. You can also take a jeep safari trip to the gorge, which is a great way to spend your time. Click here for more details and to book.
Out of all the things to do in Fethiye, I'd highly recommend you add this to your list. It's not only incredibly beautiful but is so peaceful and is a great way to relax in Mother Nature's arms. You can also enjoy breakfast or lunch at the waterside restaurant, and it's a great place to capture plenty of photographs.
Address: Kayadibi, Saklıkent Sokak No : 26, 48300 Seydikemer/Muğla
2. Enjoy the Sunset at Çalış Beach
If you're looking for things to do in Fethiye for couples, my top pick would be to head to Çalış Beach just before sunset and get ready for the best natural show you've ever seen. The sunset here blew my mind, and I rate it even higher than the one I saw at Clearwater Beach in Florida.
Çalış Beach itself is a really beautiful spot, and there are lots of cafes and restaurants along the beach where you can enjoy lunch or an evening meal. It's one of the most romantic things to do in Fethiye even before the sun decides to part for the day, but when it does, you'll just want to sit there in awe.
This is a great spot for an evening walk as the path stretches from Fethiye Marina all the way down the beach and beyond. There are plenty of places to stop along the way, and you'll definitely work up an appetite for some delicious local food. I loved our meal at Çalış Eftalya Restaurant and highly recommend adding this place to your eatery itinerary.
Address: Çalış Beach, Fethiye, Muğla
3. Explore Kayaköy
Visiting the ghost village of Kayaköy is one of the most unique things to do in Fethiye; it's a must-visit for anyone who enjoys history. When I first arrived, it took my breath away. The village was abandoned in 1923 when a population swap between the Turkish Christians in the area and Greek Muslims took place, with the aim for either country to only have one key religion.
The thing that struck me the most was how present it still feels. Other than the old-fashioned architecture, it's as though people could have lived there yesterday and just moved away. It's one of the best places to visit near Fethiye for something completely different and a little off the beaten track.
I recommend you wear comfortable shoes rather than flip-flops or sandals – the ground is quite uneven, and sneakers will serve you better. To help you learn more about what you're seeing, a guided tour is a great idea. Click here for more information.
Address: Kayaköy, 48300 Fethiye/Muğla
4. Visit Butterfly Valley
Butterfly Valley is one of the top places to see in Fethiye, and it should be right at the top of your must-see list too. Although the valley is known for its butterflies, it's unlikely you'll see any unless you visit during the spring months – but don't let that put you off! Accessible by boat only, Butterfly Valley is blindingly beautiful, and you can even opt to camp overnight there.
Taking a boat trip to Butterfly Valley is a great day out for all the family and the natural landscape will make your jaw-drop. There's a small cafe at the beach, but it's best to take a picnic if you want something substantial to eat, (they only serve chips and water). Click here for more trip details.
For me, Butterfly Valley is one of the best attractions in Fethiye, and as you approach it from the sea, you'll want to have your camera ready; it's a view like no other. As for the beach itself, the water is relatively calm, although a little rocky in places, so it's best to take some sea shoes to be on the safe side.
Address: Uzunyurt, 48300 Fethiye/Muğla
5. Swim in the Blue Lagoon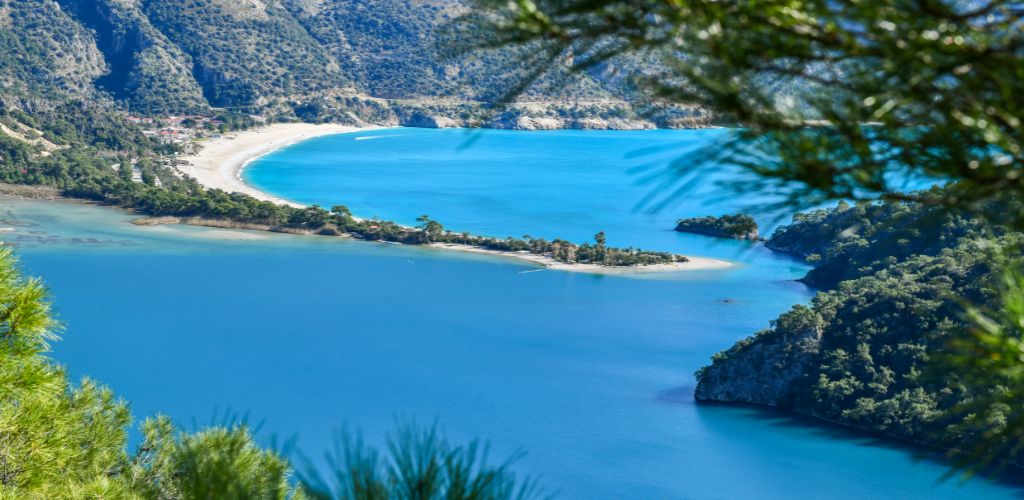 The Fethiye area is packed with amazing beaches, but my favorite is the Blue Lagoon in Ölüdeniz. The waters here are extremely tranquil, making it an ideal place to visit with children. You can choose to swim in the lagoon itself, or you can go onto the other side and swim in the open sea; on both sides, you'll find parasols and sun loungers to hire.
The Blue Lagoon is one of the most famous places to visit in Fethiye, and as it's a national park, you'll find restaurants and cafes inside along with water sports to keep everyone entertained. There's even a Starbucks if you fancy an iced latte to cool down in the intense summer sun.
When you're searching for things to do in Fethiye, the Blue Lagoon will almost certainly pop up, and it's one of the most photographed beaches in the whole of Turkey. Visiting here means you've ticked something off most people's bucket lists, and it's somewhere I always return to whenever I'm in the area.
Address: Ölüdeniz, 48340 Fethiye/Muğla
6. Walk the Lycian Way
For me, one of the coolest things to do in Fethiye is to walk at least part of the Lycian Way, a UNESCO World Heritage Site. Now, nobody expects you to walk it all; it's 760km long and goes all the way to Antalya, after all. But, you can walk some of this historic path and check out ancient Lycian ruins and amazing views as you go.
Remember to wear sensible walking shoes when you head off on this walk; flip-flops and sandals won't cut it. Even though the trail is paved, some areas are a little rockier than others.
For a better understanding of the area, take a walking tour to find out more about what you're seeing and the history of the place. It also helps you to meet other like-minded people. Click here for more information.
Address: Ölüdeniz, 48340 Fethiye/Muğla
7. Visit Gemiler Island
One of the top tourist attractions in Fethiye is a visit to Gemiler Island, which is also known as St Nicholas Island. It's called this because it's believed to be where the tomb of St Nicholas (Santa Claus) was found. You can also check out the ruins of old churches and observe some stunning views over the Mediterranean.
Out of all the things to do in Fethiye, this is one of the most unique. It's not just a boat trip to kick back and relax, it's a trip back in time. The first time I went I was shocked at how beautiful the island was, and at that point, I didn't even know about St Nicholas' association there. You can swim, explore, or simply chill out.
The best way to visit is by a pre-arranged boat trip and you can even kayak around the island and see everything from a different viewpoint. Click here to learn more and to book.
Address: 48300 Fethiye/Muğla
8. Explore Fethiye Old Town
One of the top things to do in Fethiye Old Town is to simply walk around, get a little lost, and enjoy the vibe. This is one of my favorite things to do and anytime I've just wandered around, I've always stumbled across something new. Fethiye Old Town is a maze of narrow, cobbled streets, all lined with cafes, small shops, and markets.
There's a lot of stuff to do in Fethiye, for sure, but just wandering around on your own steam means you're more likely to see something truly authentic and traditional. During the summer months, the Old Town can get extremely busy but it's also a great way to beat the sun, as it's quite a shaded area.
The Old Town leads down to the marina area, where you can walk, grab a bite to eat, and enjoy the sea views.
Address: Cumhuriyet, 40. Sk No:10/28, 48300 Fethiye/Muğla
9. Gizlikent Waterfall 
If you're into outdoor fun, I'd highly recommend a visit to Gizlikent Waterfall, one of the best places to visit in Fethiye. This place feels very far away from the hustle and bustle of the beaches and nightlife, but it's a great spot to try a few adventure sports too. You can zip line, hike, and swim in the surprisingly cold water.
Children can enjoy running around the open spaces and checking out the different activities on offer, making it one of the best things to do in Fethiye for families. There's a small restaurant on site that serves snacks and drinks throughout the day, so there's no need to take a picnic. However, you'll need your own towels.
Most jeep safari tours stop at Gizlikent Waterfall for a short period, often on their way to Saklikent Gorge, so this is a good way to combine two things if you're short on time. Click here for tour information.
Address: Kayadibi, 48850 Seydikemer/Muğla
10. Shop at Fethiye Bazaar
Shopping during the heat of a summer's day is not fun; I've tried it several times and have given up each time. However, one of the best things to do in Fethiye at night is to head to Paspatur, the huge bazaar. You'll find countless stalls selling clothes, bags, shoes, spices, and other souvenirs to browse and pick up for family back home.
Of course, many other people have the same idea about shopping during the cooler hours, but it's one of the best things to do in Fethiye town center, even if it can get a little crowded.
When purchasing items from the bazaar itself, you'll need to haggle – decide what you're willing to pay for something and then barter back and forth with the vendor until you're both satisfied. It took me quite a while to get the hang of haggling, but once you do it a few times, you'll see it's not quite as terrifying as it seems and is expected in markets like this.
Address: Cumhuriyet, Çarşı Cd. No:48/B, 48300 Fethiye/Muğla
11. Paragliding in Ölüdeniz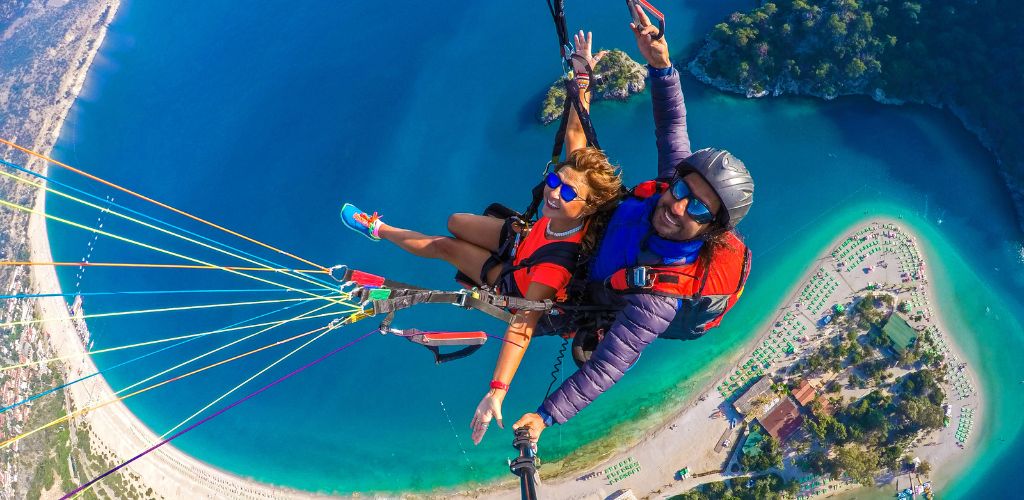 Ölüdeniz isn't only famous for the Blue Lagoon, it's one of the world's best spots for paragliding. You'll see people from all over the world flocking to Babadağ Mountain to glide over the stunning landscapes and take in one of the most breathtaking views you're likely to ever see in your life.
I have to admit that it took me a while to pluck up the courage to do this, but I'm so glad I eventually did. You're strapped to an instructor the whole time, and they do all the steering; you just need to enjoy the view. Without a doubt, it's one of the best things to do near Fethiye and is a true bucket list item. Click here for more details.
When you're researching what to see in Fethiye, Ölüdeniz in general will crop up many times. It's one of my favorite places in Turkey and offers such a laid-back atmosphere. If you don't want to paraglide, you can still travel up the mountain on the cable car and enjoy a meal at 1700 Grill & Wine Bar; the view is mind-blowing.
Address: Ölüdeniz, Ölüdeniz Cd. No:31/1, 48340 Fethiye/Muğla
12. Visit Tlos Ruins
Dating back to the 5th century BC, the ruins of Tlos are one of the best places to visit in Fethiye for history fans. The best way to explore these ruins is to take a jeep safari, and again, you'll find tours that stop at Tlos along the way. Click here for tour details.
I love exploring old ruins like these, and during my time living in Turkey, I saw many of them. Tlos is so well preserved that you really feel like you've traveled back in time and because you're in the open air, it's like the whispers of history are all around you. Tlos was originally an ancient Lycian city, and it's not hard to imagine its importance simply by looking at the ruins.
Checking out these ruins is certainly one of the top things to do in Fethiye, and even though a couple of hours is enough, you'll be glad you went.
Address: Yakaköy, Saklıkent Yolu, 48850 Fethiye/Muğla.
13. Visit Kabak Beach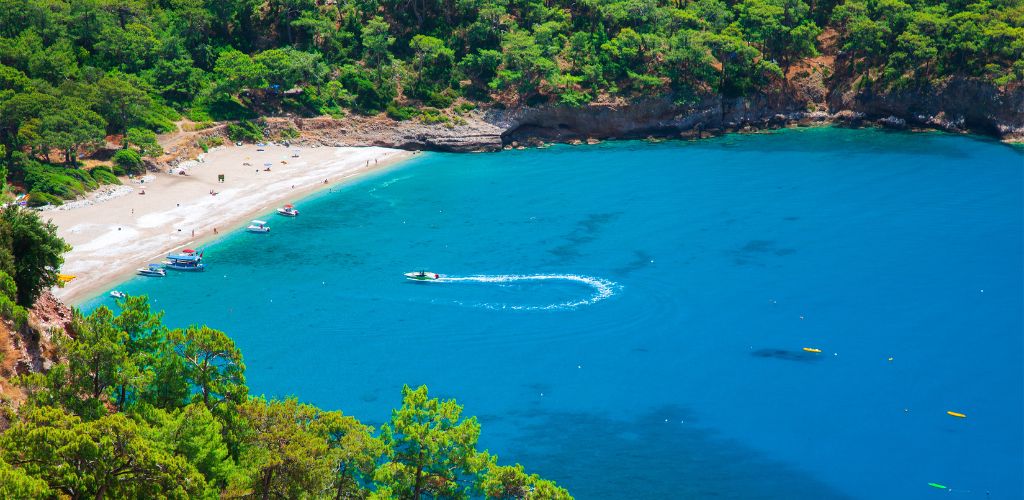 Fethiye's beaches are stunning, and during the summer months, most are packed with sun worshipers and those simply trying to cool down. However, Kabak Beach is one of my favorites because it rarely gets crowded and it's surrounded by lush greenery.
A day on the beach is one of the best free things to do in Fethiye, and heading to Kabak highlights the best of the area. This beach is a little off the beaten track, although local buses and taxis stop there regularly throughout the summer months. The beach and surrounding areas are so unspoiled, and the views are stunning.
It's a good idea to have a picnic with you as there are few facilities around. However, the beach itself is calm, and the trees offer plenty of shade. This is a spot I go back to time and time again, so if you want a day of total R&R, this is my recommendation to you.
Address: Uzunyurt, Kabak Sokak, 48300 Fethiye/Muğla
14. Enjoy a Turkish Bath/Hammam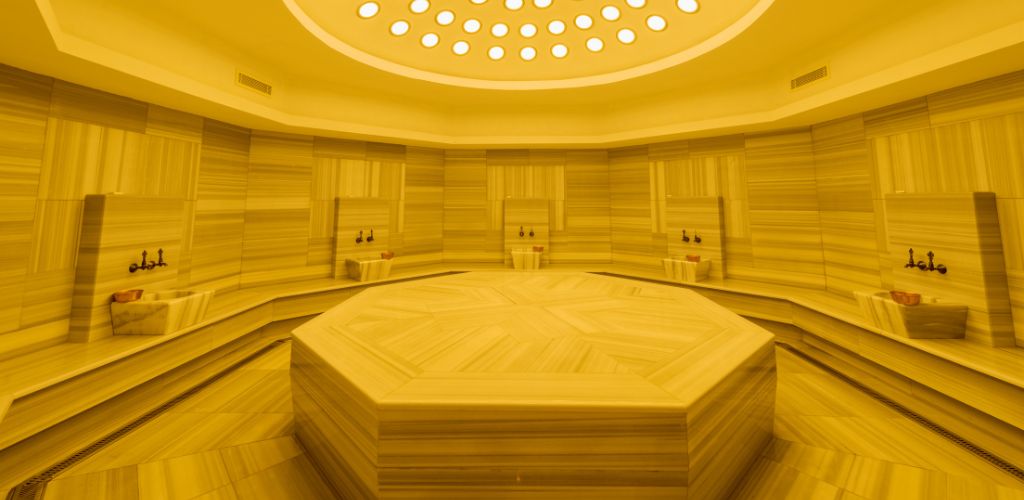 Any visit to Turkey should include a Turkish bath, also known as a hammam. When visiting Fethiye, you'll find lots of hotels and spas that offer Turkish bath experiences. Not only are they a great way to give yourself the best foundation for a tan, but they also offer a much-needed chance to relax.
When I lived in Turkey I used to go to the hammam regularly; I felt totally renewed and chilled out afterward, and you'll find many locals do the same. Booking a trip to a Turkish bath is a great way to try something traditional, but I'd suggest doing it during the first couple of days of your vacation. Click here for trip details.
Address: Your tour guide will pick you up from your hotel.
15. Enjoy the Views from Fethiye Castle
By now, you'll have an idea of how many things there are to do around Fethiye, and most of them revolve around appreciating the beauty of the area. Fethiye Castle is another way to do that. While nobody is 100% sure when the castle was built, it's thought to date back to the 15th century.
The ruins aren't in the best condition, but restoration work is ongoing to reinforce the castle's remaining structures. What you can see is just how large the fortress would have been, and my favorite thing about the place is the view. You can see right over Fethiye and the Mediterranean beyond; the entire area is showstopping.
Visiting the castle is one of the most fun things to do in Fethiye. It's situated high on a hill over the Old Town, so you can easily combine it with a day of shopping in the bazaar. If the weather is particularly warm when you visit, I'd recommend going early in the day, just to avoid the hottest hours.
Address: Cumhuriyet, Çarşı Cd. No:85, 48303 Fethiye/Muğla
Things To Do in Fethiye: FAQs
Here are some answers to commonly asked questions about things to do in Fethiye, Turkey:
What is Fethiye known for?
There are many things to see in Fethiye, but the most well-known are definitely beach-related. This area is full of amazing beaches with clear-water seas and plenty of space. It's also a hotspot for ancient ruins.
When is the best time to visit Fethiye?
Fethiye is open all year round but most of the tourist bars and restaurants close at the end of October. For the best of the weather, visit between May and October, but avoid July and August if you're not a fan of especially high temperatures.
Is Fethiye worth visiting?
Fethiye is definitely worth visiting, and it's an area that has plenty to see and do. It's also quite a cultural area, with lots of delicious food and traditions to explore.
How many days should I spend in Fethiye?
A week in Fethiye will allow you to spend time on the beach and explore the surrounding area. Anything less than that and you'll miss out on a lot of the main sights.
Is Fethiye safe?
Fethiye is a safe area to visit. As with any location, use your common sense and avoid walking around on your own during dark hours, but overall, Fethiye is a safe and welcoming place for visitors from all over the world. Don't carry too much cash and avoid flashing expensive belongings.
What is the most popular thing to do in Fethiye?
Spending time on the beach is a popular pursuit, but the town of Ölüdeniz is a worldwide hotspot for paragliding.
What is the best beach in Fethiye?
Ölüdeniz's Blue Lagoon is one of the most photographed beaches in the whole of Turkey, and its calm waters are ideal for families.
What foods should I try in Fethiye?
You'll find lots of international food in Fethiye but definitely try some local cuisine, such as lahmacun, pide, kebabs, and Gözleme.
Is 3 days enough in Fethiye?
Three days would allow you to see some of Fethiye but certainly not all. It's best to spend at least a week if you can.
Is Fethiye expensive to visit?
Some parts of Fethiye are more expensive than others. For instance, I found Ölüdeniz to be more expensive than the center of Fethiye, but prices are still low compared to other European beach destinations.
Is Fethiye a party town?
There are certain parts of Fethiye that are known for having a vibrant nightlife. Hisaronu is certainly a party town with colorful bars and clubs until the evening hours. However, you can also find low-key nightlife, especially in the marina and in the center of Ölüdeniz.
Is Fethiye full of Brits?
Fethiye is a famous spot for British tourists, but you'll encounter people from all over the world in this beautiful area.
In Closing
With so many things to do in Fethiye, it's no wonder that this is one of the most visited areas of Turkey. It's definitely one of my favorite destinations, and when you see how stunningly beautiful it is, you'll understand why.
For me, Fethiye is the epitome of summer, and while it's open to visit in the winter months, between May and the end of October you'll fall completely in love with the endless blue of the Mediterranean.
What I love most about the Fethiye area is that it can be anything you want it to be; if you're looking to party, you'll find it, but if you want to relax and enjoy the scenery, there are plenty of opportunities. Most of Fethiye's top attractions are outdoors, which shows you just how blessed this area is with Mother Nature's charms.