There are so many things to do in Durres, Albania's most ancient city located on the Adriatic Sea. Whether you love the beach or are a history buff, there are some great places to visit in Durres for every kind of traveler.
I spent over 2 months exploring Albania, which included spending time sightseeing the place known as 'The Eternal City', Durees. While today, Durres is home to Albania's largest seaport, it's also one of the biggest tourist centers and has some beautiful ocean, architecture, and culture to explore.
If you're planning a trip and are wondering what to do in Durres, here are my top 15 things to do in Durres to help you get an itinerary together:
Best Things To Do in Durres
Durres is a coastal city with huge historical importance to the formation of Albania, so there are so many fun things to do while here.
Within this post, I've picked out some of my favorite Durres attractions to help you make the most of your time in Albania's second city.
1. Marvel at the Roman Amphitheater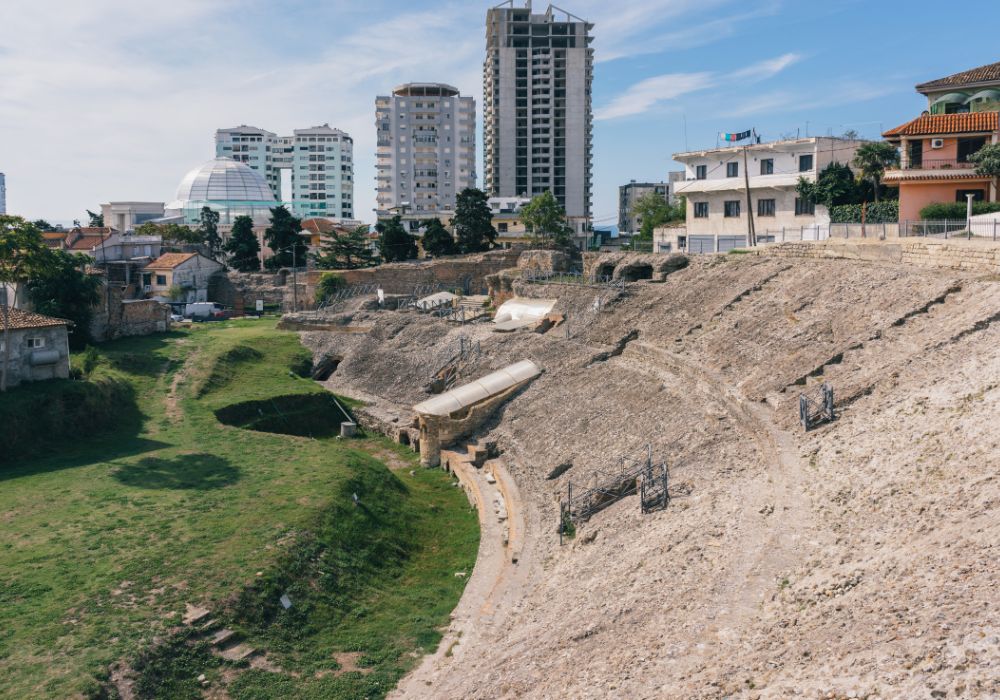 Durres is packed full of Roman and Byzantine architecture, which shows its historical importance to Albania and the Balkans as a whole. Whether you visit for the ancient history or not, the sheer size and scale of the Roman amphitheater in Durres is sure to impress.
Nestled in the center of the city, the amphitheater is arguably one of the most important pieces of ancient architecture in the Balkans. The amphitheater was built in the 2nd Century BC, and it's the largest ever built in the Balkan Peninsula, holding a capacity of up to 20,000 spectators.
Today, you can actually enter the amphitheater to get a real impression of the size and scale of this amazing construction. It's one of the top things to do in Durres and is easy to access from the center of the city.
Address: Durres Amphitheater, Rruga Kalase, Durres. Click here for directions.
2. Embark on a Wine Tasting Tour
One of the best things to do in Durres is to take a trip out of town on this beautiful wine-tasting tour.
Winemaking is an ancient tradition in Albania and Durres marks the start of the wine-growing region, which extends along the mountains and coast to the north. For me, the wine-growing region is one of the most impressive places to visit in Durres.
On this tour, you'll explore the stunning scenery around Durres including the peaceful Lake of Lalez, and will visit a local winery and vineyard where you'll learn more about the Albanian wine-making process.
Sample some of the best wines in the region along with a traditional local lunch. You'll also get to try the regionally produced Raki, which is the perfect way to end your meal. This is one of the best places to visit near Durres and is a great activity for couples.
Address: Duka Winery, Lake Lalez, Durres. Click here for the location, or click the link above to book a tour.
3. Relax at Durres Beach
Durres is primarily a commercial port and is the second city of Albania, so its beaches don't compare to those on the Albanian Riviera. That said, if you're in Durres and you want to work on your tan, there's a long stretch of beaches to the south of the city waiting to be explored.
The beaches stretch for over 10 kilometers and are backed by hotels, restaurants, and cafes. You'll find plenty of loungers and amenities, including water sports, along the stretch and the area is easily accessible by taxi or local bus.
A day on the beach is one of the best free things to do in Durres and is a great way to escape the hustle and bustle of the city center.
Address: Beach of Durres. Click here for the central point of the beach.
4. Visit the Archaeological Museum
If you're keen to learn more about the historical significance of Durres then this museum is one of the top tourist attractions in Durres you won't want to miss.
It's the largest archaeological museum in Albania and is located in the heart of the city, right next to the waterfront. The museum has artifacts and relics from the ancient Illyrian culture, through the Roman and Byzantine eras, and into the Ottoman period.
There's so much to do in Durres for history buffs and lovers alike, and the archaeological museum is highly rated. It's one of my top places to visit in Durres.
Address: Durres Archaeological Museum, Rruga Taulantia 32, Durres. Click here for directions to the museum.
5. Join a Walking Tour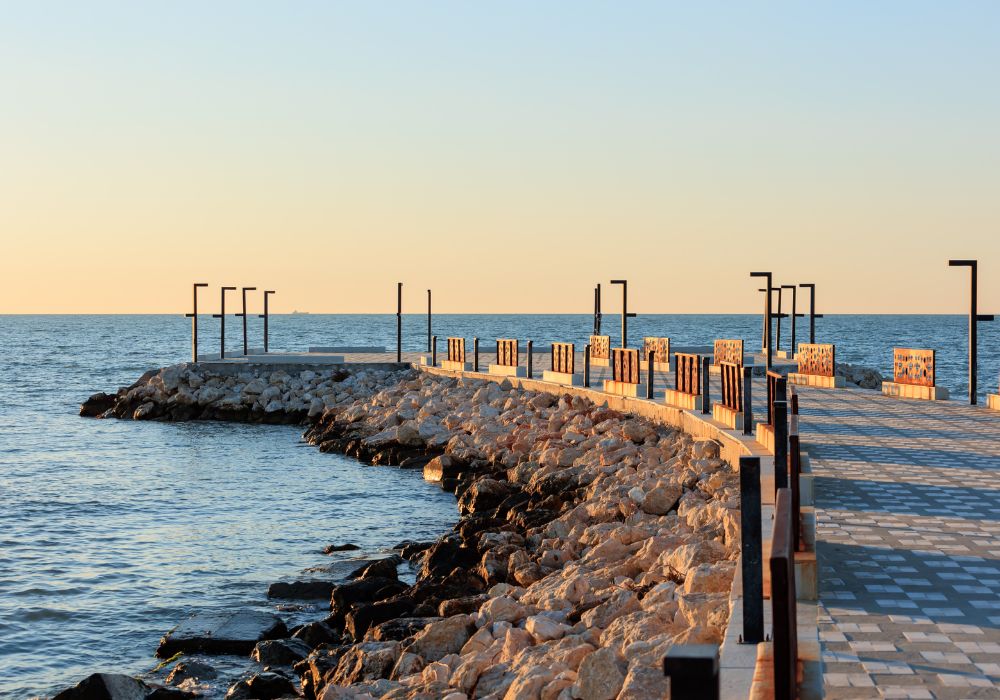 A walking tour is one of my favorite ways to explore a new place, and with so much history and culture packed into Durres, this 3-hour tour of the city is the perfect introduction.
The tour starts in the center, at Lira Square, before taking in the main attractions of Durres, many of which appear on this list. You'll explore the Roman Amphitheater and the archaeological museum, visit the Venetian Tower, and see where old meets new at the Durres Promenade.
The tour is interactive, and the guides are excellent. This is a brilliant way to explore the city and get your bearings. It's definitely one of my favorite things to do in Durres.
Address: Liria Square, Durres. Click here for the meeting point of the tour, or here for further details and booking.
6. Hike the Via Egnatia
If you love to hike, the Via Egnatia trail will be one of the best things you can do near Durres. The Via Egnatia offers not only some of the best scenery in Albania but in the whole Balkans.
The trail itself is 475 kilometers long and begins in Durres. It goes on to pass through several different countries, including the rest of Albania, North Macedonia, Greece, and Turkey.
Throughout the trail, you'll hike through mountains, rivers, lakes, and streams, and even have views of the coast while passing through ancient cities and civilizations.
Rather than attempting the full 475 kilometers, (you can if you like!), stage one of the hike is an 18-kilometer trail that passes through the beautiful meadows, groves, and hills above Durres and begins in Golem.
I recommend checking out the Via Egnatia website for a handy guide to exploring the trail on foot.
Address: Golem, Albania. Click here for the starting point of the Via Egnatia in Golem.
7. Take a Tour of Kruje and the Holy Mountain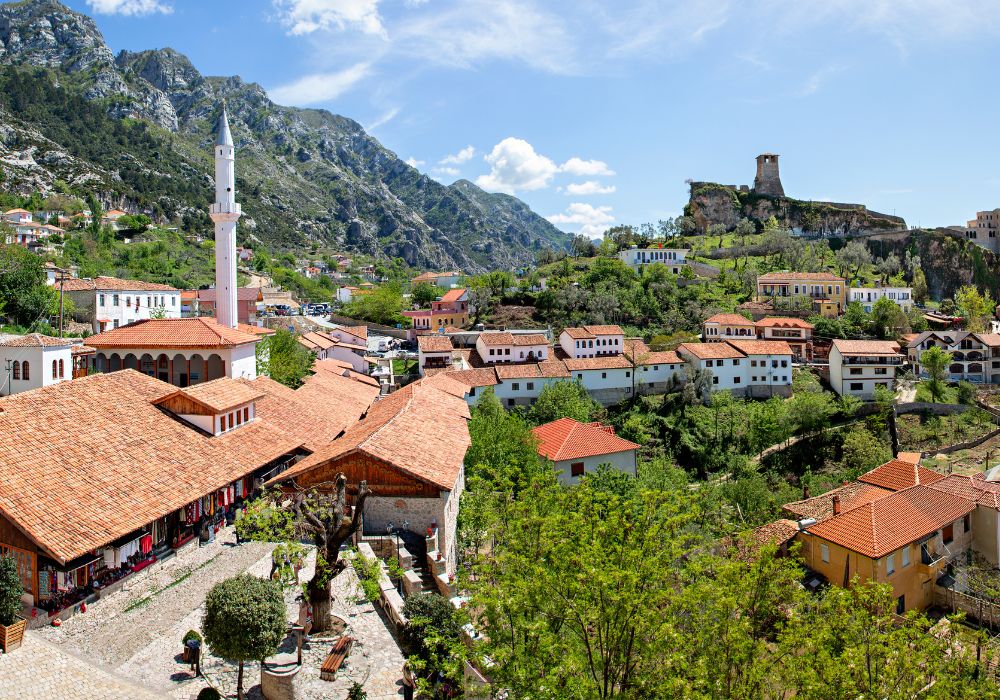 One of the best things to do in Durres is to take a tour of the nearby town of Kruje, which is around an hour away from Durres. This Kruje and Preza half-day tour collects you from your hotel or hostel in Durres and the local guide is great at sharing the interesting history and culture of this beautiful city.
You'll visit the Kruje Bazaar which is one of the oldest in Albania and was the original trading point amongst the city's most prominent merchants. Next, is a visit to the Skanderbeg museum to learn more about the Albanian National hero of the same name, who you may already be familiar with if you've visited Tirana.
Kruja Castle and the mountain of Kruja, (also known as the Adriatic Balcony), definitely make the list of places to see in Durres. It's a wonderful area that can teach you a lot about Albania's rich culture and history and is an experience I definitely recommend, particularly if you love history. Click here to book a spot on the tour.
Address: Click here for Kruje, Albania.
8. Head out to Spille Beach
Spille Beach is around 40 minutes south of Durres, and for me, a day out here is one of the best things to do around Durres.
While Durres Beach can get particularly busy in the summer, Spille Beach remains relatively calm. That said, it's lined with lots of beach bars and restaurants, so there's plenty going on.
It's one of the best things to do in Durres for families thanks to its relatively calm and shallow waters, as well as its spacious, sandy beach for playing beach games.
Generally speaking, the north end of the beach is the quietest, and it's here that you'll find locals enjoying a bit of afternoon sun. I love the delicious food served at Sunshine Spille restaurant here, and it's a lovely stretch of beach too. Further south is where you'll find lots of beach bars and more of a party vibe.
Address: Spille Beach, Albania
9. Visit the Durres Mosque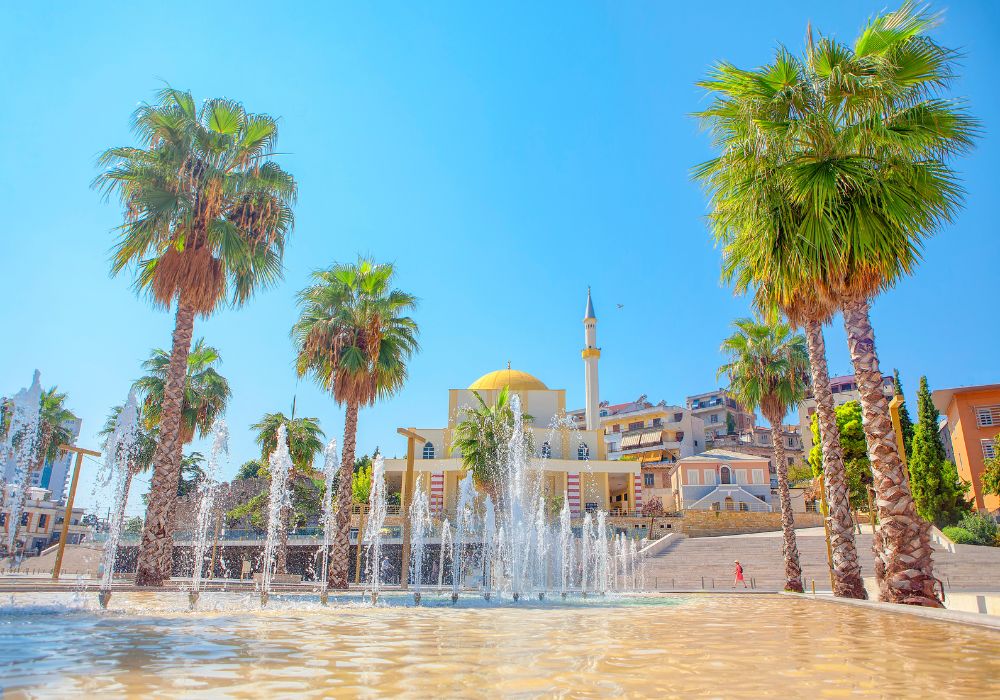 The Grand Mosque of Durres, or Xhamia e Madhe as it's called in Albanian, is a beautiful Albanian Mosque that was built in 1931. Originally built by King Zog, it was the largest mosque in Albania of its era.
During communist times, the mosque was shut down by the dictator Enver Hoxha and the minaret was demolished. It was further damaged by an Earthquake in 1979.
However, despite all of this destruction, the Mosque remains and has somehow withstood both natural disasters and dictatorships. It's one of the best things to see in Durres today for its beautiful architecture.
Address: Durres Mosque, Rruga Dhimeter Kraja
10. Discover the Byzantine Forum
The Byzantine Forum is one of the most recognized and beautiful monuments from the Roman and early Byzantine eras in the whole of Albania.
It was known as a Market Square and has some spectacular Corinthian columns to marvel at. Inside the forum, Roman Thermal baths were discovered, as well as an Amphitheater.
Today, it's just a few steps away from the main, newly renovated central square, so it's interesting to see the contrast between old and new. It's more of a pass-by attraction, but as one of the main places to see in Durres, it's worth seeing and snapping a photo of.
Address: Rruga Aleksander Goga, Durres
11. Tour the Incredible City of Berat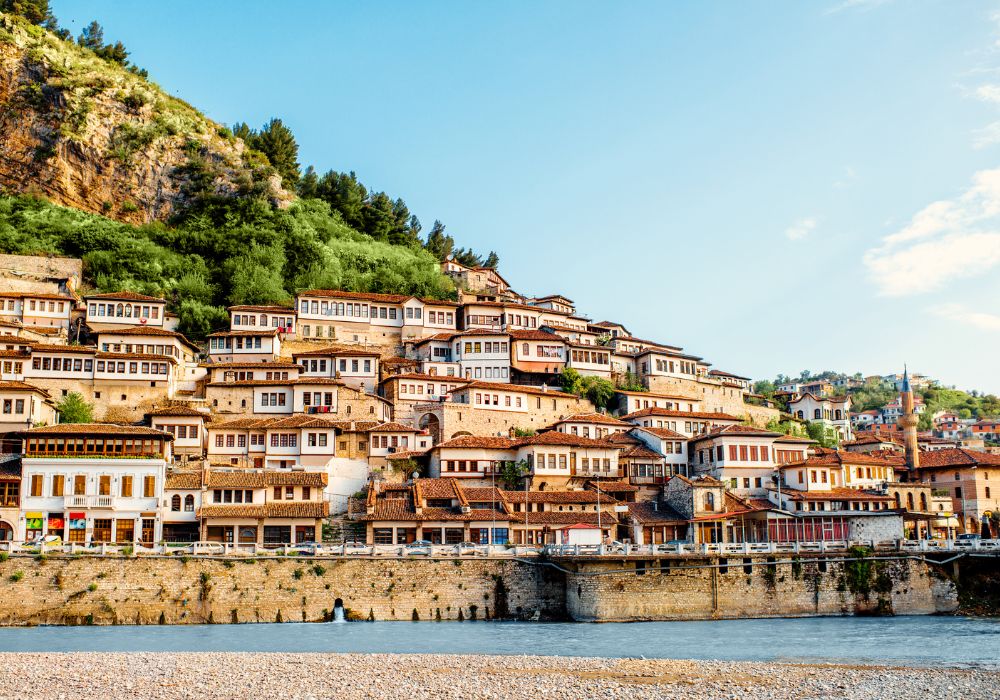 Take a tour from Durres to the city of Berat, which is just 90 minutes away and is one of the most popular destinations in the country.
This brilliant Berat sightseeing day tour can be personalized depending on what you'd like to see but some of the possibilities include a visit to the Iconic Castle of Berat, and the beautiful Ottoman bridge named Gorica.
You'll also visit the stunning neighborhoods, including my most-loved, Mangalem, from which you can see the famous view of the 1000 windows. It's one of my favorite tours in Albania.
If you love wine, the tour also presents the opportunity to visit the Cobo Winery to learn about the family wine-making business, as well as the chance to sample some local grapes. Berat should definitely feature on your list of things to do near Durres. Click here to book the tour.
Address: Berat, Albania
12. Visit the UNESCO City of Gjirokaster
While Gjirokaster is around 3 hours from Durres, it's still possible to see the best of the town in a day. Alternatively, you could spend a night here, which is what I recommend because there are plenty of things to do there and staying means you don't have to rush around.
Whatever you choose to do, you absolutely should put this town at the top of your list of places to see near Durres – it's incredible.
Some of my favorite things to do in Gjirokaster include visiting the Castle of Gjirokastra to learn the history of the area and of the castle itself, and for the amazing views over the mountain ranges.
Just outside Gjirokaster is a family winery called The Barrels, which is a must-visit. It serves incredible, homemade vegetarian food, and wine, and the family are so hospitable and welcoming. You also sit right under the vines, with a stunning view over the vineyard.
Address: Gjirokaster, Albania
13. Explore Durres Castle
Durres Castle, or the Venetian Tower of Durres, is an ancient fortress located in the center of the town, not far from the coast. It dates back to 400AD and was built by the Roman Emperor Anastasius I, who was born in the region. The Roman Emperor made Durres one of the most fortified cities in the area.
More recently, in 1939, the castle was used by Albanian nationalists seeking to delay the Italian Army from invading the city.
Today, the castle has been converted into a bar with a rooftop terrace! It's definitely worth a visit and is one of the loveliest things to do in Durres for couples as it's quite a romantic setting. What's more, the proximity of the castle to the sea makes for some excellent views.
Address: Durres Castle, Durres
14. Stroll Along the Promenade
Taking an early morning walk, or a sunset stroll along the promenade, is definitely of my favorite things to do in Durres. Grab a morning coffee from Sophie Caffe while stretching your legs and breathing in the sea air. I love taking a rest to watch the fishermen fishing for the daily catch.
The best time to visit the promenade is at sunset, as the sky puts on a magical show; turning from pink to burnt orange to purple. It's one of the best things to do in Durres at night and is best experienced over a drink at Posh Lounge or over a delicious dinner at Artur Restaurant.
Address: Durres Promenade, Shetitorja
15. Take a Day Trip to Montenegro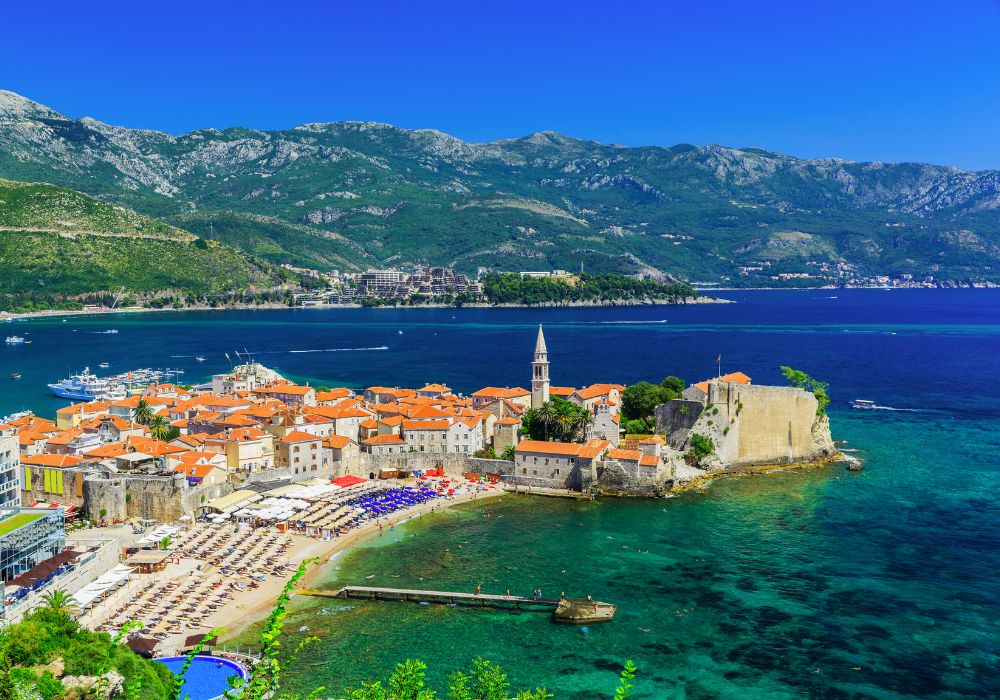 The northerly location of Durres makes ticking off a whole other country during your trip a real possibility. This epic Budva and Kotor Bay tour will take you to some of the most popular places on the south coast of Montenegro and I highly suggest you try and make it during your stay!
See the exclusive island of Sveti Stefan, once a 15th-century fortified island town turned luxury resort. Visit the picturesque Kotor Bay and the UNESCO World Heritage Site of Kotor including its cobbled medieval old town, and wander the Italian-influenced Budva Old Town, enclosed by the famous city walls.
It's a jam-packed day, but a really fantastic opportunity to see more of the Balkans and a totally different culture. It's one of the best things to do in Durres and you can book it here.
Address: Budva, Montenegro
Quick Travel Itineraries For Durres
Here are a few suggested itineraries to help you plan what to do in Durres: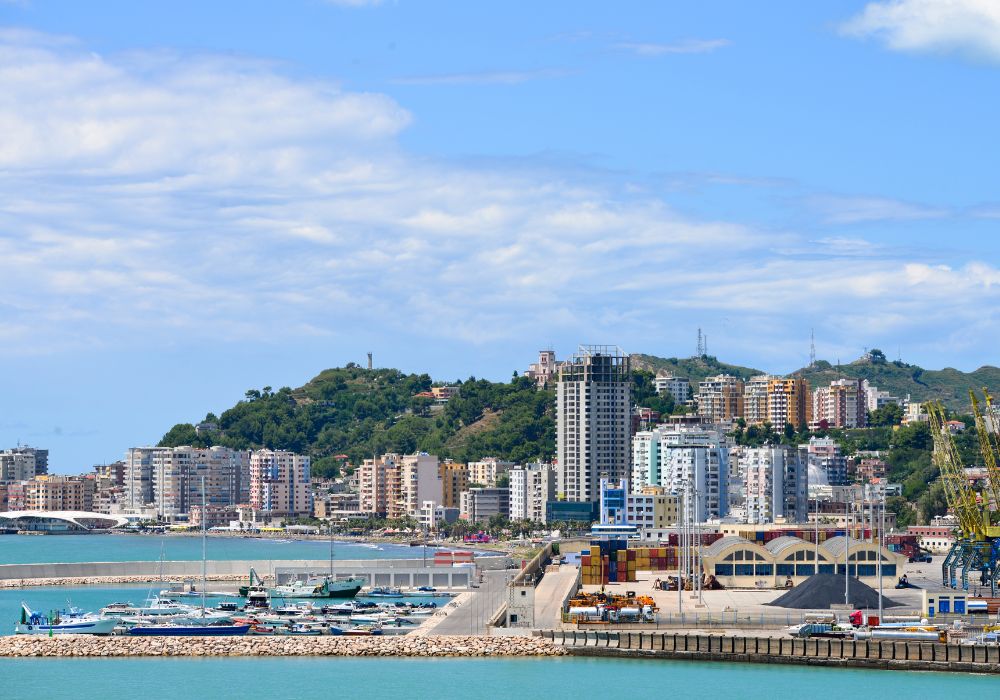 1 Day in Durres Itinerary
If you only have one day in Durres, I recommend taking this walking tour to learn a bit about the most ancient city in Albania. The walking tour is a great way to tick off many of the best things to do in Durres that are featured on this list, such as the Amphitheater and the Castle.
In the afternoon, grab a drink at the rooftop terrace in the castle and take a stroll along the promenade to admire the stunning sunset and round off your day perfectly.
2-3 Days in Durres Itinerary
If you have an extra couple of days to spend in Durres, I recommend that you follow the above one-day itinerary.
On the second day, book a day trip to one of the other cities in Albania like Berat or Kruja to discover more of Albania. Spend your final day in Durres soaking up the sun and sipping a cold drink on Durres or Spille Beach.
1 Week in Durres Itinerary
If you have one week in Durres, you'll be able to tick most of these things to do off of the list. For day trips, I definitely recommend that you go and see Berat and Gjirokaster and the wine tour is also excellent. The wine region is really beautiful, and the tour is a fantastic way to experience a different side of Durres.
The Amphitheater and the Castle are both must-sees in Durres so make sure you visit these. The great thing about Durres is that the main attractions are very close to each other, so you'll have no problem wandering around and leisurely ticking them off as you please.
Of course, make sure you pencil in some relaxing time on the beaches between all the sightseeing in Durres.
Where to Stay in Durres
These are a few of the best neighborhoods in Durres for tourists:
Durres Beach – Best for Families
If you're visiting Durres to enjoy the beach, then you'll definitely want to stay on Durres Beach. It's a great place for families as it's within walking distance of the beach and all the local amenities you'll need.
The EKA luxury apartment features a terrace and a balcony and is fully equipped. It's located just across the road from the beach.
Old Town – Best for First-time Visitors
The Old Town is the best place to stay in Durres for those visiting the city for the first time. You'll be within walking distance of all the historical sites, as well as many fantastic food and drink options in the city. If you want to take some day trips, it's also an ideal location to choose as a base.
Hotel Giulia Albergo is perfect for couples seeking a little luxury. This beautiful hotel is close to all the main attractions in Durres and has a lovely restaurant on site too.
Rruga Curilla – Best for Beach Views
Located in the hills to the North of Durres, is Rruga Curilla. Dotted along this main road are some brilliant cafes, bars, and restaurants.
The accommodations around here are a little more luxe than most you'll find in the other neighborhoods, so if you're after a relaxing trip, this is a perfect option. I recommend Hotel Hillside Beach for the wonderful views and spacious rooms.
Best Restaurants in Durres
Don't miss these great places to eat in Durres:
Olivia's Fish House
Olivia's Fish House is a sweet little restaurant located along Rruga Carulla and is one of my favorite places to visit in Durres for incredible seafood. Ask the chef for his recommendations. He's particularly confident and rightly so, his food is incredible, and you certainly won't leave disappointed. Click here for directions.
Artur Restaurant
Artur Restaurant serves a mixture of seafood and Italian food. Of course, being so close to the coast, the seafood is fresh and delicious and the restaurant itself is very pretty inside. This is a great place to eat and offers an excellent view of the sunset from the upper floor; making it ideal for a really romantic night out. Click here for directions.
Pastarella
You have to visit Patarella for, you guessed it, pasta. Everything is fresh and delicious and there's a nice view of the sea. I recommend the beef mushroom pasta and the grilled shrimp. They also have an excellent wine list, so if that is your drink of choice, you'll love it here. Click here to view its location.
Meison Bistro
For delicious food and reasonable prices, as well as a fantastic location on the promenade, you need to visit Meison Bistro. The fish is really good here as the restaurant has its own fish market, so you can rest assured that the food will be fresh. The salmon tartare and calamari were delicious when I visited. Click here to view on a map.
Pista E Vogel Iliria
Pista E Vogel Iliria is a fantastic restaurant located on Durres Beach with beautiful views over the ocean. While predominantly a fish restaurant, there's also an Italian offering, including pasta dishes, and they serve a superb steak too. Worth a visit if you're staying by Durres Beach. Click here for directions.
Getting To Durres
Most people will travel to Durres from Tirana, as that's where the International Airport is located.
It takes around 45 minutes to get from Tirana to Durres and the easiest way to travel is to either grab a taxi, which will cost around 2500 LEK ($20), or take the bus. Be sure to confirm a price with the taxi driver before you set off.
The buses leave from the central bus station in Tirana and run frequently at around every 30 minutes between 6:30 am and 7:30 pm. The ticket will cost around 150 LEK ($1.50). When you arrive in Durres, you'll be around a 10-minute walk from the city center.
Alternatively, you can rent a car, which will be useful for taking some day trips from Durres. Durres is a very walkable city, so you'll be able to reach most places on foot and won't have to rely on public transportation.
Things To Do in Durres: FAQs
Here are some answers to commonly asked questions about visiting Durres:
What is Durres known for?
Durres is known for being a large port city, but also for being the most ancient city in Albania. There are lots of great historical sites to visit in Durres.
When is the best time to visit Durres?
The best time to visit Durres is during the summer months. If you visit during May and June it'll be very warm but not as crowded as in July and August.
Is Durres worth visiting?
Yes, particularly if you have an interest in ancient history. If you're based in Tirana, it's definitely worth a visit to see a bit of the coast and relax on the beach.
How many days should I spend in Durres?
A couple of days or a long weekend is the perfect amount of time to see all the best things to do in Durres.
Is Durres safe?
Yes. Durres, and Albania as a whole, is very safe. As with anywhere, pickpockets are around so be sure to take care of your things, but otherwise you're unlikely to experience any issues.
What is the most popular thing to do in Durres?
The most popular things to do in Durres are to visit Durres Castle and go to the beach. It also has some great seafood restaurants to enjoy if you're a bit of a foodie like me!
What is the best beach in Durres?
My favorite beach in Durres is Spille Beach, which is around 40 minutes south of Durres. The sand and sea are both clean, and the beach is really wide and far less crowded.
What foods should I try in Durres?
You absolutely have to try seafood in Durres. It's super fresh and cooked really well here. There are some excellent seafood restaurants featured in the list above.
In Closing
There's so much more to Durres than just being a major port city. Not only are there some fantastic things to do in Durres itself, but it makes for a great location if you're looking to explore the rest of Albania, and even Montenegro too.
I hope this article helps you plan what to see in Durres and that you have a brilliant trip!
Like This Article? Pin it!