This guest post is by Jessica Drier.
Looking to go on a fun weekend trip from Phoenix? Due to its central location, there's a ton to choose from. And the diversity the area offers means there's something for everyone to enjoy: beautiful landscapes, unique towns, and endless outdoor adventures.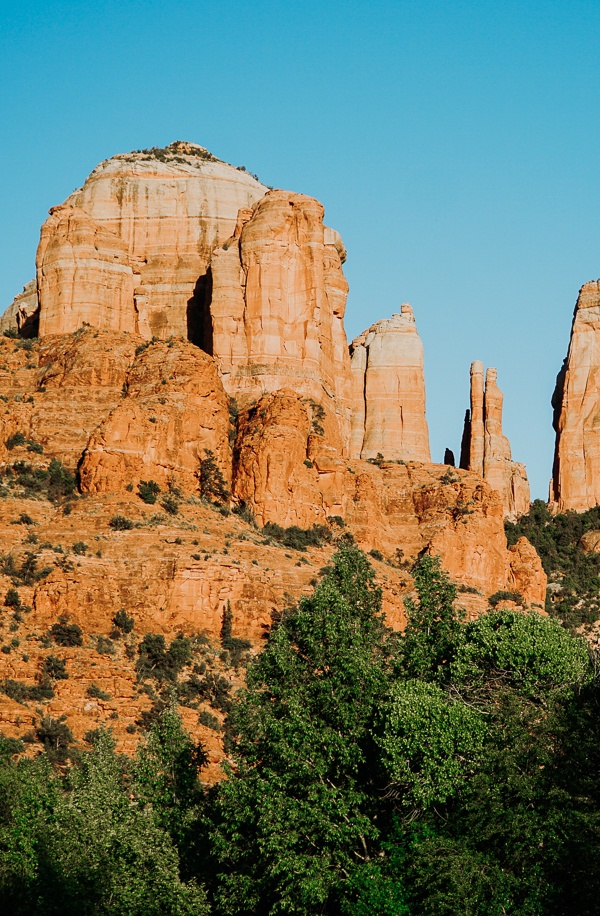 Whether you are looking to enjoy delicious food, go on a hike with incredible views, experience unique cultures, or shop for artisan goods (or all of the above!), check out these 10 best weekend trips from Phoenix. 
1. Sedona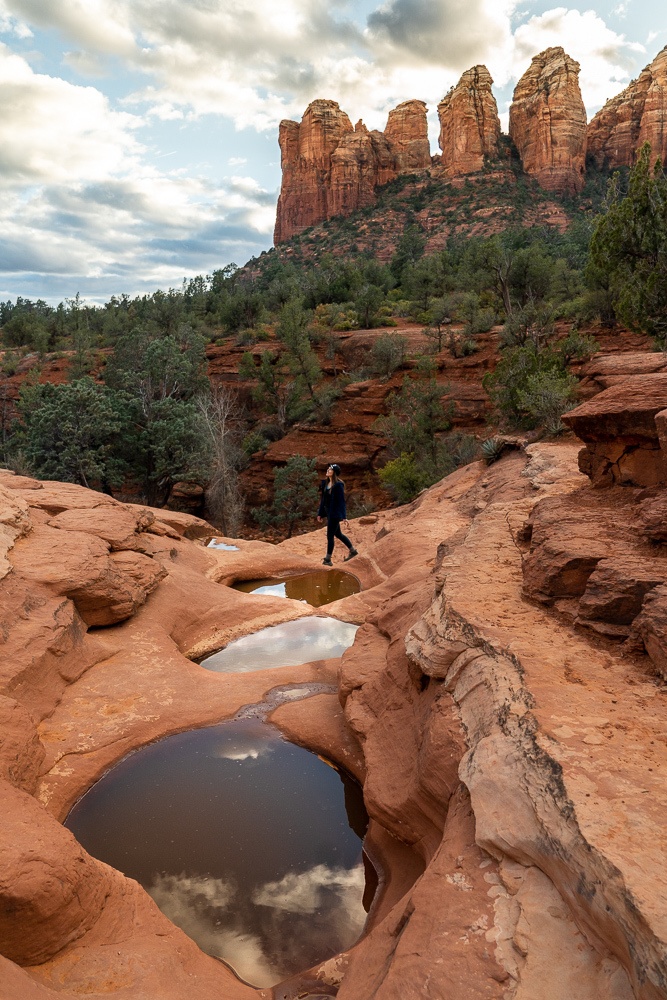 Sedona has so much to offer for a quick weekend trip from Phoenix. With jaw-dropping red-rock formations and unlimited outdoor adventures to choose from, you surely won't get bored.
The city is known as a spiritual place with healing energies. These are supposedly most often felt at "vortex" sites scattered throughout the mountains that surround Sedona. If you'd like to experience the energy these vortexes provide, you can set out on a guided tour, on which they'll take you to a few of the most popular ones. 
If you want to hike and find one of the energetic vortexes on your own instead, one of my favorites and the most popular is located at Cathedral Rock. Besides the encompassing earthly energy you'll feel on this hike, you will also get to experience some of the most incredible views Sedona has to offer.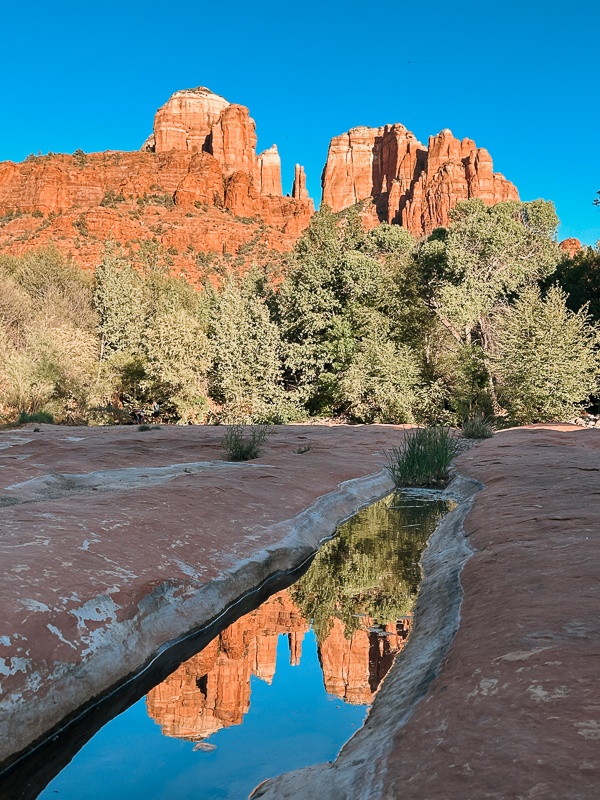 The moderate-to-strenuous hike to Cathedral Rock is 1.4 miles round-trip. You will need to scramble up some steep rocks to get to the top, so wear hiking shoes with a good grip, and only attempt this if you're confident in your abilities and not afraid of heights. 
If you're not so much of a hiker, Sedona has many other things to offer besides hiking. Go on an off-road 4×4 Jeep tour to see some awesome views, or hang around in the cute downtown and grab some lunch with a view. 
There are plenty of cute Airbnbs, boutique hotels, or resorts to choose from when looking for a place to stay in Sedona. 
READ NEXT: 11 Wonderful Things to Do in Sedona
2. Page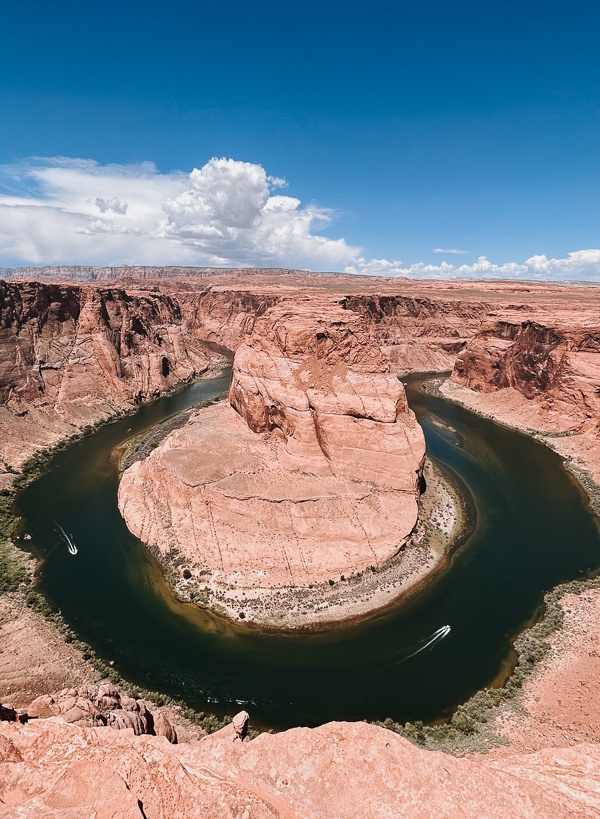 Page is a small town in northern Arizona, right near the Utah border. This town is the jumping-off point for seeing some incredible natural wonders. Just 10 minutes from town, you'll find Horseshoe Bend, Antelope Canyon, and Lake Powell, which together make for a perfect weekend trip from Phoenix! 
Wake up early and make your way to Horseshoe Bend for sunrise. Even though this isn't the best time to photograph it, it is the best time to visit without the crowds. 
After your peaceful morning watching the sun rise over Horseshoe Bend, you can head to town for brunch and get prepared for your visit to Antelope, the most famous slot canyon in the world.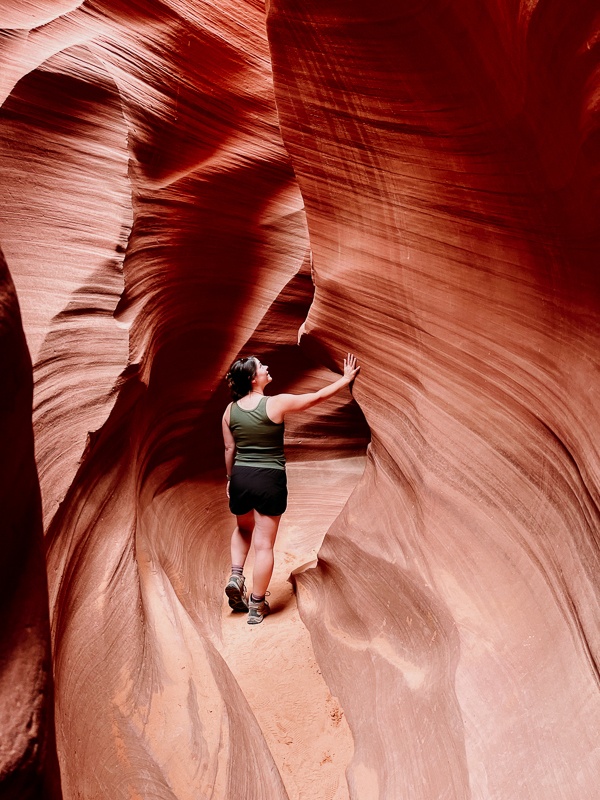 Make sure you book your tickets in advance and choose the best tour of Antelope Canyon. Because of its popularity, it gets booked up far in advance and can be crowded.
Tickets range anywhere from $50 to $150 depending on what section you're visiting, if you want to go on a photography tour, or if you want to go at peak time. If you don't want to deal with the crowds, you can visit a lesser known section, such as Antelope Canyon X or Mountain Sheep Canyon. 
Commonly overlooked (but it shouldn't be) is spending a day out on Lake Powell. If you have the time, definitely rent a boat, so you can explore the various sections. 
The drive from Phoenix to Page is a little over four hours. With all the awesome outdoor activities to do in this area, it's bound to make a great weekend trip from Phoenix. 
3. Grand Canyon National Park
The Grand Canyon is another superb weekend trip from Phoenix. After just a 3.5-hour drive, you'll find endless hiking, stunning vistas, and plenty of camping and accommodations. 
Due to its vastness, some prior planning is definitely needed. Each rim of the Grand Canyon offers something different, but the South Rim of the national park is the most popular choice for people coming from Phoenix, as it's the closest and easiest to visit. Here you'll also find shuttles to the most popular viewpoints, so you don't have to worry about parking.
One of my favorite activities at the South Rim is riding bikes to Hermit's Rest, the western most viewpoint. This seven-mile one-way road is only accessible by shuttle buses, hikers, and bikers, so you don't have to deal with a ton of traffic on your ride. I would recommend putting your bikes on the shuttle and riding all the way to Hermit's Rest and then biking back to the visitor center. That way you will be going downhill most of the way and it'll be a much more enjoyable ride.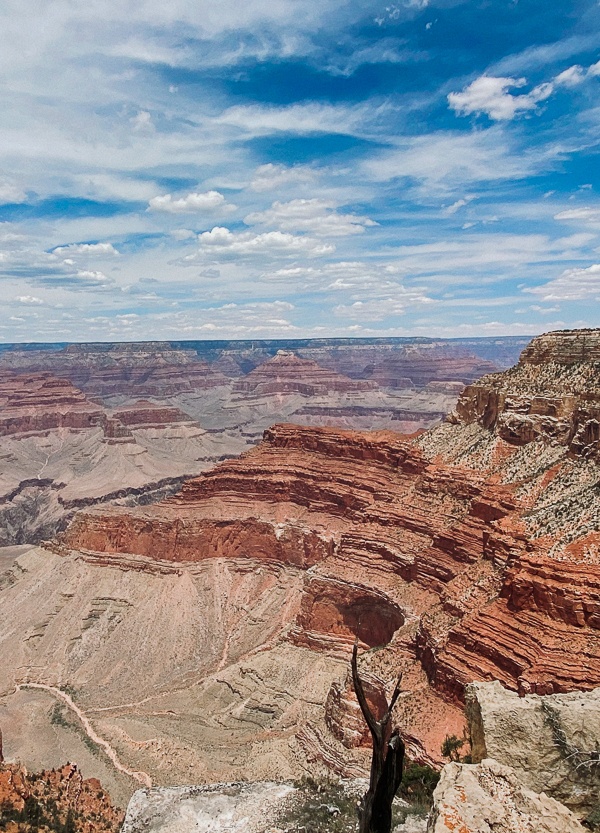 There is also a really nice walking/biking path that meanders along the rim, so there are stunning views that'll make you want to pull over every two seconds. 
Besides biking along the rim, hiking the 1.5-mile section of Bright Angel's Trail to the first rest house is a great way to experience some breathtaking views without a crazy amount of effort.
If you're really up for a challenge, you can hike the 9.5 miles and 4,380 feet all the way down to the Colorado River. A lot of people do this hike in two days and camp out at the bottom.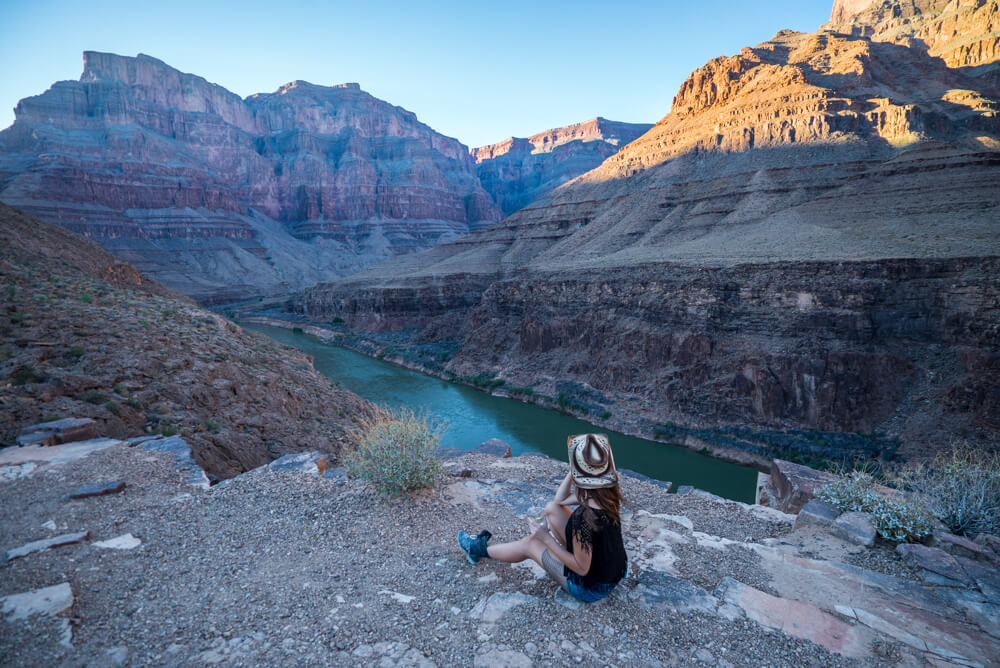 Don't forget to get a backcountry camping permit if you plan to camp! Starting in 2024, you can enter into a lottery to get one four months prior to when you'd like to camp. If you'd like to try and get a permit but you missed the lottery opening, you can still check Recreation.gov to see if there are any permits available for your travel dates.
If you can't find any, there are a limited number of last-minute permits for in-person visitors who wish to camp at the Bright Angel Campground. Go to the Backcountry Information Center in the park to try and snag one. 
READ NEXT: Is A Scenic Flight over the Grand Canyon Worth it? Yes and No.
4. Zion National Park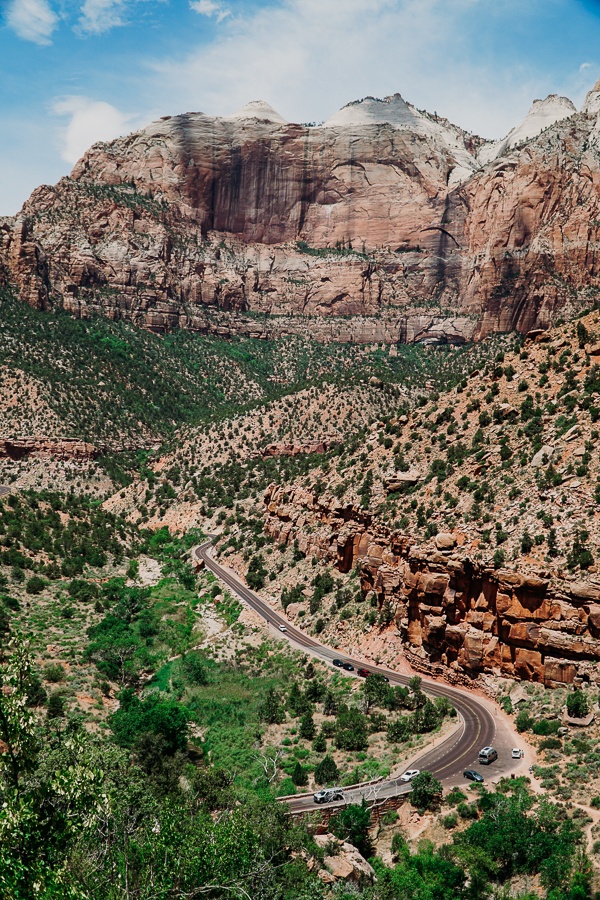 Zion National Park is another super weekend getaway from Phoenix. Even though it's one of the longer drives on this list — at around 6.5 hours — it's totally worth it, especially if you have a long weekend.
With towering red-rock cliffs, stunning vistas, adrenaline-pumping hiking trails, and cute mountain towns, this area is a top favorite for adventure lovers.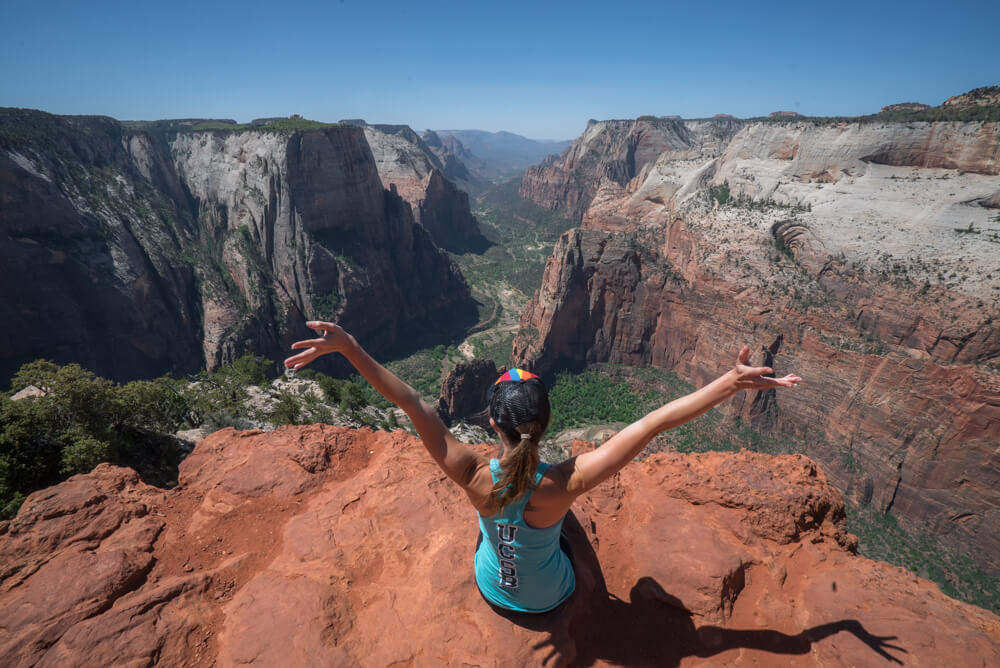 If you're not afraid of heights and up for the challenge, Angel's Landing is the most popular hike in Zion. This requires you to navigate two-way traffic along steep drop-off cliffs on either side of you. Of course, the views once you get to the top are 100% worth it!
Because of the popularity of this hike, permits are now required. You can apply on Recreation.gov for a permit two months in advance, or you can try and get a next-day permit, which open at 12am MT the day before your hike and close at 3pm. If you are given a permit, you will receive an email at 4pm and instructions on how to get it.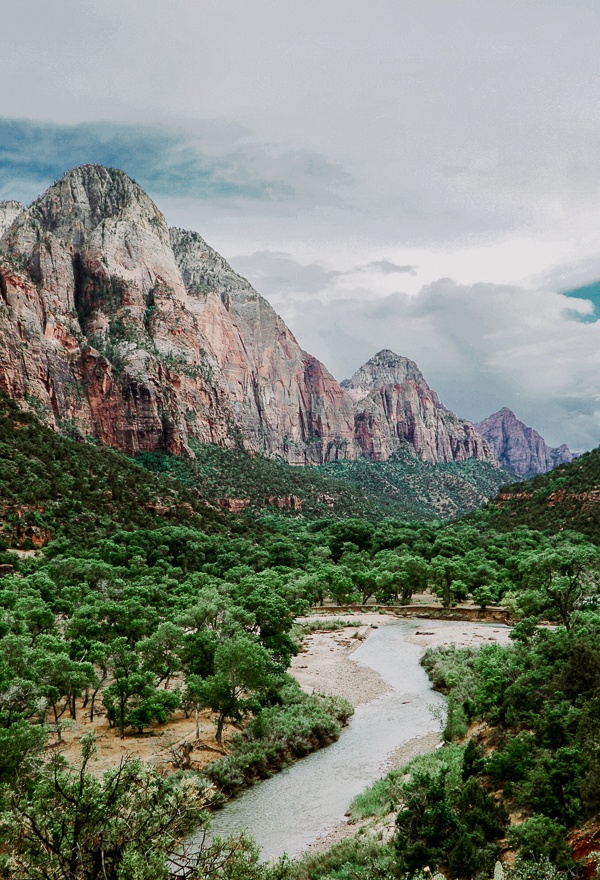 If you aren't lucky enough to snag a permit, my favorite easy hike here is to Lower Emerald Pool. This 1.4-mile out-and-back trail leads to a gorgeous alcove with water trickling down into a pool — which wasn't emerald colored when we visited but might be at certain times of the day. 
5. Saguaro National Park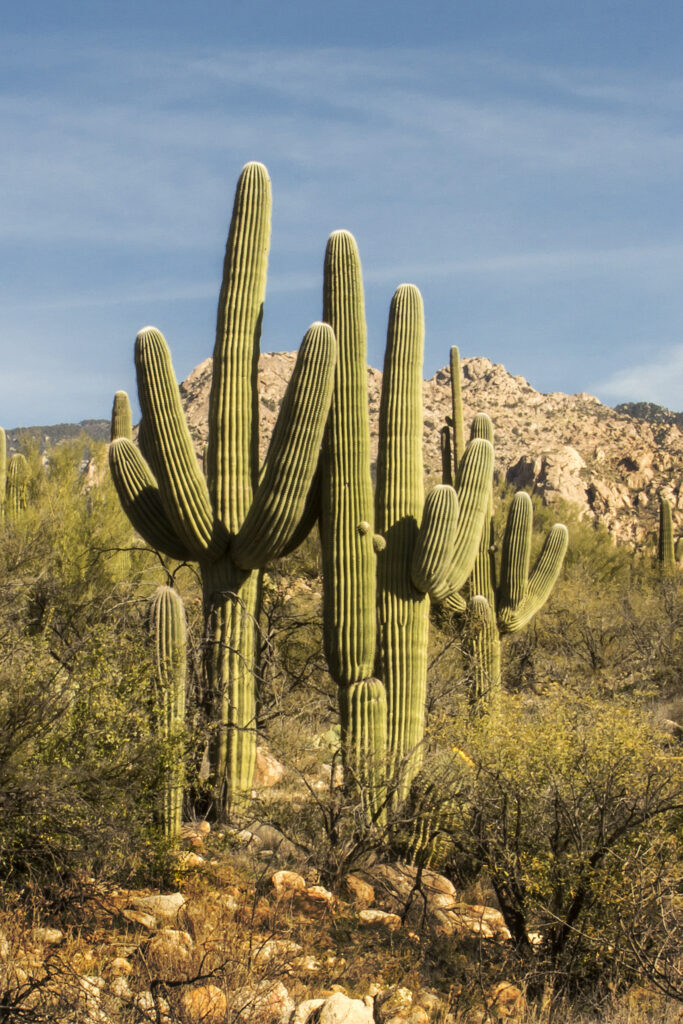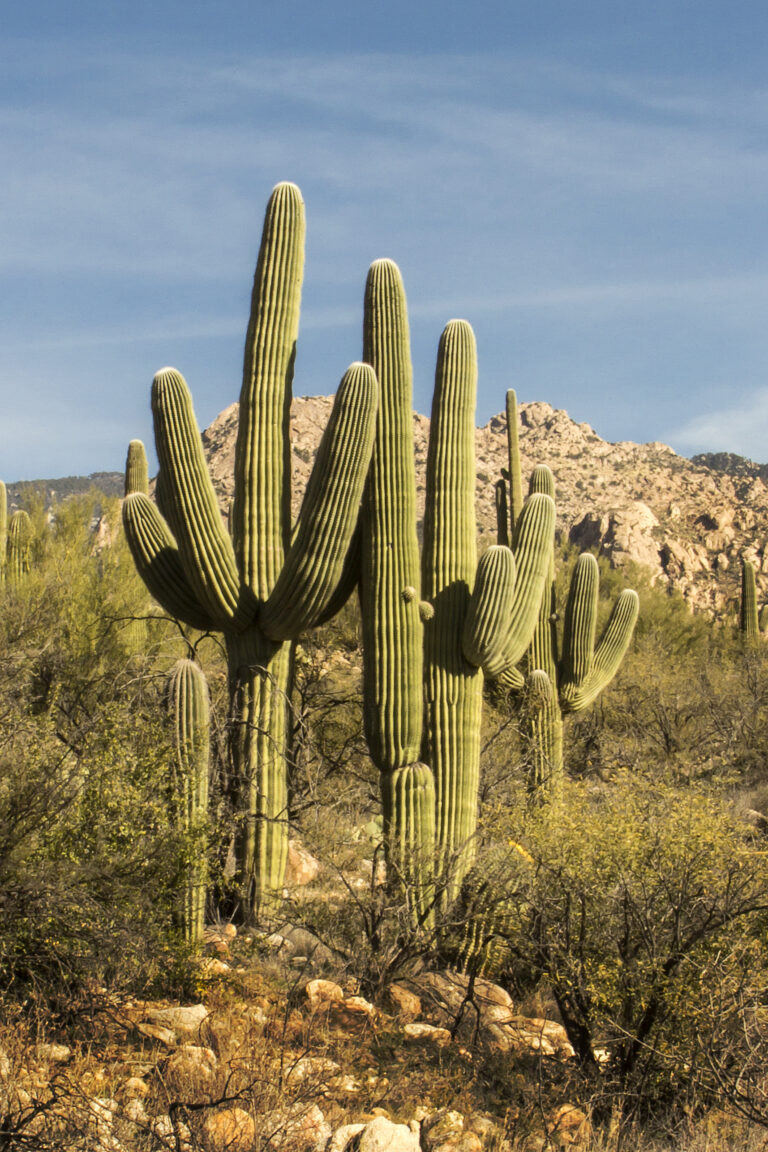 A 2.5-hour drive south of Phoenix and just outside of Tucson is Saguaro National Park, which is often overlooked in comparison to the other popular parks but totally shouldn't be! It is home to gigantic forest of saguaro cacti, an estimated two million. It's fun to practice your photography skills with the towering cacti in the background. 
Since this is another nature lover's destination, some of the best things to do are hiking, enjoying the desert sunsets, and biking along the desert ecology trail.
Because this area is made up of rolling hills instead of dramatic mountains, the sunsets are pretty spectacular. Gates Pass or Signal Hill are two of the most popular spots to catch a gorgeous one. My favorite way to watch is by packing an outdoor blanket and some snacks and having a little picnic while watching the sun sink below the horizon.
6. Monument Valley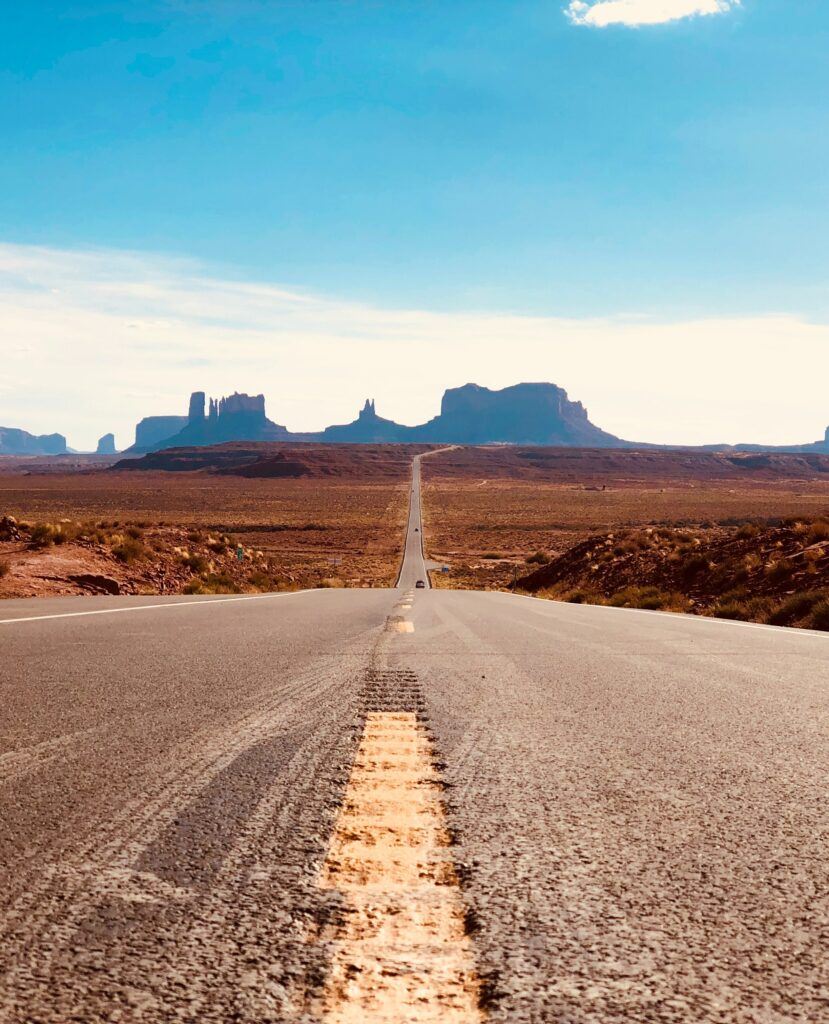 Monument Valley is often overlooked as a destination, but it definitely deserves to be high up on everyone's bucket list. Known for its distinct red sandstone buttes and mesas shaped by geological processes, it has gained much recognition on Instagram and of course the beloved movie Forrest Gump. 
To really get to see the best views at Monument Valley, take the 17-mile self-drive loop that winds through the iconic sandstone formations. The scenic drive is unpaved, and at certain points a high-clearance vehicle is needed. The loop usually takes 4-5 hours to complete, as the road is really bumpy. Be sure to check the weather when heading out: if there is heavy rain, it makes the road impassable. 
If you'd like to see all the best views without doing the driving yourself, you could go on a Navajo guided tour. Monument Valley resides within the Navajo Nation, and these tours offer a unique perspective on Navajo history and lifestyle, as well as chances to see all the best viewpoints along the way. 
Be sure to book your accommodation in advance, as the remote nature of the area means there aren't very many options. There also aren't a ton of services or restaurants nearby, so come prepared with food, water, and any other essentials. 
7. Prescott
Prescott is a great option for a weekend trip, as it's only a two-hour drive from Phoenix. It's nestled in a ponderosa pine tree forest, and because of the higher elevation, it is a welcome reprieve from the heat of the city in the summertime. 
Prescott is known for its historical significance, well-preserved architecture, and abundance of outdoor activities nearby. Be sure to check out Whiskey Row downtown, which features saloons and buildings from the late 1800s. 
There are many fun shops and art galleries to explore, as well as restaurants, breweries, and wineries. There is a wide range of accommodations nearby, such as camping, staying at a historic hotel, cabin rentals out in the woods, or a cute downtown Airbnb near all the restaurants and shops. 
After spending some time exploring downtown, head out to Prescott National Forest for a hike or a picnic. There are also two beautiful lakes nearby: Watson and Goldwater. Many people love to hang out at these lakes for a day of picnicking, swimming, fishing, or kayaking. 
Overall, Prescott's combination of historical charm, excellent restaurants, and nearby outdoor adventures makes it an ideal weekend trip from Phoenix. 
8. Flagstaff
Similar to Prescott, Flagstaff is another awesome town nestled in the woods and high up in elevation, making it a nice reprieve from the heat of Phoenix. 
Driving straight north from Phoenix for two hours will land you in this charming mountain destination known for its variety of dining and shopping as well as convenient outdoor activities. Downtown is walkable, with many fine restaurants and breweries to choose from. 
Flagstaff is also home to the Lowell Observatory and the Museum of Northern Arizona, both notable museums worth checking out. 
After exploring the city, head out to the Coconino National Forest or the San Francisco Mountains for their outdoor recreation opportunities. There are endless hiking trails, secluded campsites, and great skiing and snowboarding in the winter.
My favorite part of the outskirts of Flagstaff is the Walnut Canyon National Monument, showcasing ancient Sinagua cliff dwellings. The most popular trail to see them is the one-mile round-trip Island Trail, which goes down into the canyon, where you can see the cliff dwellings up close. The trail can be a bit challenging at times, so wear proper footwear and know your limits. 
9. Tucson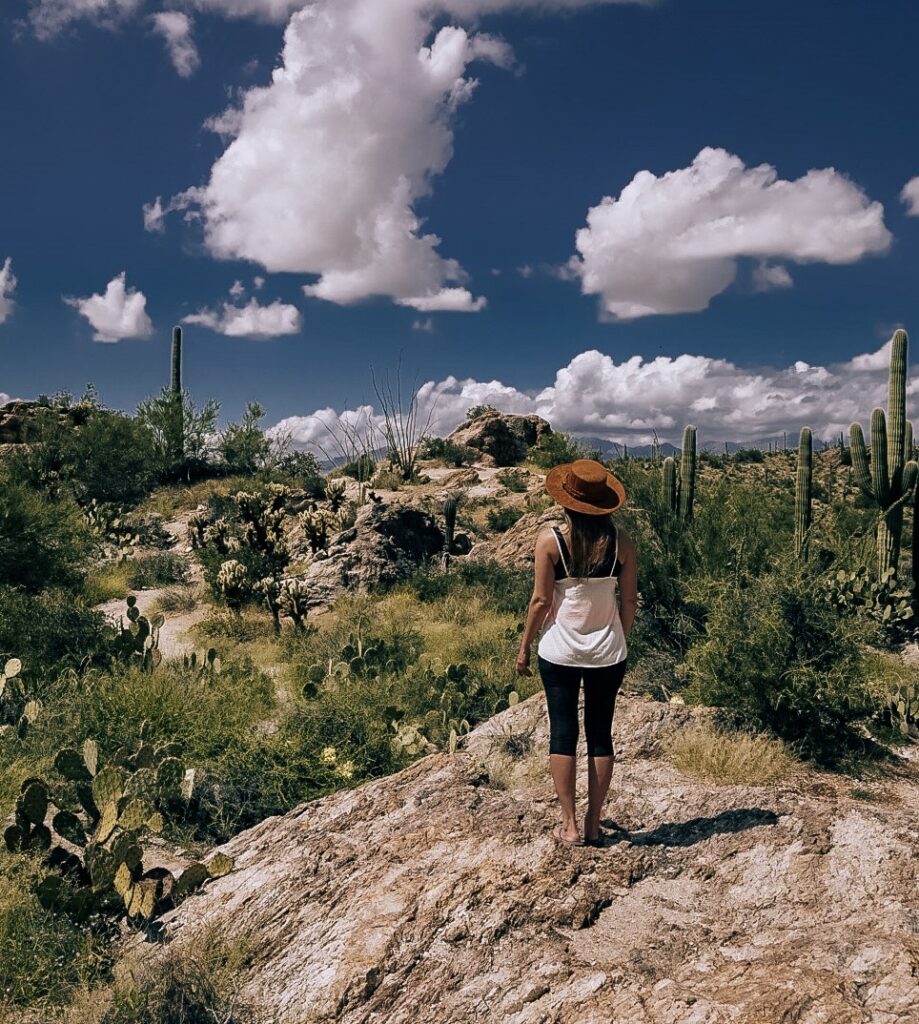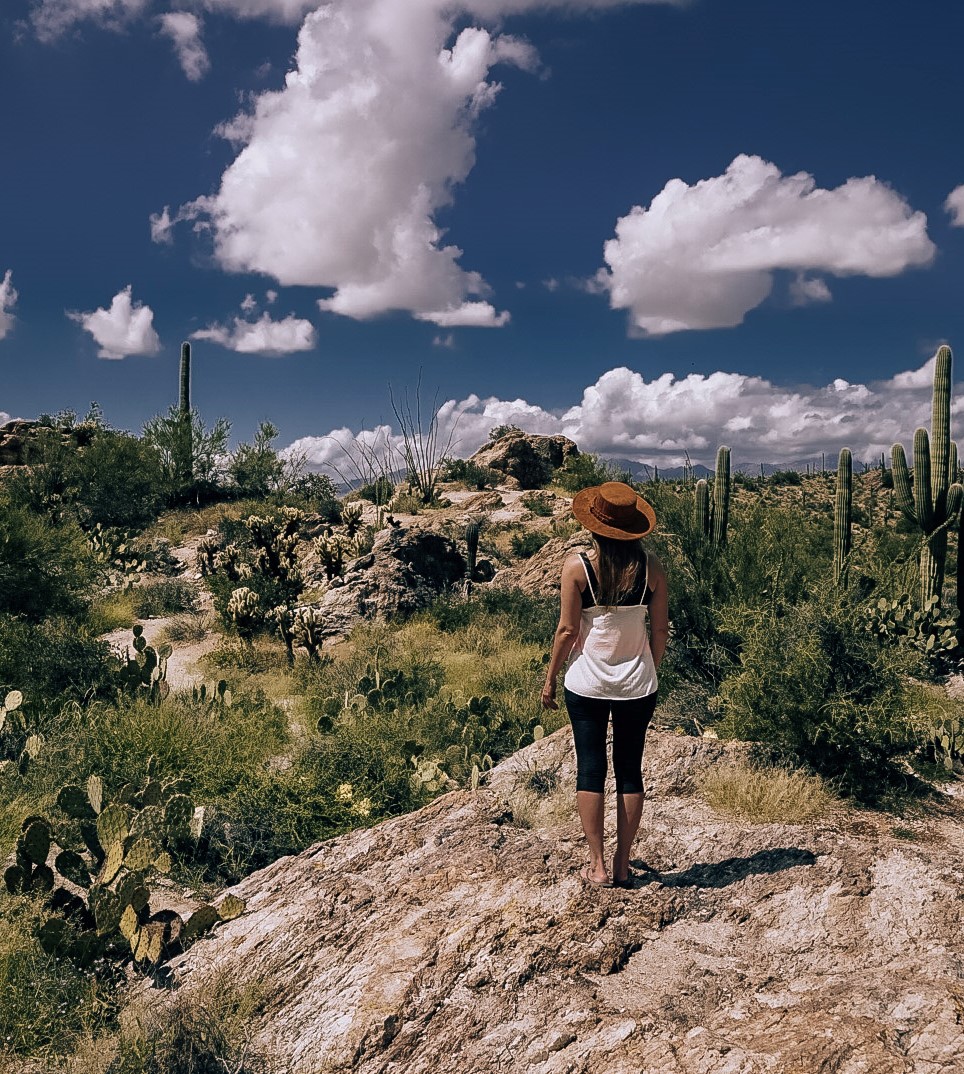 Surrounded by the beautiful Sonoran Desert and millions of saguaro cacti is Tucson, another excellent weekend trip from Phoenix. 
Tucson is located just under two hours southeast of Phoenix, making it a perfect quick getaway. Saguaro National Park is just outside of town, so enjoying a day out hiking among the cacti makes for a perfect day trip.
While in Tucson, make sure to check out the historic San Xavier del Bac Mission, a National Historic Landmark that was founded in 1700 and represents an important piece of the area's history.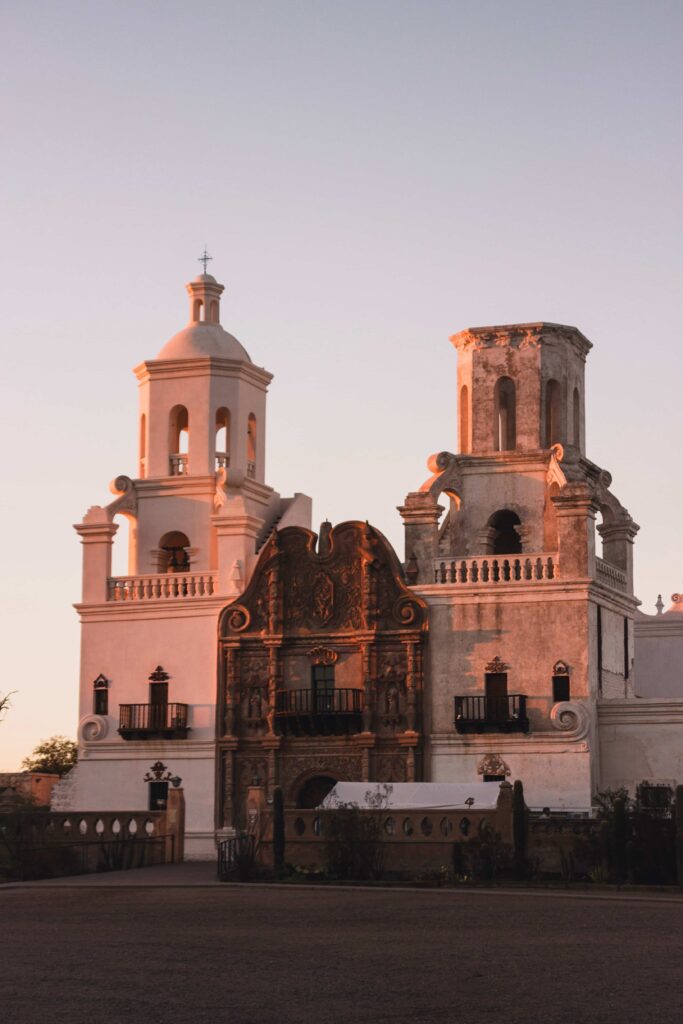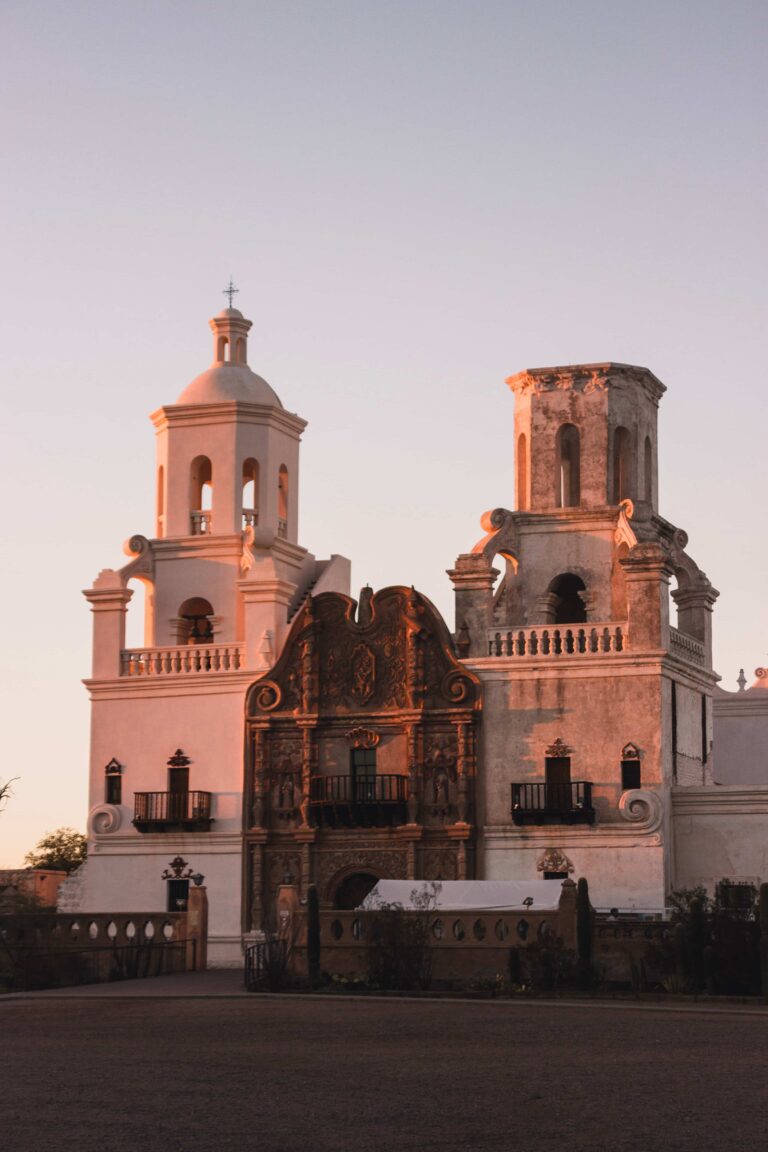 Downtown Tucson is worth spending a day exploring: with its many enticing restaurants, the beautiful desert landscape at the Botanical Garden, and the Pima Air & Space Museum, you're sure to find something fun to occupy your time. 
My favorite part of hanging out in Tucson is visiting the unique Old Town Artisans village, which is full of local vendors selling handmade arts and crafts. The best part: it's located in a historic adobe complex right in downtown!
10. Lake Mead National Recreation Area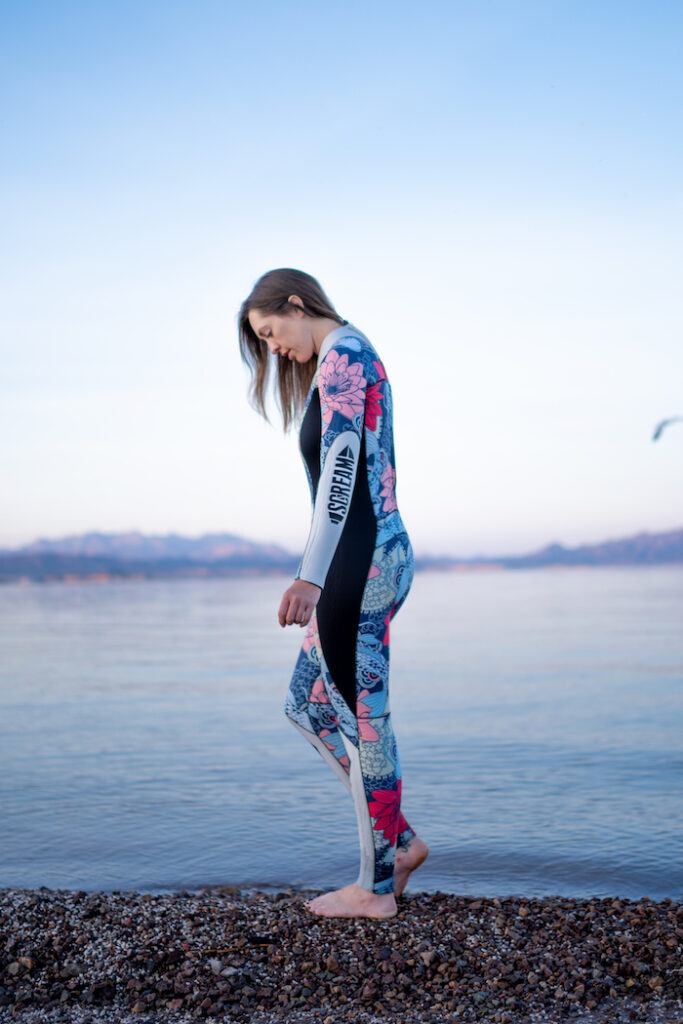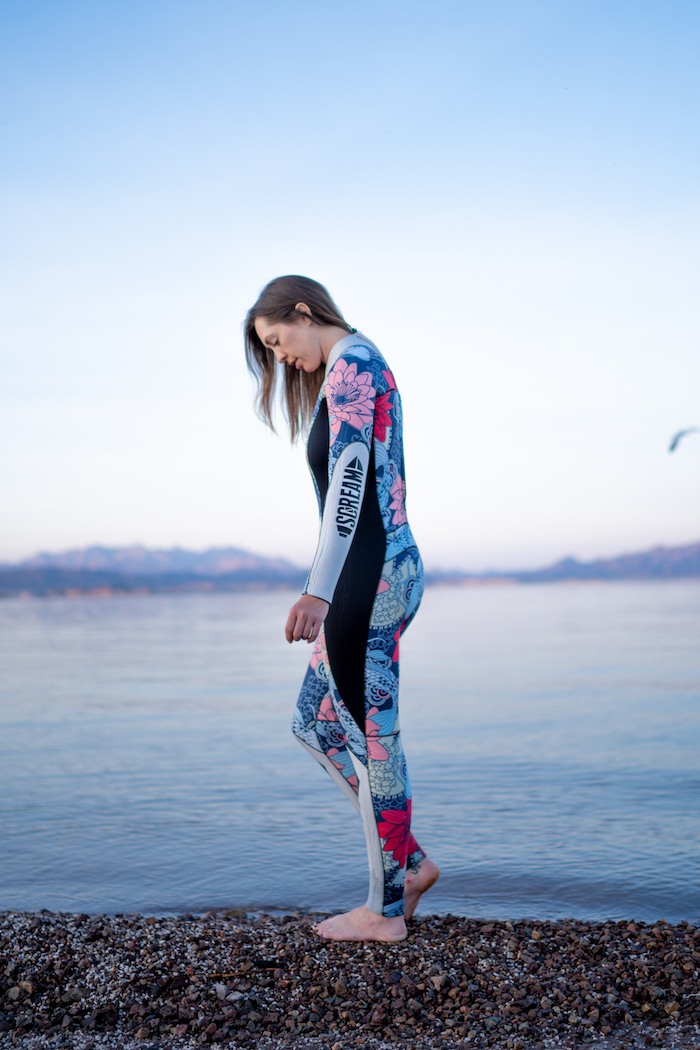 Lake Mead National Recreation Area is located just outside of Las Vegas and is home to some pretty famous landmarks: Lake Mead and the Hoover Dam.
But there is actually so much more to it! It is actually the largest recreation area in the United States and is home to mountains, canyons, and of course the gorgeous lake.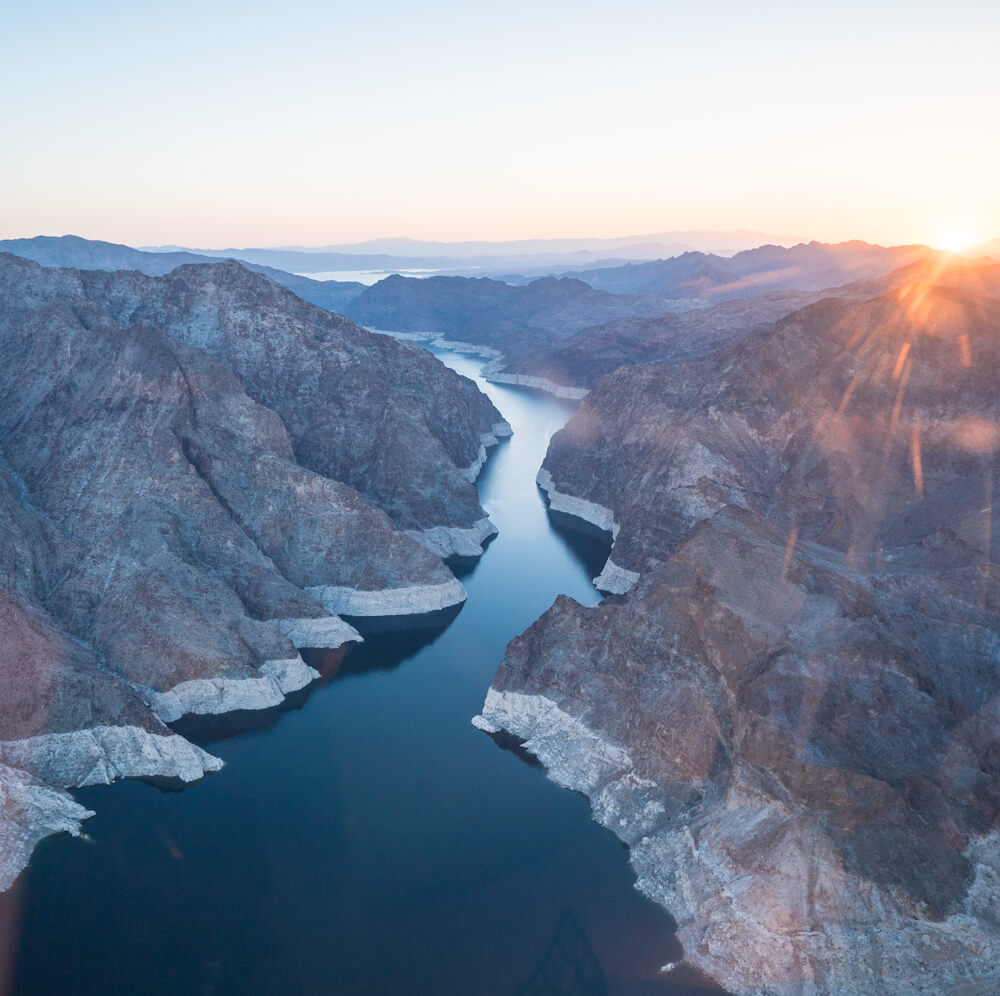 The Colorado River supplies the water to Lake Mead, which then flows through the famous Hoover Dam, which controls the flooding (if there is any) of the river. The lake provides water to over 16 million people. 
You can go on tours of Hoover Dam and learn more about its significance and how it was built. These range from a $15 self-guided tour to a $39 guided dam tour that takes you through the tunnels and original elevator to the top of the dam. 
In addition, Lake Mead has a plethora of hiking trails, scenic drives and overlooks, and even boat cruises. My favorite thing to do is hike the Red Stone Hiking Trail, a one-mile loop that has incredible views of the red-rock formations and sand dunes. This is a great spot for kids to climb on rocks and enjoy running around! 
READ NEXT: Top 20 Things to Do in & Around Phoenix
About the author: Jessica Drier, along with her husband Ron, are full-time travel bloggers and business owners who love traveling around the United States in their RV. Jessica writes about the RV trips and national parks they visit on Unearth The Voyage. She can usually be found hiking in national parks, checking out the newest brewery, or planning her next overseas trip. Follow Jessica's adventures on Instagram.